2016 Feature Review: Integrations
Reading time: about 4 min
Posted by: Lucid Content Team
As we come to the end of another year, we'd like to show you the features that have been our pleasure to release in 2016. Our mission to make work better includes a commitment to integrate with all of the applications you use. This year, we have released six new integrations that we are thrilled to include as part of our year-end review.
1. Google Slides
A universal struggle for innovators in all fields is generating buy-in for a new project or initiative. Diagrams and flowcharts help you to visualize your ideas, but critical conversations with your stakeholders are easily derailed when you present a flowchart in one chunk. On the other hand, presenting a flowchart using slides allows you to focus on one topic at a time and maintain control of your discussions. Now, with the Google Slides integration, you can make slides in Lucidchart, export them, and include additional context to enhance your presentation without cluttering your original diagrams.
How it works:  
Use Lucidchart's presentation feature to turn your flowchart into slides.
Click "Send to Google Slides" in the presentation mode toolbar.
When the export is complete, follow the link provided to open Google Slides and start editing.
2. Slack
In just over two years, Slack has grown from a fledgling startup to a competitive workplace application with more than 3 million users. Businesses use Slack to communicate, brainstorm, ideate, and plan on a daily basis. Knowing this, we chose to create a Slack integration so that users can include their diagrams where their conversations are already taking place. You can easily include Lucidchart in your communicating, brainstorming, and planning without having to open a separate application.
How it works:
From Lucidchart, open the sharing panel and search for your #channel or @coworker.
From Slack, use the command "/lucidchart [title]" to start a new document and give it a title.
3. Microsoft Word, Excel, and PowerPoint
All reports, proposals, and whitepapers are better when they include visuals. However, the experience of building diagrams in Microsoft Office leaves something to be desired. Rather than giving yourself gray hairs, let MS Office do what MS Office does best and optimize your diagramming experience in Lucidchart. Once you have our add-on installed, inserting diagrams into Word, Excel, and PowerPoint takes a few clicks and no hassle.
How it works:
Go to the Office Store and search for our Lucidchart add-in.
Click "Add" and follow the instructions.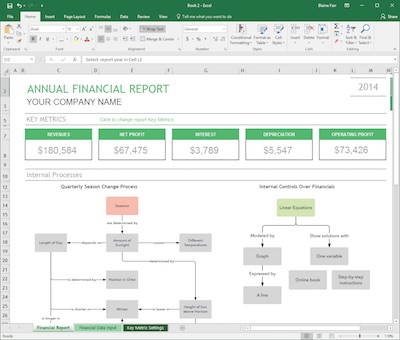 4. Box
Box users rejoice! In addition to storing your text documents, presentations, spreadsheets, and pictures in Box, you can include your flowcharts and diagrams as well. Search for the integration from within your Box account and follow the instructions to download our add-on.
5. HipChat
*Lucidchart no longer supports this integration. 
The last in a series of Atlassian suite integrations, this integration allows you to embed diagrams within your HipChat conversations and pin them to your glance section for quick reference. It's easier than ever to communicate and collaborate when your conversations and diagrams live in the same platform.
How it works:
Navigate to the Atlassian Marketplace.
Search and select "Lucidchart for HipChat."
Click "Get it now" and follow instructions.
6. Gliffy Conversion for Confluence
Although our Confluence integration has been a long-standing Lucidchart feature, this recent feature update simplifies your transition from Gliffy to Lucidchart within the Atlassian suite. With mass Gliffy conversion, automatically recreate all of your Gliffy diagrams in Confluence as Lucidchart diagrams. This feature is available in Confluence OnPrem for a page, instance, or space and in Confluence Cloud for pages only. Stay tuned as we release mass Gliffy conversion for entire Confluence Cloud instances as well!
How it works:
In our OnPrem add-on for Confluence Server, go to the configuration page of the Lucidchart add-on. On the Mass Import tab, select to convert your Gliffy diagrams to Lucidchart diagrams by space, and then watch the progress bar.
For both our Confluence Cloud and OnPrem for Server add-ons, go to the dot menu on the top right of your Confluence page to convert your Gliffy diagrams to Lucidchart diagrams.
We are excited for you to try these new features! Give us your feedback in the comments below or visit our Help Center to submit an additional feature request.
Start diagramming with Lucidchart today—try it for free!
Sign up free
About Lucidchart
Lucidchart is the intelligent diagramming application that empowers teams to clarify complexity, align their insights, and build the future—faster. With this intuitive, cloud-based solution, everyone can work visually and collaborate in real time while building flowcharts, mockups, UML diagrams, and more.
The most popular online Visio alternative, Lucidchart is utilized in over 180 countries by millions of users, from sales managers mapping out target organizations to IT directors visualizing their network infrastructure.