Zenefits, a California-based HR software company, is settling fines in 17 different states for selling health insurance without the necessary licenses. In California, the fines cost them $7 million alone. In New York, the fines equaled $1.2 million for allowing unlicensed employees to sell insurance and failing to implement adequate compliance controls and employee training.
Any company that sells a product or service should have measures in place to not only determine if a sale is real and was acquired through the correct legal process but also to ensure that the sales team follows all its own internal processes. At the same time, the rest of the company should have some level of visibility into how sales operates.
At Lucid Software, we use our flagship product Lucidchart to build and maintain our sales processes. The Sales, Customer Success, and Accounting teams work together to ensure that customers have the best experience possible. Here's a look at how we do it. 
1. Identify all sales types and list required information
We started by looking at the different types of sales we have. We wanted to make sure that everything we built would work across the different types of transactions we process.
Next we looked at what information each involved party would require from the sales team and how it would be communicated. This information starts with the basic breakdown of what exactly we're selling and goes all the way to the required net terms of the contract. We currently use Salesforce as our way of tracking the sale and sharing all the information back and forth.
2. Validate the sale
The next area is ensuring that deals are real. You can do this with something as simple as a signed document or a purchase order. Depending on your sales process and product, the document you use to validate deals will differ. You just need something to confirm that this person is aware of the deal and agrees to it. In the case of Lucid, this step differs based on the type of sale that we process.
3. Determine sales guidelines
The next area we defined was the guidelines by which the sales team could sell our product. We laid out standards like contract length, add-ons, and discounts for Enterprise-level customers. We also decided who could approve any type of deviation from the guidelines. In most cases, the manager would be able to approve a unique line item, but in other cases, we require the VP of Sales.
4. Provide necessary info for accounting
The next step in the process is for accounting to process the payment. Since we have a variety of payment types, it's very important that the sales team communicates all the necessary information to accounting. If sales sent over things that couldn't actually be processed, it would waste valuable company time and give the customer a negative experience.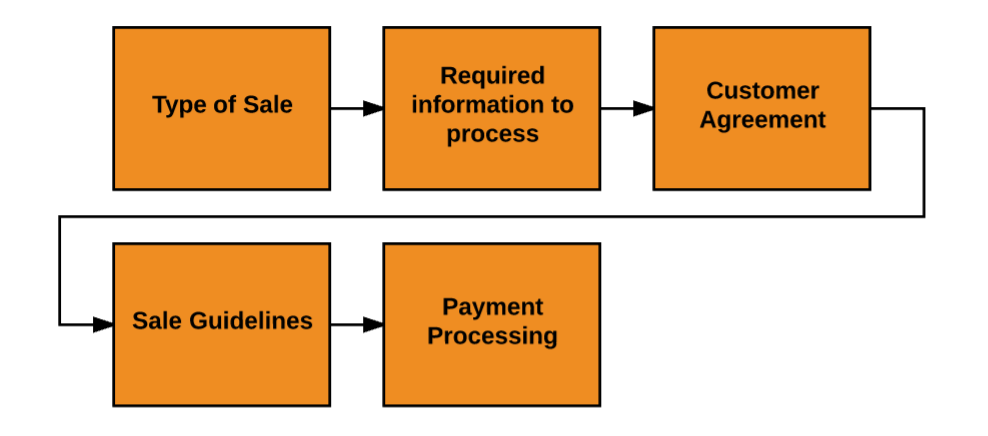 5. Activate the account
The final step is the actual account activation process. This process will depend greatly on the type of sale we're dealing with. Since Lucidchart is a cloud-based product, we have a very simple activation process. Even with that said, someone does need to go in and "flip the switch" to give new users access.
Once we had all the requirements laid out, we started building out the process that would allow us to meet all our requirements. A big goal of this process is maximizing the software and systems you already have in place. At certain points, you will need an actual person to look at the deal. But when it comes to things like approving a discount, you should be able to use Salesforce to point out anyone who needs extra attention. Do this as much as possible to streamline the process.
Because an effective sales process includes so many working parts, at this stage, Lucidchart goes from being a useful visualization and collaboration tool to a must-have. We were building a process that used multiple software platforms and crossed four different departments. We needed a way to let everyone work together closely while also keeping high-level stakeholders apprised of what was happening. Lucidchart works perfectly for doing so and has helped us avoid dozens of meetings.
Using this process, we're able to have multiple departments work together while never repeating any work and avoiding any mistakes. In the above diagram, we created an entire flowchart for each step that showed exactly what needed to happen and how we would record it. By laying down a process and working closely together on it, we can ensure that each customer is being handled correctly and that everyone understands exactly what is required of them.
Once everything has been designed, we can use the same Lucidchart diagram to start building  out the process. We dive into the details for those involved in each step. Each group will not only be able to see their tasks but can easily reference what other groups are doing. Once everything is complete, we can then modify the same diagram to create trainings. The final stage will be to save the diagram so we can easily make any necessary future changes. 
Building your own sales process?
Use Lucidchart!