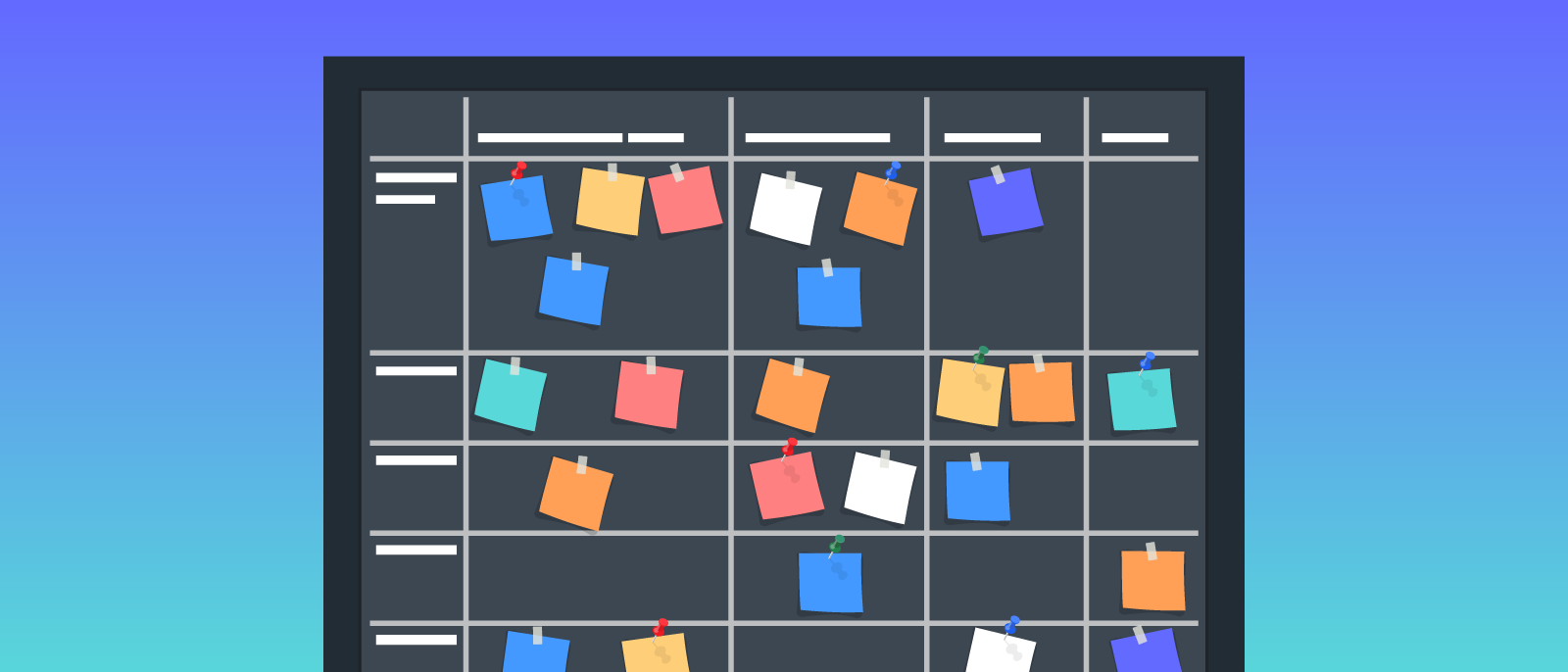 How you can use Lucidchart as a collaborative digital whiteboard
Margaret Julian
Reading time: about 5 min
Sometimes the easiest way to get ideas flowing or to get past communication barriers is to visualize what you're talking about. 
We've all experienced that magic moment at a whiteboard where you sketch out rough ideas and you finally see how everything connects. The frustrating bit is taking the clarity you found at the whiteboard and sharing it with the rest of the workplace, your team and other key stakeholders who weren't in the room.
Instead of relying on a static whiteboard, try Lucidchart. Lucidchart can be a quick and easy way to capture the whiteboarding experience wherever you go, whether you're mapping out your own ideas or doing a team brainstorm. 
Here are 10 ways you can use Lucidchart as your online whiteboarding software to visualize all your best ideas.
1. Give yourself some space
When you open a new document, you have a few options to give yourself the canvas space you need to lay out your ideas.
For digital whiteboarding, especially when you're working with multiple people, it can be helpful to turn on the infinite canvas (found under Page Settings). You can always turn this feature off when you're done if you're planning to export or print your document.
Another great option is to use auto-tiling, which expands the canvas automatically when your thoughts and ideas outgrow the page borders.
2. Collaborate in real time
If you're working with a team, start by getting everyone on the same page—literally. Click the orange "Share" button in any document to send colleagues or teammates an invitation to join you.
You can choose to give collaborators edit access so you can all add content to the canvas, or you can give them view-only access so you can remain in control of your whiteboard and they can see and contribute as you add content to your document.
3. Keep track of your teammates
Once your whole group is in the document, each of your cursors will be labeled with a name so you can see exactly where each person is working. (If you'd like to opt out of collaborative cursors, you can easily turn them off in the "View" menu.)
Can't find the area where your colleague is working? Simply click the initial icons in the top right-hand corner of the editor to automatically zoom to their location.
4. Use sticky notes to capture ideas
Sticky notes can be a great way to quickly and easily add ideas to the canvas. You can either drag sticky notes onto the canvas one by one to add content, or you can use a simple import to transform a bulleted list into individual sticky notes in a color of your choice. 
Once you have your sticky notes on the canvas, you can use container shapes to group them by theme and identify the best ideas.
5. Visualize connections between concepts or ideas
The Lucidchart canvas isn't just for brainstorming with sticky notes—you can also visualize concepts or work through problems with mind maps or basic shapes. Connect shapes with lines and label the lines to help you see relationships. This can be a fantastic exercise to do by yourself to work through a problem or challenge or to do as a team.
6. Get creative and add polish
The beauty of whiteboarding in Lucidchart is the flexibility. Instead of erasing and redrawing your ideas, Lucidchart makes it easy to drag and drop multiple elements on your canvas so you can organize your content just the way you want it. 
Tame the chaos of your board quickly and easily by organizing your content and deleting extraneous items. You can style your shapes with borders, fill them with different colors, or even add icons to add additional information.
7. Get feedback from other stakeholders
Before you present ideas to stakeholders, you may want to get feedback from folks who weren't in your initial brainstorming session. Comment on shapes and @mention anyone to get questions answered and approvals pushed through quickly and easily.
8. Present your ideas
Great ideas become greater when they are shared. Lucidchart has a built-in Presentation Mode that allows you to create slides to navigate between different parts of your canvas as you explain your ideas to others. You can also export your slides from Lucidchart to Google Slides to add your ideas to a presentation. 
9. Share your final product with the right access
Want the world to know about your whiteboard project? Create a publish URL that anyone can access to view the document, even without a Lucidchart account. 
Want to share it with your team with edit access? It's easy—and you can even prevent them from making copies of the document to make sure you maintain a single source of truth. 
10. Store your ideas anywhere you work
Lucidchart makes it simple to maintain a single source of truth. Add your document to Jira, Microsoft Office, or a variety of Google apps so you can access the documentation where you need it and ensure that documentation stays up to date.
It's time to take your whiteboard session beyond the conference room so that your great ideas can grow. Jump back into Lucidchart, or check out the templates below to get you started.
About the author
Margaret Julian is our content marketing manager at Lucid. An MBA graduate from Brigham Young University, Margaret is passionate about content, branding, and product marketing strategy. In her free time, Margaret dances, hikes, reads, and experiments with new ways to incorporate chocolate into any recipe.