The best tools for remote collaboration
Lucid Content Team
Reading time: about 7 min
Managing an in-person team is difficult. Managing a remote team introduces an entirely new layer of complexity. After all, if you don't have eyes on your team, how can you be sure tasks are on track? And how do you generate new ideas that contribute to the success of your business? Without the right collaboration tools, it can feel like you're the general of a ghost army.
Here's why remote collaboration matters and why its success at your organization depends largely on the tools you choose to implement. Plus, we've listed our favorite tools for distributed and remote teams to highlight the variety of available solutions.
Why remote team collaboration matters
Distributed and remote teams are the new normal. Being able to hire top talent regardless of location is one of the best parts of operating digital businesses. When you merge the top talent from all over the world, theoretically you'll also have one of the best teams.
But if that team isn't given tools to help it function as a single unit, there's no capitalizing on the brain trust you've hired. Plus, without the right tools, your brilliant team members can be left feeling like they're operating in silos, and that can lead to feelings of alienation and trigger eventual turnover.
Being able to function remotely is also vital for weathering the storms of changing circumstances. If your entire headquarters needs to relocate nearer to your warehouse in Bangkok, for instance, transitioning to remote working allows you to retain your employees without requiring them to move.
Employees also value the flexibility of working remotely. If an employee's child is sick, that employee can still work from home without having to find a babysitter or take a personal day. Or if your employee simply feels more productive working from a cafe, they can do that without any interruption in productivity.
The right tools for remote team collaboration can benefit your employees' emotional well-being and lead to greater feelings of job satisfaction. Ultimately, this results in better ideas, more loyalty, and a healthier bottom line.
Tips for effective collaboration with a remote team
It's smart to develop best practices for your remote teams before implementing any sort of virtual team collaboration. Otherwise, you're simply assuming each member of your team knows what you expect and increasing the chances of misunderstanding. For instance, is your team expected to be available during the working hours of your main office, or during their own local time? And are video calls mandatory for remote meetings, or can audio calls be used instead? 
Here are some tips for laying the groundwork:
Establish video conferencing protocol: Choose the platform you'll be using for your team meetings and make that the standard. Pay for the best subscription package for your needs so that you don't find your meetings unexpectedly interrupted. 

Document and train on processes: It's smart to make a centralized resource of tools your company uses to collaborate. But it's even smarter to train your employees on how to use those resources.

Transfer real-life touchpoints and relationships into digital ones: If you were in the office with your team, you'd chat in the break room and go grab coffee together. Since you can't do that in person as a distributed or remote team, replicate the experience another way. Have coffee sessions with your team and schedule one-on-ones. Once a year, consider gathering your team together at your headquarters to further strengthen bonds.
Best collaboration tools for remote teams
Here are the best collaboration tools for keeping your teams working smoothly, no matter how far apart you may be.
Process documentation
A process doesn't really exist until it's written down. It's also not really a process until it's organized, presented, and updated regularly. 
Lucidchart: Lucidchart has so many use cases, it's not fair to pigeonhole it under process documentation. Chances are, once you get started with it, you'll find yourself using it for everything from determining future hiring needs to visualizing your cloud architecture. Use Lucidchart to create process maps, UML models, org charts, brainstorming sessions, and visual representations of just about anything. Since it's cloud-based, it's built for remote collaboration from anywhere in the world.
Employee development
It's easy for employees to feel alone when they aren't in the office. Make sure they feel you're committed to their progress and success.
Bridge: Bridge helps employers proactively invest in their employees by providing development tools and paths. Learning is baked into the software, and it's easy to keep track of every employee's progress in Bridge's dashboard.
Communication tools
Email just might be the death of productivity. There's nothing worse than someone taking up valuable space in your inbox with a quick question. That's why instant messengers are great for keeping teams talking without relying on email or meetings.
Microsoft Teams: The most formal, corporate option. Microsoft Teams is a platform that combines chat, file storage, and video meetings and is great for enterprise use.
Google Hangouts: Google Hangouts is recommended for one-on-one chats, and it's easy to access as it's already integrated into Gmail.
Slack: The fun, sassy communication tool. Slack shines at GIFs and the ability to create public channels, private channels, and direct messages between groups of users. Messages can be deleted after sending.
Facebook Workplace: This tool has integrated video calling features along with instant messaging similar to Facebook Messenger.
Video conferencing
Seeing your team is invaluable for collaboration, so video conferencing tools can really help navigate the pains of remote working. However, the power of any video conferencing tool relies primarily on a strong network connection. 
Make sure your employees have fast Wi-Fi and working equipment so they can join video conferencing calls. And if multiple members of your team raise objections to any particular video conferencing platform, it may be worth switching to a different option that has better call quality.
Zoom: Zoom is easily accessible and simple to use. There's no email required, and it has a great mobile app.
Hangouts Meet: If you already use G Suite, Hangouts Meet is likely already integrated, which makes setting up calendar invites a snap.
BlueJeans: This software can handle larger calls but requires installation stored locally.
Task management tools
There's no excuse for not having your team on a task management tool. It keeps team members accountable, helps them stay organized, and allows for greater visibility into tasks and projects. We strongly advise getting up and running on a task management tool. You'll be amazed at how fluid your productivity becomes.
Asana: Ideal for marketing departments, Asana allows teams to assign projects, add due dates and descriptions, and get the bird's-eye view of an entire department's progress.
Trello: Trello is a highly customizable kanban board that is great for both personal projects and smaller teams.
Workfront: Though a more expensive option than Trello or Asana, Workfront provides enterprise teams with robust project management features and additional proofing add-ons. 
Jira: Jira, a platform that's part of the Atlassian Suite, is the perfect option for developers and product teams, built for managing sprints and issue resolution.
GitHub: Best for open source teams, GitHub allows for documentation and commenting and tracking changes to a particular project.
AirTable: This is the best option for content management. It allows for social media management as well as content campaigns, plus it's easy to learn and to use.
Successful remote working really depends on tools that are fully integrated into your team's day-to-day processes. Set expectations, set standards, and make sure your teams are comfortable using the solutions you've selected. With improvements and plug-ins being released every day and new startups coming up with better collaboration tools every year, you can be sure that all of these solutions will continue to improve.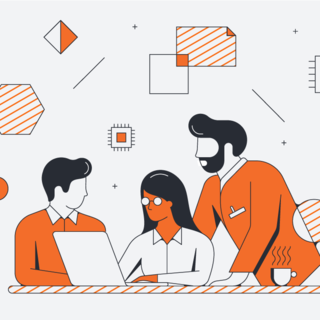 Enhance your remote collaboration with these Lucidchart tips and tricks.
Learn how
Lucidchart
Lucidchart, a cloud-based intelligent diagramming application, is a core component of Lucid Software's Visual Collaboration Suite. This intuitive, cloud-based solution empowers teams to collaborate in real-time to build flowcharts, mockups, UML diagrams, customer journey maps, and more. Lucidchart propels teams forward to build the future faster. Lucid is proud to serve top businesses around the world, including customers such as Google, GE, and NBC Universal, and 99% of the Fortune 500. Lucid partners with industry leaders, including Google, Atlassian, and Microsoft. Since its founding, Lucid has received numerous awards for its products, business, and workplace culture. For more information, visit lucidchart.com.
Bring your bright ideas to life.