Activity Diagram for Hospital Management System (UML)
Activity diagrams in UML outline complex workflows for business and academic settings. One example of an activity diagram is a flowchart for a hospital management system.
Create your own activity diagram in Lucidchart. Every UML container you need is included as part of Lucidchart's intuitive software. It's free to sign up!
Demo now
Sign up free
---
UML Activity Diagram Example: Hospital Management System
This activity diagram shows the process a patient goes through at the receptionist's desk to be discharged from the hospital. There are many levels to hospital management systems—activity diagrams can map out processes at both a high and a more granular level. Swimlanes divide the steps by who's doing what. You can use Lucidchart UML activity diagrams as editable templates—everything from the color scheme, to the font choice, to the specific containers, is customizable.
---
Hospital Management System Activity Diagram Template
Click to Demo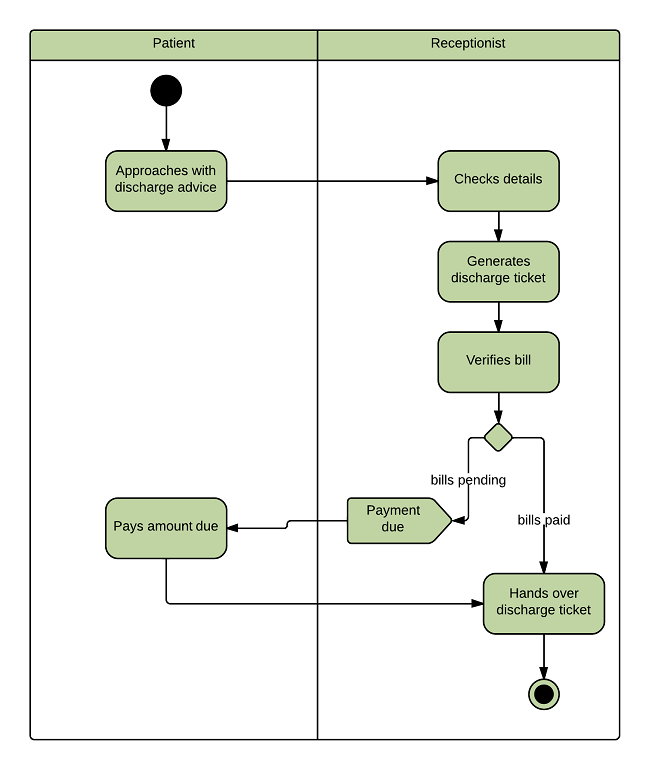 ---
`
More Activity Diagram Examples in Lucidchart
The flowchart conventions of UML activity diagrams can make complex processes clearer to the viewer. They can be used to demonstrate business workflows in a variety of settings—not just at the hospital, but also at a library, on an online shopping site, or at an ATM. Lucidchart provides all the UML containers, swimlanes, and connectors you need to make your diagram look professional and polished. Here are some more UML activity diagram examples:
Library management activity diagram example
This activity diagram shows the steps necessary to check out books from a libary. Mapping out library management workflows is important for both librarians and library software developers. UML flowcharts present this information visually.
See our library management system activity diagram example in full here.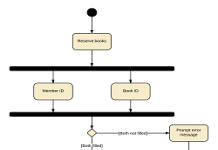 Library reservation activity diagram example
This activity diagram uses the conventions of UML, such as bars to represent co-terminous events, to show the process of reserving a book. With library smartphone apps, a lot of these workflows could happen from the patron's phone!
ATM system activity diagram example
This activity diagram models what happens when you withdraw money from an ATM, from authentication as an account holder to dispensing cash. Lucidchart's activity diagram templates are easy to edit—add or take away any steps you choose.
See our ATM system activity diagram example in full here.
---
To make use case and activity diagrams in UML, try Lucidchart. It's free to sign up—no plugins or download required. The editor is easy to learn, and you can instantly share your diagram to the web or download as a PDF, JPG, or PNG.
Try it now
Sign up free
Sign up free