Activity Diagram for Inventory Management System (UML)
With a UML activity diagram, your organization can easily chart workflows and business proceses. Just drag and drop pre-built symbols onto the canvas, then share with the team.
Making your own activity diagrams is simple. Just click the buttons below to test the functionality and customize a professional template. You'll see that Lucidchart is fast, friendly, and easy to use.
Sign up free
---
UML Activity Diagram for Inventory Management System
All sorts of organizations have stockrooms, whether they're large or small. In order to satisfy their customers, restaurants, retail shops, and online stores need to know exactly where their inventory levels are. An activity diagram like this one can help managers and employees understand how their inventory management system works. We recommend Lucidchart for mocking up UML diagrams; the application comes standard with a set of customizable shapes and connectors that are simple to use and easy to share.
---
Inventory Management System Activity Diagram Example
Sign up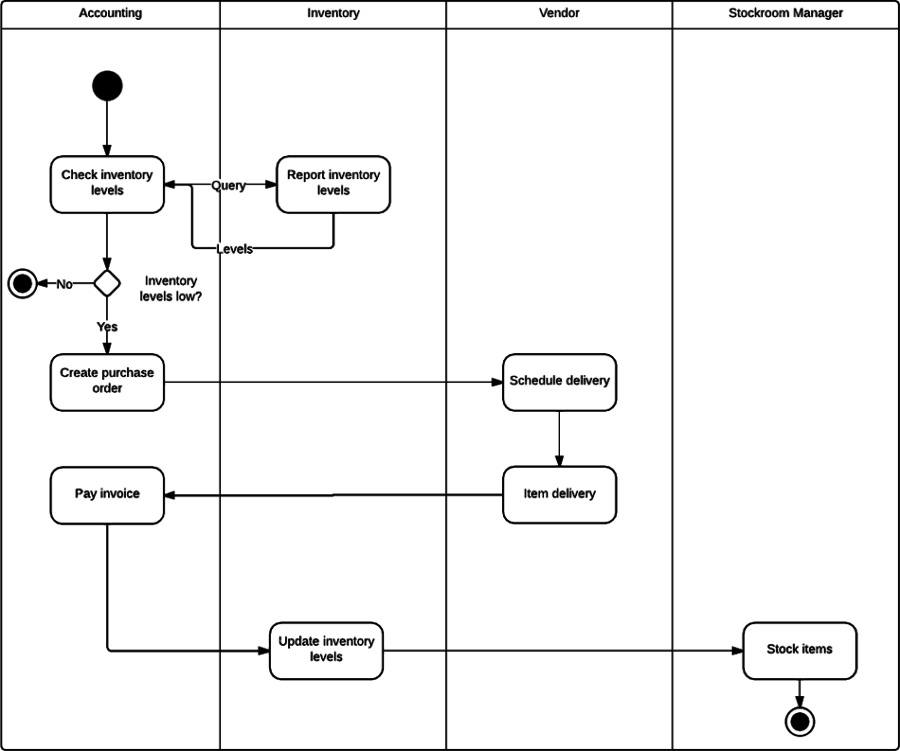 ---
More Activity Diagram Examples in Lucidchart
Activity diagrams are well-suited for any workflow representation, including business and computational processes. Save time when communicating with teammates by using our handy sharing and collaboration features. Lucidchart provides responsive and flexible shape libraries, and even allows SVG, PNG, and JPG import for niche use cases. Explore these UML activity diagram templates and get inspired!
Login activity diagram example
If you spend time on the Internet—or with software applications of any kind—you know that logging in is often required. This UML activity diagram shows the process of logging on to a website.
See our Login Page activity diagram example in full here.
ATM system activity diagram example
Click this activity diagram example for a demonstration of a customer's interaction with an ATM. The process covers each step from verifying the PIN to depositing money into the user's hands.
See our ATM system activity diagram example in full here.
Hospital management activity diagram example
This template is an easy way to view the check-in process between a patient and receptionist at a hospital. Like our other examples, this one can be turned into a customizable file of your own.
See our hospital management activity diagram example in full here.
---
For easy-to-make UML diagrams, including state and activity diagrams, Lucidchart is the perfect choice. The drag-and-drop editor allows you to generate professional-looking charts in just minutes.
Sign up free
Sign up free