Activity Diagram for Library Management System (UML)
Activity diagrams are the perfect tool for mapping processes and workflows. You can use UML flowcharts to create an activity diagram for a library management system.
Click the buttons below to make your own activity diagram. Lucidchart's intuitive interface includes an out-of-the-box UML shape library.
Demo now
Sign up free
---
UML Activity Diagram Example: Library Management System
This chart shows the flow of checking out a book from your local library. From inquiring about a book's availability to taking it home, there are several steps along the way. Lucidchart differs from other diagramming tools in offering specific UML templates, including activity diagrams. Different container types—swimlanes, activities, and end states—let you seamlessly use the conventions of UML activity diagrams. Real-time collaboration and publishing to the Web help you work with others to refine your projects.
---
Library Management System Activity Diagram Template
Click to Demo
---
More Activity Diagram Examples in Lucidchart
Activity diagrams visually represent complex processes. In UML, activity diagrams model processes specific to computers (like library information systems) and business workflows (like hospital management). When you make your activity diagrams in Lucidchart, you get UML-specific containers, connectors, and swimlanes. Get inspired with the following UML activity diagram examples: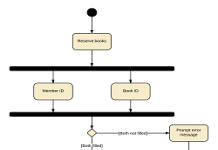 Library management activity diagram example
To see another library management activity diagram, open this example. This image maps out the steps that the patron and librarian need to take to reserve a book.
ATM system activity diagram example
This activity diagram shows the steps of withdrawing cash from an ATM, from authenticating the account holder to dispensing money. You can customize any Lucidchart activity diagram template.
See our ATM system activity diagram example in full here.
Hospital management activity diagram example
This template models the check-in process for a patient and receptionist at a hospital. Using a UML activity diagram clarifies the workflow for hospital managers.
See our hospital management activity diagram example in full here.
---
For easy-to-make UML diagrams, use our drag-and-drop interface to create your chart, then export it to a variety of file formats. Get started for free—no plugins or download required.
Demo now
Sign up free
Sign up free