Activity Diagram for Login Page (UML)
Activity diagrams use the conventions of UML to visually represent complicated workflows. An activity diagram for login shows the steps for logging into a website, from username and password entry to authentication.
To make your own editable activity diagram, try Lucidchart. Simply drag and drop the shapes and connectors you need — then customize your color scheme, typefaces, and download format.
Demo now
Sign up free
---
UML Activity Diagram Example: Login Page
This activity diagram shows the process of logging into a website, from entering your username and password, to successfully logging in to the system. Login is a fundamental part of day-to-day life, whether it's for banking sites, online shopping, or checking email. Lucidchart is the ideal tool for creating any kind of UML flowchart, whether it's an activity diagram, a use case diagram, or a component diagram. This login diagram uses different container shapes for activities, decisions, and notes. Lucidchart offers in-editor collaboration tools and instant web publishing.
---
Login Page Activity Diagram Template
Click to Demo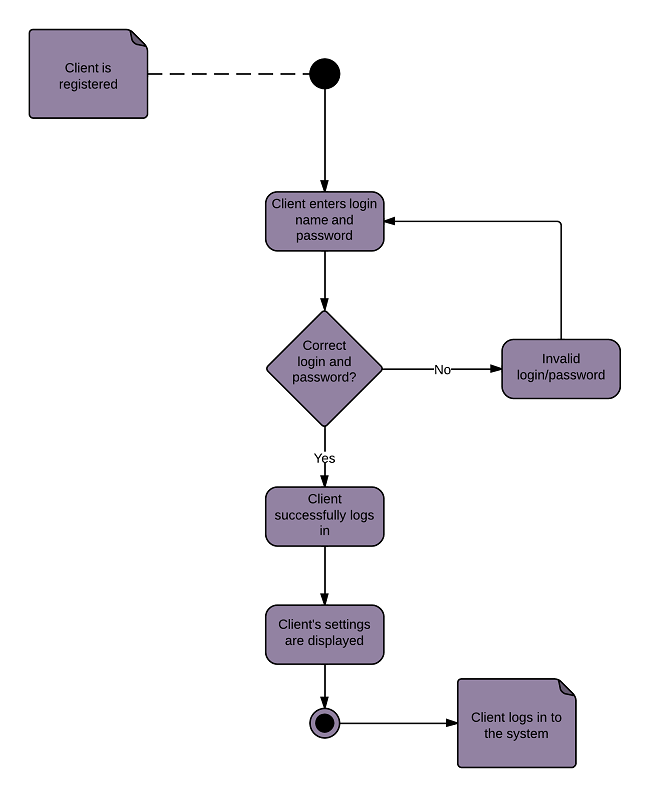 ---
More Activity Diagram Examples in Lucidchart
Activity diagrams sum up multi-step workflows in a way that's easy for anyone to understand. They can be used for a variety of sectors, from library management to banking to hotel management. Lucidchart has UML-specific container shapes, line styles, and starting and end points. Draw inspiration from these activity diagram examples:
Hotel activity diagram example
This flowchart demonstrates the steps in making a hotel reservation, from getting an itinerary, through entering credit card information, to generating a confirmation number. All Lucidchart templates are completely customizable.
See our hotel management system activity diagram example in full here.
Banking activity diagram example
Whether a client is depositing into or withdrawing from a bank account, his or her security is of the utmost importance. Mapping out the steps involved can help ensure that a bank is prepared for a variety of transactions.
See our banking system activity diagram example in full here.
ATM activity diagram example
From authenticating the account holder to dispensing cash, this chart is another example of a banking activity diagram — in this case, using an ATM. All Lucidchart diagram templates are customizable — we offer in-depth tutorials.
See our ATM system activity diagram example in full here.
---
To make a variety of UML diagrams, including activity diagrams, try Lucidchart. With an intuitive canvas and downloading and web publishing options, Lucidchart is a great fit for both homework assignments and work diagrams.
Demo now
Sign up free
Sign up free