Activity Diagram for Railway Reservation System
Activity diagrams are a great choice for recording processes and workflows with UML. Use pre-made symbols and connectors to make a basic activity diagram for railway reservation system.
To craft your own activity diagram, just click the buttons below. Lucidchart is fast, friendly, and equipped with a sophisticated UML shape library. See for yourself!
Try it now
Sign up free
---
Activity Diagram for Railway Reservation System
In many parts of the world, riding a train or bus is an everyday occurrence. An activity diagram like this one can help you understand how the railway reservation system works. In Lucidchart, you can mock up nearly any type of UML diagram, from activity diagrams to component diagrams. Drag-and-drop shapes make it easy to fill out and chart any process, from reserving a train ticket to finding an open bed in a busy hospital. See how UML can help organize your work and personal life!
---
Railway Reservation System Activity Diagram
---
Activity Diagram Examples in Lucidchart
Activity diagrams are an easy way to represent any workflow, especially business and computational ones. Get your engineering or management team on the same page by presenting them with an easy-to-follow activity diagram. Lucidchart provides responsive, pre-built symbols, connectors, and containers—you can even import SVG, JPG, and PNG files for specialized needs. Check out these UML activity diagram examples for inspiration: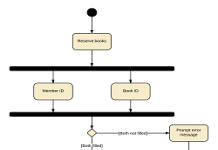 Library management activity diagram example
Open this example to see a simple diagram that outlines a library book reservation process. Librarians take these steps to ensure that patrons get the materials they need without wasted time or effort.
ATM system activity diagram example
This activity diagram example demonstrates how a customer interacts with an ATM to withdraw money. From verifying the PIN to delivering cash, see how a complicated process is executed.
Hospital management activity diagram example
Click this template to view the check-in process for a patient and receptionist at a hospital. Remember that any Lucidchart example in the Community can be completely customized to your needs.
---
For easy-to-make UML diagrams, including state and activity diagrams, Lucidchart is a great choice. Use our drag-and-drop interface to create your chart, then export it to a variety of file formats.
Try it now
Sign up free
Sign up free