Linux Academy
Linux Academy uses Lucidchart to create interactive diagrams for their online courses, helping students to break down complex concepts.
Contact sales
Key benefits
BUILD INTERACTIVE DIAGRAMS

Now nearly every course at Linux Academy includes interactive diagrams created in Lucidchart. Using hotspots and layers, Tom builds Lucidchart documents that include a high-level overview diagram that navigates to different granular views. It makes the learning experience more engaging and reduces the learning curve for students.

SHARE

Course authors can generate a link granting all students view-only access to the Lucidchart documents. The author maintains full control of the document while an unlimited number of students can navigate the content at the same time.

ONBOARD

Every new course author receives a Lucidchart account and is shown examples to help them generate ideas for visuals for their own courses. Team members share documents with each other to review diagrams before they appear in published courses, ensuring that content stays consistent with the brand style guide.
---
INDUSTRY: Education Management
SIZE: Medium (101-2,500 employees)
ROLE: UX/Product
Linux Academy is the leading online Linux and cloud training platform and community. The company was founded on the belief that high-quality, in-depth training should be available at an affordable price.
Linux Academy was born on the understanding that everyone learns differently. It takes more than traditional education methods of learning to develop the skills needed for a Linux or cloud computing-related career. Based on that belief, Linux Academy was founded on a hands-on learning approach to help students train and take their career to another level. To take that innovative teaching method a step further, Linux Academy Course Author, Tom Haslett, had an idea for his courses that would allow him to further help develop students at Linux Academy.
When Tom Haslett first started course authoring at Linux Academy two years ago, he had a vision in his head of exactly how he wanted to teach his courses. As an author for a top online e-learning platform, he knew he had to give his students an impactful way to learn and develop the skills that they needed to succeed.
With the interactive features that the platform already had, including cloud servers, study groups, flashcards, an active and engaging community, he wanted to give them another resource that attempted to explain complicated topics and technologies such as Linux, Amazon Web Services, Azure, Google Cloud Platform, and OpenStack that didn't just involve massive amounts of text—text that often left students more confused and overwhelmed than when they started. While Linux Academy already had effective hands-on features in place, Tom knew that he wanted to further engage students and help them make sense of such complex technical concepts through visuals—lots and lots of visuals.
But not just any visuals. Tom wanted his courses to be supplemented by interactive diagrams.
Tom had a clear vision for how he wanted to help his students understand the course training material, as well as develop the proper skills they needed through his courses at Linux Academy, but he wasn't quite sure how to go about creating it.
Finding the best tool
Tom spent two weeks evaluating countless diagramming tools, trying to find one that would allow him to move beyond static visuals. He wanted to build diagrams that clearly demonstrated the high-level overview of a concept but that also offered granular views of the specifics of a project. He wanted students to be able to drill down as far as they needed to fully understand a concept. Tom explains:
"I wanted to be able to start off at a top page or layer and have the ability to navigate 20 different directions from that page. Then, as I went in those 20 different directions, have the ability to also back out and get to the top layers again."
He tested many different platforms, but only one offered the functionality he was looking for: Lucidchart.
Creating engaging content
Lucidchart offered the navigation capabilities necessary for the complex and interactive diagrams Tom envisioned for his courses.
Using hotspots and layers, Tom and his team built interactive Lucidchart diagrams alongside a few of the company's courses. For example, to supplement Linux Academy's AWS Certified Solutions Architect prep course, Tom built The Orion Papers. This complex document is a non-linear, visual, interactive guide designed to enhance students' understanding of AWS. The guide is meant to be used in conjunction with the video lessons and hands-on labs Linux Academy provides on their learning platform. The Orion Papers contains 16 pages with different interactive diagrams of varying detail.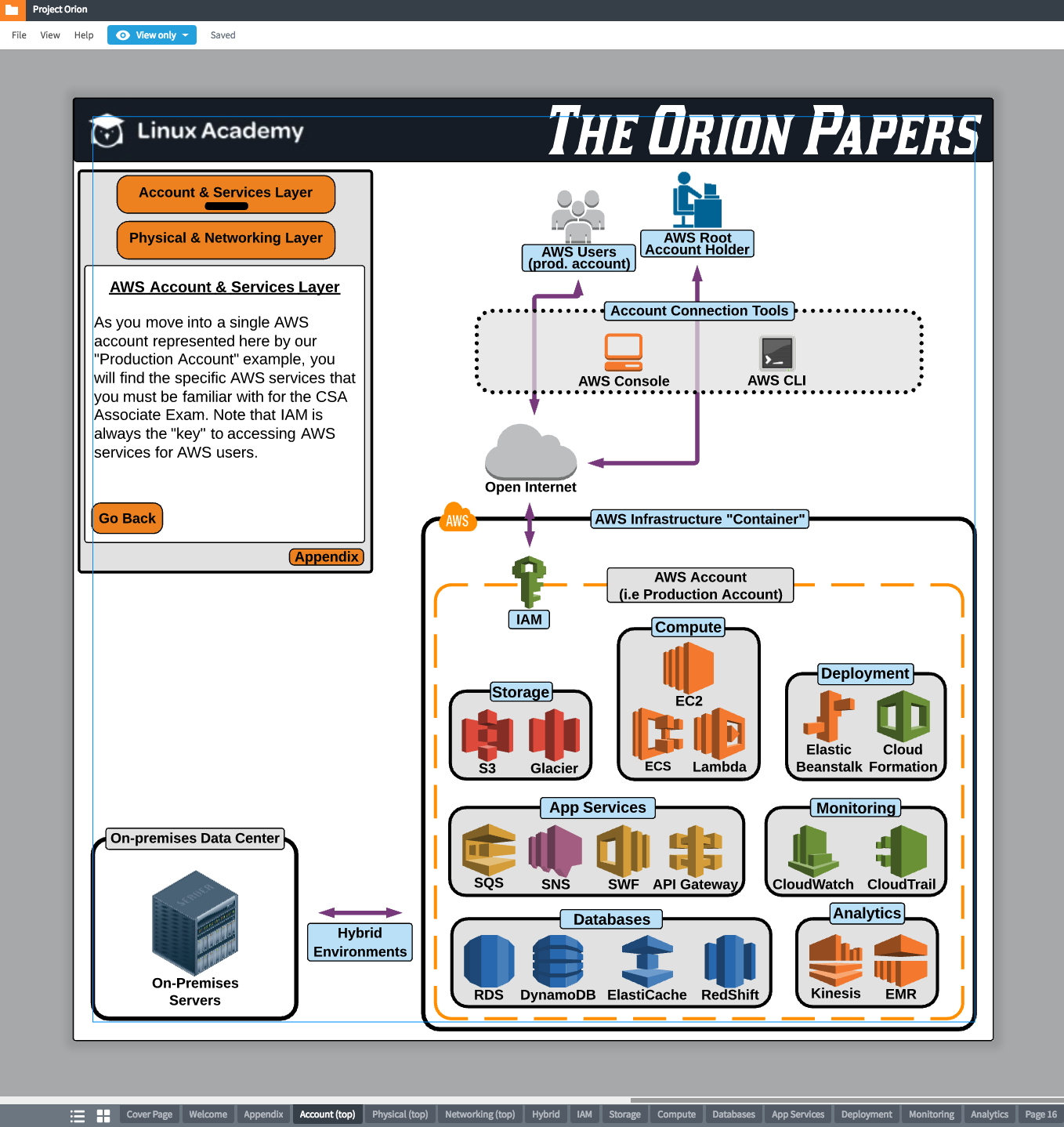 Tom starts with a diagram showing the top level of the architecture, and then he creates separate pages diving into the various services. Certain pieces of the diagrams take students to pages with additional diagrams, information, or pop-ups providing additional context. And students are always able to navigate back out to the primary high-level view at any time.
In addition, Lucidchart provided all of the shapes that Tom needed to build his diagrams, such as very specific AWS icons. Tom explains:
"Lucidchart is the only platform I found that allowed me to drill down and drill back. I can go in ten different directions from one page and then navigate back to that first page. That's the feature I was looking for."
And students' responses to these interactive visuals? Overwhelmingly positive. Tom describes:
"Lucidchart allows us to visualize things that were previously just conceptual. It makes the learning experience that much more engaging and reduces the learning curve for students as well."
Sharing across the world
Lucidchart makes it easy for students to take advantage of these diagrams, as course authors can generate a link granting all students access to the Lucidchart document. The link allows students to only view the diagrams, ensuring that the author remains in full control of the document's content. An unlimited amount of students can navigate the same document at the same time with no interruptions.
Onboarding and more
Lucidchart has become a staple at Linux Academy. It is now part of the onboarding process—every new course author receives a Lucidchart account and is shown examples to help generate ideas for visuals and interactive components they can create for their own courses.
Team members share documents with each other to review diagrams before they appear in published courses, ensuring content stays consistent with the company's brand style guide.  
And Lucidchart isn't just used for external purposes. Linux Academy recently launched Cloud Assessments, a product offering tailored towards interactive learning experiences based on a student's particular skillset. In developing the product, the team used Lucidchart to map out the user flow to ensure an optimal student experience.  
Whether they're just entering the world of IT or are seasoned veterans, students at Linux Academy are truly harnessing the power of visuals, witnessing for themselves how complex concepts can be easily digestible by breaking them down into interactive components.