Class Diagram for Library Management System (UML)
Class diagrams in the Unified Modeling Language, known as UML, can seem complex to the novice user. By using a Lucidchart diagramming template, you can advance from a beginner to pro in minutes!
Lucidchart's full suite of UML shapes, along with its in-editor collaboration and publishing, make it the natural choice for developers looking to create class diagrams in UML. Try it for yourself!
Demo now
Sign up free
---
UML Class Diagram for a Library Management System
Libraries have always been at the vanguard of developments in information science. Whether you've built library software, checked out a book from a library, or worked as a volunteer at one, you're probably familiar with some aspects of library management. Although a lot has changed from the days of the Dewey Decimal System and card catalog cabinets, it's still important to understand the flow of holdings and acquisitions. This UML class diagram illustrates various stakeholders in that process.
---
Library Management System Class Diagram Template
Click to Demo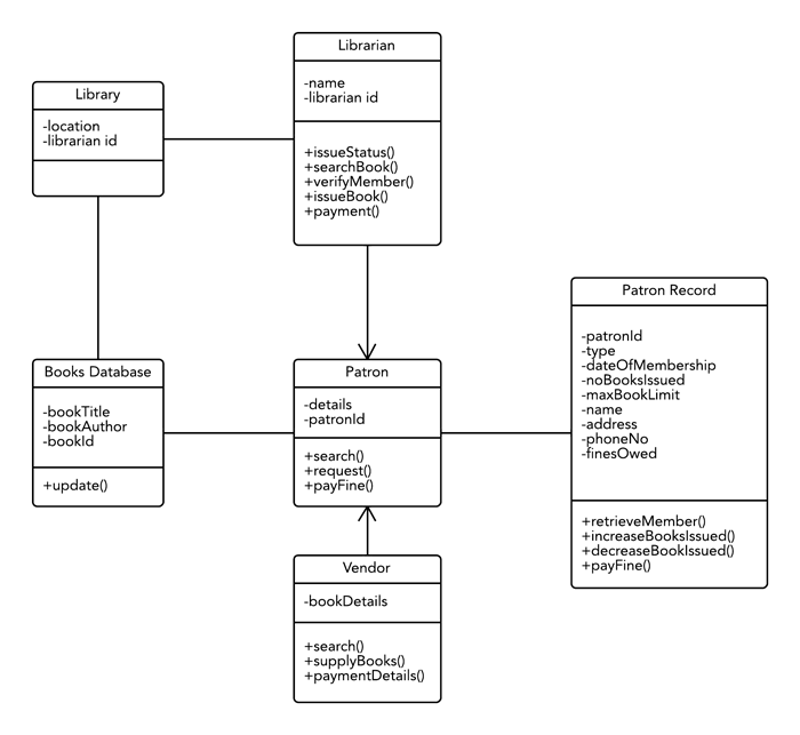 ---
More UML Class Diagram Examples in Lucidchart
Lucidchart comes with pre-made templates for a wide variety of UML sub-categories, including activity diagrams, sequence diagrams, and even text-based use case scenarios. You can start a Google Hangout with a classmate or colleague, download your diagram as a PDF, PNG, or JPG, and embed your chart in a third-party website, such as a blog. Jump in and try one of the customizable templates below.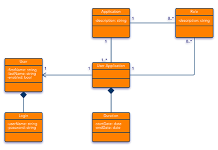 Login page class diagram example
All libraries have a website where patrons can log in. They can often self-serve by renewing books, requesting materials, and paying fines, all from a home computer or mobile phone.
See our Login Page class diagram example in full here.
Online shopping system class diagram example
Amazon started as a marketplace for books—now, you can buy nearly anything imaginable from this and other e-retailers. Design similar online shopping systems with this template!
See our online shopping system class diagram example in full here.
Hotel management system class diagram example
Managing a hotel involves many steps: this colorful diagram can help portray any of the actors involved, from the manager and receptionist to the housekeeping staff and guests.
See our hotel management system class diagram example in full here.
---
Lucidchart is one of the most popular productivity apps on the web! Join our community of innovative developers, designers, and students by trying the program today. Get started for free—no plugin or download required.
Demo now
Sign up free
Sign up free