Lucidchart for IT services
Learn how Lucidchart—an online, collaborative alternative to Microsoft Visio—can enhance your work. Think, Visio meets Google Docs.
How can your IT department use Lucidchart?
Lucidchart offers tools that will enhance and simplify your work flow. With Lucidchart, you can easily create network diagrams, wireframes, UML diagrams, flowcharts, ER diagrams and data flow diagrams, and you can do it all directly in the browser.
Whether you're designing or documenting a network, planning a new website, or visualizing a system, Lucidchart rises far above Microsoft Visio with its collaborative features and ease of use. Because Lucidchart also offers Visio import, it's now easier than ever to upload your old Visio files and transition your work to the cloud.
Which features does Lucidchart offer?
Lucidchart makes real-time collaboration a reality—work with anyone from anywhere at any time, and instantly see changes that are made. Robust revision history enables you to review previous iterations and even revert back to these earlier versions, if necessary.
Lucidchart also offers a large library of shapes and the option to upload your own images into your document. To share the finished product, choose from a variety of export options, including a web page, PNG, PDF, VDX, or even an embeddable HTML viewer.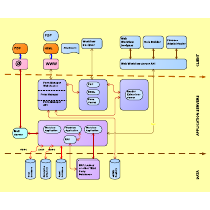 How much does Lucidchart cost?
Lucidchart is completely free for accredited educational institutions.
Faculty and administrators, simply use this form to request an account for your group or department.
---
"Stunningly intuitive, fast, browser agnostic (HTML5), and so easy to share and collaborate....I'd guess less than 10% of users will ever need the more esoteric features of Visio that make it clumsy and cumbersome for 100% of us. Try Lucidchart—you won't look back." – Joe
"I must admit I was skeptical at first. Diagramming just seems like it's been done too many times, usually poorly. I was absolutely surprised at the level of fluidness this application has. There were virtually zero problems in any of the diagrams I built, and it seems extremely versatile and easy to use." – BJ