Cloudockit vs Lucidchart
Cloudockit's diagramming capabilities are no match for the customization, flexibility, and collaborative functionality you get with Lucidchart Cloud Insights.
Join the 99% of the Fortune 500 who trust Lucidchart





Filter and layout options for customized viewing

Lucidchart Cloud Insights allows users to auto-generate cloud diagrams, create customized layouts, and apply filters to highlight important details—all backed by cloud-provided metadata.


Auto-generated line connections and other intuitive features

While Cloudockit offers basic features, Lucidchart Cloud Insights lets you auto-generate your cloud diagram with line connections to visualize different relationships at a glance and communicate complex systems and processes effortlessly.


Collaborative features that connect your team in real time

Unlike Cloudockit, Lucidchart Cloud Insights lets you work on cloud visualizations with others in real time, regardless of device or location. Leave shape-specific and @mention comments so your team can take action where it's needed within your diagram.

An all-in-one solution to cloud diagramming

Cloudockit requires you to connect to another diagramming platform to create your visuals, which is time-consuming and expensive. Lucidchart Cloud Insights is a one-stop platform for creating, maintaining, accessing, and collaborating on cloud architecture diagrams.

Automatically create cloud diagrams with Lucidchart Cloud Insights
Ready to visualize your cloud architecture? Try Lucidchart Cloud Insights and import your architecture today.
Get a quote
The features that set Lucidchart apart
Collaborate with your team from anywhere
Lucidchart lets you collaborate in real time with any user, no matter what time zone, device, or operating system teams are working from. All updates and comments are reflected instantly for others to see, so your cloud architecture diagram can act as a single source of truth during crucial migrations, implementations, security reviews, and more.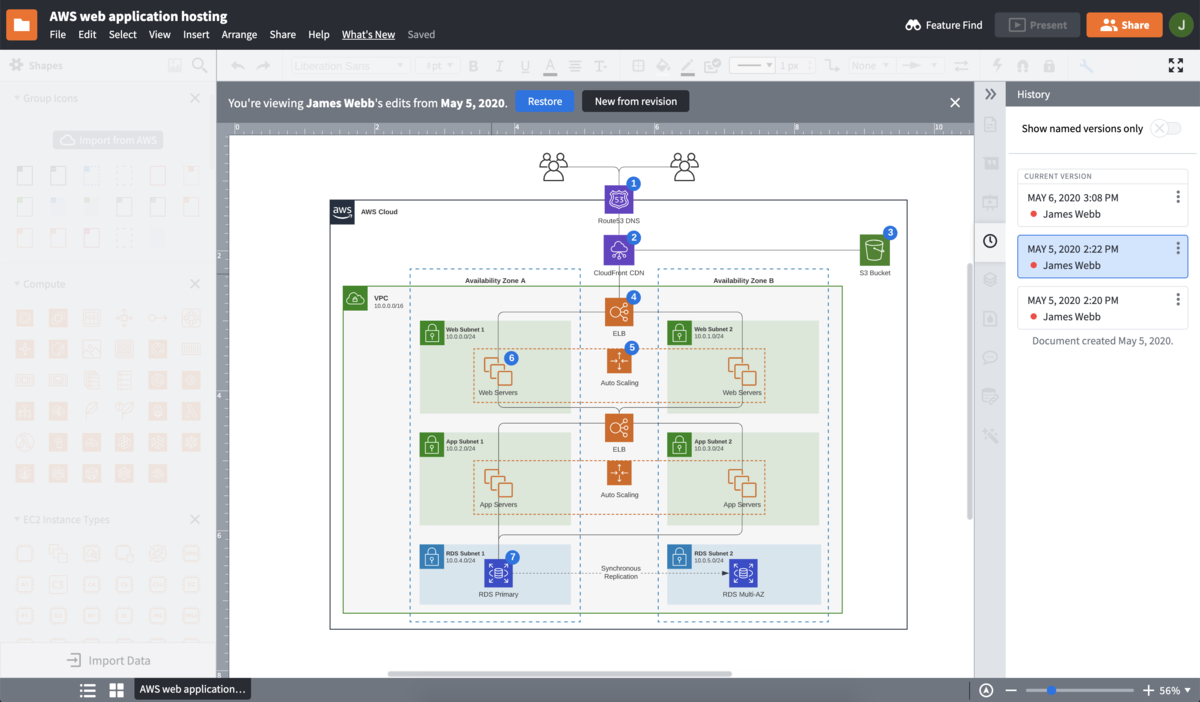 Easily maintain cloud architecture diagrams and track revisions
Lucidchart Cloud Insights makes it easy to track revisions and maintain your architecture diagrams across platforms. All changes are tracked in a thorough revision history and reflected in your visuals. Lucidchart even updates visuals embedded in other apps, such as Confluence wiki pages, so security leads, infrastructure engineers, and architects always have an up-to-date reference.

Integrate across all your favorite apps
Lucidchart is integrated with many of today's most popular collaborative platforms, such as G Suite, Atlassian, Office 365, GitHub, Microsoft Teams, Slack, and more. Add your architecture diagram to any Jira ticket or Confluence wiki page, or insert it directly into word documents, spreadsheets, or slideshow presentations for valuable visual context.

Use Lucidchart Cloud Insights to visualize key governance data
Endlessly navigating between your diagram and code for your metadata is time-consuming and ineffective. Use Lucidchart Cloud Insights to quickly visualize metadata like security groups or IP addresses in the context of your architecture diagram. Apply conditional formatting to enforce internal best practices by flagging resources like unencrypted data.
Frequently asked questions about Lucidchart Cloud Insights
Visualize, understand, and optimize the cloud
"Changes automatically update the Lucidchart diagram on Confluence pages because it's tied to the original document, so I always know that I'm looking at the latest and greatest diagram."
- -Toby Foss, Director of Cloud Network Operations at Informatica
Get started with Lucidchart Cloud Insights