Hava vs. Lucidchart
Intuitive features for more tailored cloud diagrams
Join the 99% of the Fortune 500 who trust Lucidchart





Hava's basic cloud diagramming tools pale in comparison to Lucidchart Cloud Insights, where you can automatically generate and maintain interactive cloud infrastructure diagrams.
Ability to filter and save views to highlight key details

After generating your cloud diagram in Lucidchart Cloud Insights, you can use built-in filters to hone in on the most important information and adjust your diagram's layout, style, entity grouping, containers, and more. Hava doesn't allow users to change the layout at all, and its filter and search options make customization difficult.

No hassle to generate or manually design cloud infrastructure diagrams

Lucidchart Cloud Insights makes both automated and manual design effortless. Refresh your diagrams instantly by updating your cloud metadata. If you want to make edits, you can convert your diagram to an editable version and apply manual changes as needed to tailor the visual to your needs, such as adding Layers to plan your future state.

Intuitive design features that accent relationships

Unlike with Hava, Lucidchart Cloud Insights users can show line connections to represent different relationships, easily turning any of them on or off for easy viewing. Lucidchart Cloud Insights also allows users to show relationships by line type, while Hava limits users to toggling all lines on and off.


Real-time collaboration to keep teams aligned

Lucidchart Cloud Insights was built for ultimate collaboration, letting you optimize, troubleshoot, and visualize your cloud with key players in real time. Share your AWS, GCP, or Azure diagram or embed it into the apps your team frequently uses.
Let Lucidchart Cloud Insights automatically generate your cloud diagrams
Easily maintain cloud architecture diagrams
Create accurate cloud diagrams that help teams respond quickly to incidents, verify migration and implementation, and follow internal best practices. Lucidchart Cloud Insights works across all devices and operating systems, so you can maintain your cloud diagram from anywhere. Any changes made to your metadata will be reflected in your diagram, as well as anywhere else your diagram has been shared, creating an up-to-date reference for infrastructure engineers, architects, and security leads.
Visualize key cloud governance data
Use Lucidchart Cloud Insights to visualize key cloud governance data, such as security groups and IP addresses, in the context of your architecture diagram. With all of your data clearly mapped out, you no longer have to navigate between your diagram and your cloud console or code. Apply conditional formatting rules to highlight important details and enforce internal best practices by flagging resources like unencrypted databases.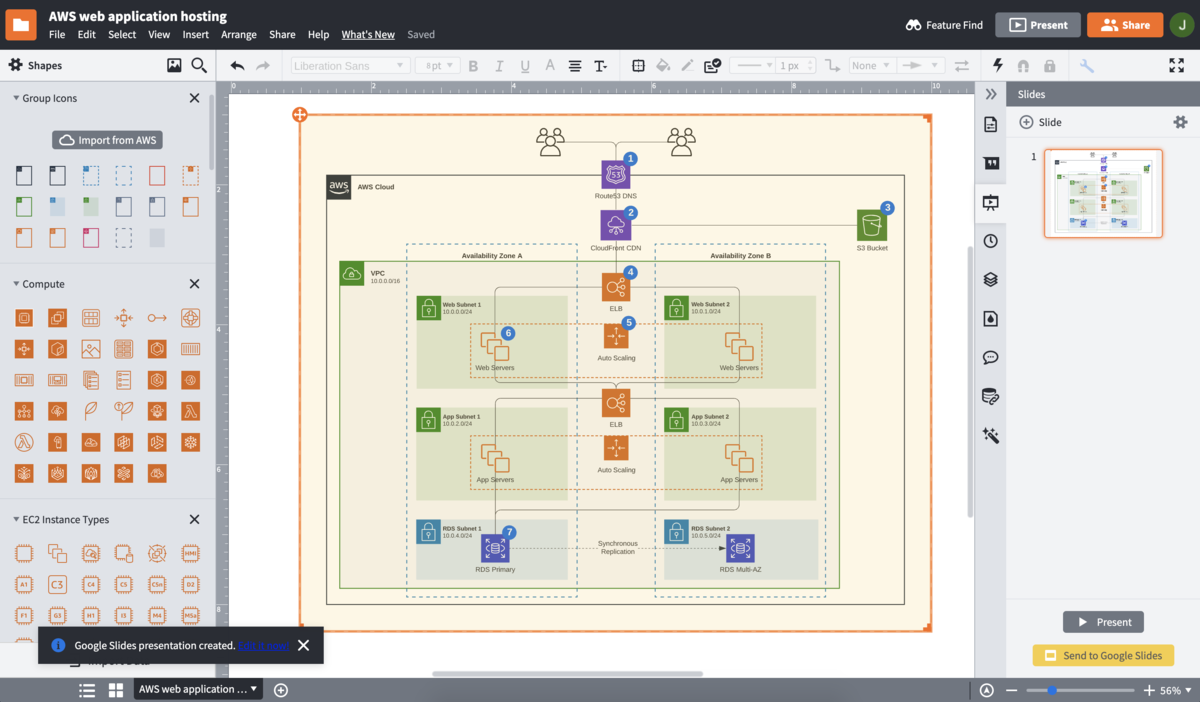 Communicate clearly with team-friendly collaborative features
Communicate and collaborate with team members on your cloud diagrams in real time. Use Presentation Mode to present specific parts of your infrastructure, and manage access to your diagram by granting view-only, commenting, or editing permissions. Shape-specific comments and @mention notifications can focus attention towards areas where action is needed.

Integrate with today's most popular apps
Lucidchart integrates with Atlassian, G Suite, Office 365, Microsoft Teams, Slack, and many other platforms. Insert your cloud diagrams to a Jira ticket or in a Confluence wiki to ensure teams have an accurate reference during implementation or incident response. Adding your cloud architecture diagrams to a word document, spreadsheet, or slideshow presentation can provide valuable context to your communications with team members and stakeholders.

Frequently asked questions about Lucidchart Cloud Insights
"I don't have to manually go in and play with these diagrams too much—I do an import and set them up once. Lucidchart works for what we need it for."
- -Toby Foss, Director of Cloud Network Operations at Informatica
Visualize the cloud with Lucidchart Cloud Insights