Creating a Venn Diagram in PowerPoint
Although PowerPoint 2013 is primarily a presentation tool, you can also use it create simple charts such as Venn diagrams.
For a program designed specifically for venn diagrams, try our Venn diagram maker. With free educational accounts, and free templates for 3 circle venn diagrams, 4 circle venn diagrams, and 5 circle venn diagrams, you can get started right away!
For more background on how Venn diagrams became standardized, and some of their use cases, check out our page on what a Venn diagram is.
Try it now
Sign up free
---
Make a Venn diagram in PowerPoint 2013:
ADD SHAPES
1.
Open a new presentation in PowerPoint.
2.
Clean up your canvas by changing the layout. Under Home > Layout, choose the Blank Presentation style.
3.
Click the Insert tab and select SmartArt. SmartArt is a library of shapes which are useful for making presentations with charts and diagrams. You can style SmartArt shapes to suit the needs of your slide.
4.
In the Choose a SmartArt Graphic window. choose Relationships > Basic Venn. Scroll to the bottom of the middle section to see this diagram type. There are also options for Stacked Venn, Radial Venn, and other related diagram types.
---
ADD TEXT
1.
PowerPoint has a dialog box for adding text to your Venn diagram. Fill out the text fields for each circle in the bullet point list.
STYLE YOUR VENN DIAGRAM
1.
Right-click one of your Venn diagram circles. Select Format Shape. This will bring up a right-side panel with formatting options for both the text and the shape. Try changing the color—we switched our top circle to bright orange.
ADD TEXT
1.
PowerPoint has a dialog box for adding text to your Venn diagram. Fill out the text fields for each circle in the bullet point list.
2.
Repeat for additional circles. This diagram uses the theme colors of blue, orange, and green. We've kept the default font styles.
3.
The standard layout can be spruced up; just click the Design tab. Here, we've kept the first theme, but changed the background to the third variant, with a black background, white text and circle outlines, and different shades for our circles. Looks good!
4.
Let's say that rather than a PPT file, we want to save our Venn diagram as a PNG image. Under File > Export > Change File Type, you have this option. Here's what the final Venn diagram designed in PowerPoint looks like: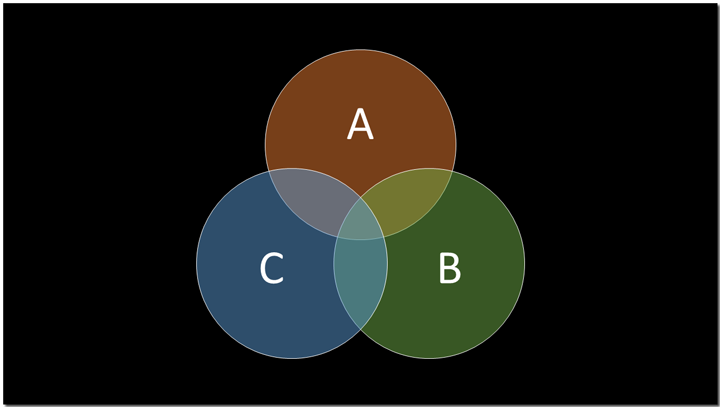 ---
MAKE A VENN DIAGRAM IN LUCIDCHART
Click to open
---
ADD A LUCIDCHART DIAGRAM TO POWERPOINT
1.
You can easily add Lucidchart Venn diagrams as image files in PowerPoint. In Lucidchart, choose Ctrl (Cmd) + D to download your file as an image.
2.
Open a blank presentation in PowerPoint. Under Insert, choose Images. Find the image you've downloaded from Lucidchart. Here's what the PowerPoint canvas looks like with a Lucidchart Venn diagram embedded.
---
VENN DIAGRAMS IN LUCIDCHART
Wow your audience with a beautiful, high-quality chart in your presentations. A premium trial is completely risk-free: unlock more shape libraries (such as mind maps and wireframes), create charts with an unlimited number of objects, and try our Visio import and export. Experience for yourself why Lucidchart is the best way to communicate visually online!
Try it now
Sign up free