Printable Venn Diagrams
Venn diagrams have a wide variety of applications in the classroom and the workplace. Rather than wrestling with a compass and ruler, try designing printable Venn diagrams on your computer.
Whether you're a teacher, student, or professional, Lucidchart is the ideal Venn diagram software. Collaborate with colleagues in real time, and share your diagrams by printing them out or sharing a custom link.
Try it now
Sign up free
---
Printable Venn Diagrams
Venn diagrams, named for the man who popularized them, John Venn, represent overlapping sets. They are typically composed of overlapping shapes, often circles or ellipses. But for too long, Venn diagrams used in schools or at work have looked dull or messy. Whether you're a classroom teacher explaining new mathematical concepts or a manager establishing team duties, using an easy-to-read Venn diagram will help concepts come alive. Click on the Venn diagram below to open it up and modify it according to your needs.
---
Intersection Set Theory Venn Diagram
Click to open
---
Venn Diagram Examples in Lucidchart
Venn diagrams combine form and function in an attractive way. They can help your students or co-workers intuitively grasp what is included and what is excluded from a process, set, or category. In Lucidchart, you can customize the color of shapes, font size and style, and the number of circles or ellipses in your chart. Have some fun playing around with Venn diagrams in Lucidchart!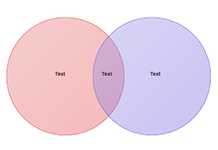 2-circle Venn diagram example
Two overlapping circles is the most basic Venn diagram there is. It's a great jumping-off point for students just learning set theory. The idea of intersections is more complex than it may appear at first glance.
3-circle Venn diagram example
This diagram is perfect for the literary-minded. The three categories are "Books I Own," "Books I've Read," and "Books on the Time 100." Lucidchart templates are highly customizable—edit this diagram to reflect your own library!
4-circle Venn diagram example
The more categories you add to your Venn diagram, the more creative you can get in your shape placement. Using ellipses in a Venn diagram with 4 categories not only makes your chart more accurate, but beautiful!
---
Lucidchart isn't only for designing Venn diagrams—try our templates for UML diagrams, flowcharts, and even floorplans. Unlock the full suite of shape libraries by signing up for a risk-free premium trial.
Try it now
Sign up free