Sequence Diagram for Airline Reservation System (UML)
Working in Lucidchart is the ideal way to create attractive, flawless diagrams in the Unified Modeling Language (UML). Check out this sequence diagram template for inspiration!
You can use UML sequence diagrams to help you design a new system, or to describe an existing system (sometimes called a legacy diagram), such as the airline reservation system sequence diagram below.
Demo now
Sign up free
---
UML Sequence Diagram for an Airline Reservation System
In this airline reservation system sequence diagram, there are five main objects: passenger, website, flight, aircraft, and payment. The diagram shows how each of these object interacts as the passenger searches for flights, selects a flight, and pays to make a reservation on that flight. The lines with arrows moving from object to object show how objects are connected and how they affect each other. With Lucidchart's innovative technology, you can change any shape or text in the existing diagram and save it for your own work. It's also simple to share your document with colleagues, classmates, or supervisors.
---
Airline Reservation System Sequence Diagram Template
Click to Demo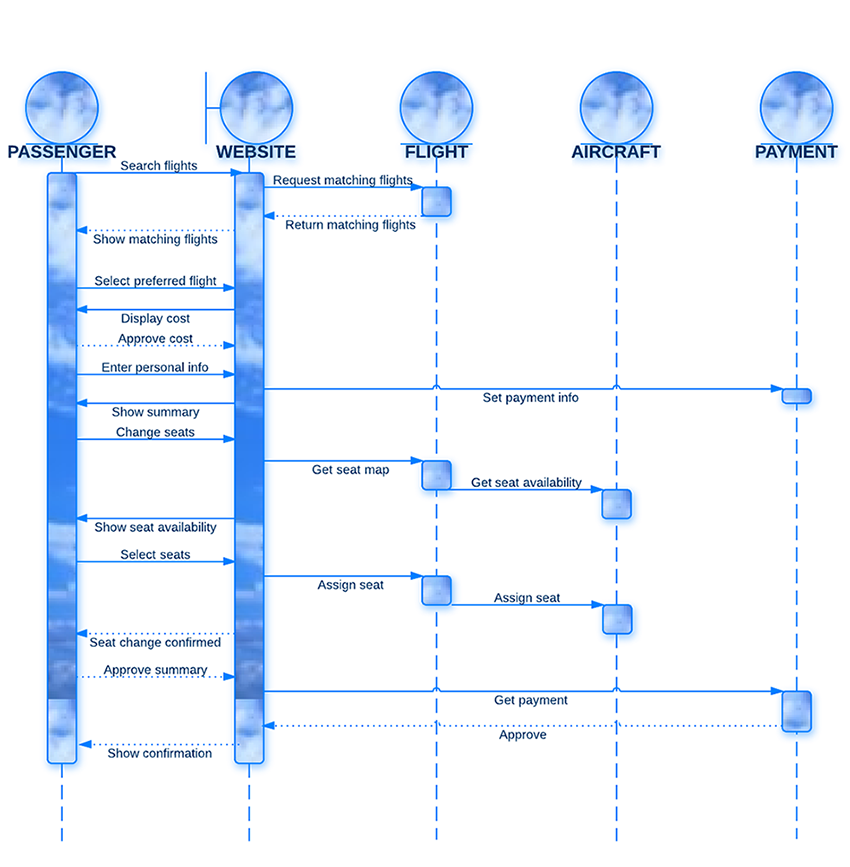 ---
More Sequence Diagram Examples in Lucidchart
We offer a variety of UML sequence diagrams in our Lucidchart community. Take a look at sequences for a banking system, a railway reservation system, a hotel management system, and more. We also offer many other types of UML diagram templates, including class diagrams, activity diagrams, use case diagrams, and state machine diagrams. Try creating your own UML diagrams with Lucidchart's vast shape library, or work on other business diagrams, like org charts and mind maps.
Sequence diagram for banking system example
You can make diagrams just like this one for a banking system with the help of Lucidchart. Understand the life sequences for each of the objects (teller, customer, etc.) by examining this customizable chart.
See our banking system sequence diagram example in full here.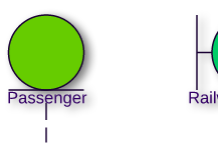 Sequence diagram for railway reservation system example
UML diagrams, like this one for a railway reservation system, are useful both to engineers who develop and maintain systems, and also to business teams who need a broad overview of the process.
See our railway reservation sequence diagram example in full here.
Sequence diagram for hotel management system example
If a diagram for hotel management is what you've been searching for, look no further. You can share this diagram with others and save it in almost any format, including as a PDF, PNG, JPG, or Visio file.
See our hotel management sequence diagram example in full here.
---
Delve into Lucidchart's fluid diagramming capabilities now. Sign-up is free, and you can stay on our free account as long as you'd like—no plugins or download required.
Demo now
Sign up free