Sequence Diagram for Banking System (UML)
A sequence diagram shows the interactions of objects in a collaboration instance. The shapes at the top of the diagram show the objects, and the dangling lines coming out from the objects represent those objects' lifelines.
You can make diagrams just like this one for a banking system with the help of Lucidchart. Understand the life sequences for each of the objects (teller, customer etc.) by examining the diagram.
Demo now
Sign up free
---
UML Sequence Diagram for Banking System
Documenting a banking system in UML is a great idea, especially because banks are heavily autonomous. Withdrawals, deposits, transfers, and bank statements are all typically processed electronically. This diagram below shows the four principal objects in the banking system sequence: the customer, the teller, the bank account, and the bank database. The dotted lines dangling from each object show the sequential life of each of the objects. As the sequence continues, the arrows from lifeline to lifeline demonstrate how the banking system objects interact with each other in different ways.
---
Banking System Sequence Diagram Template
Click to Demo
More Sequence Diagram Examples in Lucidchart

There are dozens of UML diagrams available in Lucidchart. No need to worry about your OS compatibility; our program is accessible on all operating systems and nearly any device. Since Lucidchart is cloud-based, you can start your work anywhere—begin diagramming on a desktop, then continue at home with a laptop or tablet. When you're finished, share your work in an email or document, or send out a link through chat. You don't have to wait until you're finished; a draft can be edited by multiple collaborators at the same time.
Sequence diagram for hotel management system example
This handy chart simplifies the sequence of Hotel Management. You'll see how the various objects in the hotel system, from manager to patron, interact in sequential order over time.
See our hotel management sequence diagram example in full here.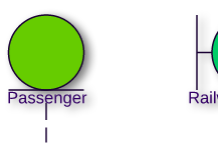 Sequence diagram for railway reservation system example
This diagram takes a look at the process of railway reservation. See what happens when a customer books a ticket and has their seat reserved.
See our railway reservation sequence diagram example in full here.
Sequence diagram for online shopping system example
You can better understand an online shopping system with this chart. As a UML diagram, it provides a high-level overview of the necessary components in the process.
See our online shopping sequence diagram example in full here.
---
Lucidchart makes diagramming simple. Explore the intuitive editor to learn more about the amazing sharing capabilities!
Demo now
Sign up free