Sequence Diagram for a Hotel Management System (UML)
Sequence diagrams model sequences that occur over the flow of time. They use the Unified Modeling Language (UML) to present a quick view of each object's timeline.
Lucidchart does more than just UML diagrams. You can also use our extensive shape libraries to make flowcharts, org charts, wireframes, mockups, process flows, ER diagrams, and more.
Demo now
Sign up free
---
UML Sequence Diagram for Hotel Management System
Hotels are not easy to run. Whether the process is managed by a person or a computer, there are many factors that analyzers must consider when working on the system. Which rooms are occupied? Which are reserved and which are available? How and when will the guests be provided with food, cleaning services, and other hotel amenities? This interaction diagram gives an overview of how these elements interact with each other in sequential order. Each circle at the top represents a different entity in the system. Use this diagram to better understand how this and similar systems operate.
---
Hotel Management System Sequence Diagram Template
Click to Demo
Sequence Diagram Examples in Lucidchart

We have dozens of UML diagrams in the Lucidchart community—click the images below to visit. These example pages can give you a better look at how hospital management works, or help you learn the ins and outs of railway reservation. UML provides an elegant solution to the problem of diagramming high-level systems. Lucidchart offers standardized UML shapes and connectors, so anyone familiar with the Unified Modeling Language can understand them. Try it for yourself!
Sequence diagram for online shopping system example
What goes on in the sequence of events for online shopping? Explore this diagram to find out. No download or installation is necessary to use and edit our charts. Click on any of the pictures above to begin a free demo.
See our online shopping sequence diagram example in full here.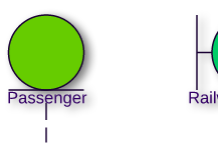 Sequence diagram for railway reservation system example
You can work on diagrams like this one for railway reservation systems, even when you're not connected to the Internet. Just download our offline app for Google Chrome, which lets you take Lucidchart anywhere.
See our railway reservation sequence diagram example in full here.
Sequence diagram for library management example
Lucidchart is free to everyone, so you can make documents like this library management sequence diagram at no cost to you. Try previewing our premium account with a free trial—no credit card required.
See our library management sequence diagram example in full here.
---
Drawing diagrams just became hassle-free with Lucidchart. Try our user-friendly editor and enjoy the benefits of real time collaboration, G Suite integration, and constant cloud-based updates.
Demo now
Sign up free