Sequence Diagram for Inventory Management System (UML)
The Unified Modeling Language, or UML, is a standardized language capable of providing overviews of complex processes and relationships. A sequence diagram is a type of behavorial diagram in UML.
There's no better way to make diagrams in UML than with Lucidchart. Try it now and experience the ease and simplicity of diagramming online.
Try it now
Sign up free
---
Sequence Diagram for an Inventory Management System
In our fast-paced world, inventory management systems have become a necessity for many companies. As materials are produced more quickly and more items are stocked to generate a higher profit margin, it's essential that corporations keep track of their inventory as seamlessly as possible. Modern inventory management systems, such as the one described by the diagram below, have multiple purposes. They must keep track of processes like the inventory being delivered by the vendor, being paid for by the store, and then being stocked on the shelves by employees so it can be sold. Having a sequence diagram on hand is helpful for summarizing these tasks.
---
Inventory Management System Sequence Diagram
Click to open
---
Sequence Diagram Examples in Lucidchart
Sequences diagrams are best for showing how objects interact with each other over a flow of time. The objects are represented by circles with dashed lifelines. Arrows move from lifeline to lifeline to show which messages are being sent. You can see these interactions firsthand in the examples provided below, which show some of the many applications that sequence diagrams can have. They can be used to illustrate relationships for banking systems, railway reservation systems, hotel management systems, and much more.
Sequence diagram for banking system example
You can share diagrams like this one with anyone using Lucidchart. Send a link to a friend or coworker via email or chat and invite them to review. They can also work with you on a project, since Lucidchart allows for real-time collaboration!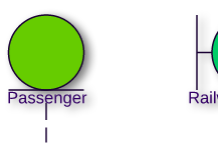 Sequence diagram for railway reservation system example
Lucidchart strives to be the most compatible diagramming software out there. It offers Visio import and export, as well as integration with Google Apps, Google Drive, Microsoft Word, and Atlassian products. Plus, it's accessible from any operating system or modern browser.
Sequence diagram for hotel management system example
Unlike many editing programs, Lucidchart is amazingly easy to use. No need to bother with lengthy tutorials; you can begin diagramming right away. The interface is designed to be as intuitive as possible, featuring user-friendly drag-and-drop technology.
---
You can sign up for the free version of Lucidchart right now, or preview our premium features during a risk-free trial period!
Try it now
Sign up free