Sequence Diagram for Library Management System (UML)
If you have a computer, you can easily put together sequence diagrams in UML (Unified Modeling Language) with Lucidchart, the solution to any diagramming problem.
A sequence diagram is a type of behavioral modeling diagram in UML that covers the steps in an activity or process. Try Lucidchart as a fast, yet full-featured, sequence diagram creator.
Demo now
Sign up free
---
UML Sequence Diagram for a Library Management System
Librarians have organized their vast collections in many different ways over the years, from ledgers to card catalogs. Since the modern age revolutionized library systems, libraries have been almost universally managed by computers, including tools like single-party software services, integrated library systems, or cloud-based subscriptions. If you're working on a library system, be sure to have a UML diagram on hand. The chart below shows sequential actions and actors that make up a library management system.
---
Library Management System Sequence Diagram
Click to Demo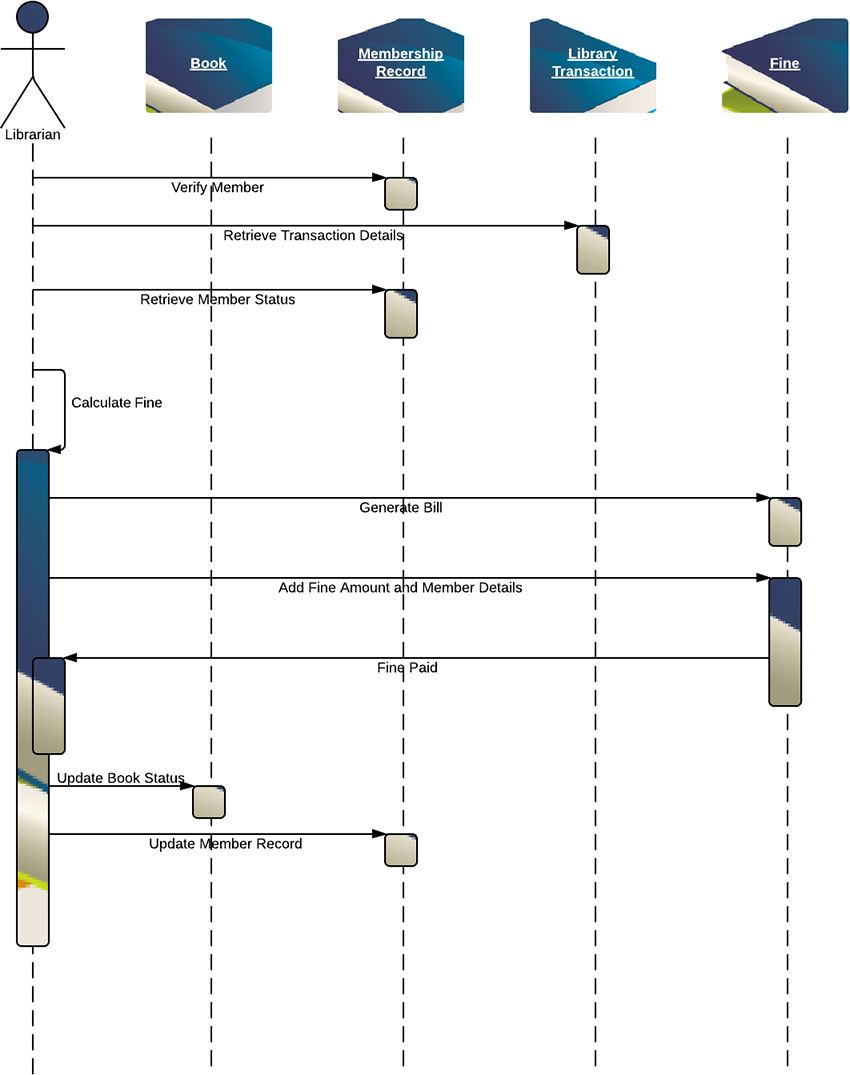 ---
More Sequence Diagram Examples in Lucidchart
Whether you use a shared diagram template or create one of your own, it's simple to share your work with the world. Try publishing your chart to social media channels, a blog or wiki, or a secure webpage hosted on the Lucidchart site. We offer a wide variety of helpful UML diagrams, so check out the examples below for inspiration!
Sequence diagram for online shopping system example
This convenient chart will help you get familiar with the steps required for an online shopping system. You can change the chart as needed and share it with anyone.
See our online shopping sequence diagram example in full here.
Sequence diagram for hospital management system example
Show the ins and outs of hospital management procedures with this effective diagram. Remember that Lucidchart's diagrams are easy to read and simple to make.
See our hospital management sequence diagram example in full here.
Sequence diagram for ATM system example
Use this template to reflect the steps in the sequence for an ATM system. Lucidchart is a great tool for creating diagrams like this one, or adapting an existing template for your project.
See our library management sequence diagram example in full here.
---
Lucidchart is diagramming done right. No more confusing interfaces or expensive software—instead, try our app for free!
Demo now
Sign up free