Sequence Diagram for Login (UML)
If you need to work with UML, Lucidchart is the way to go. Our editor gives you every shape and line you'll need to make dynamic diagrams.
The Unified Modeling Language (UML) is a way for engineers and businesses to model systems with an high-level view that can quickly capture a process, relationship, or both.
Sign up free
---
UML Sequence Diagram for Login
A login page asks the user to provide credentials in order to view certain protected pages on a website. These protected pages usually include secure and individualized information, like an email inbox or an online bank account. Building an effective login page is essentially for many types of websites. The diagram below helps demonstrate how the login page works in a login system. The various objects in the system—user, login page, login checker, main page, and login failure page—interact over the course of the sequence, and certain results are displayed depending on whether the user's credentials can be verified.
---
Login Sequence Diagram
---
More Sequence Diagram Examples in Lucidchart
Lucidchart offers its users a straightforward way to make, edit, modify, and share diagrams that are easy to read and comprehend. The Lucidchart community includes a wide variety of diagram examples for school, work, and personal projects. Some are made by our talented users, while others, such as the examples below, are created by the Lucidchart team for your convenience. When choosing a diagramming app, remember that ours is integrated with G Suite and Google Drive, so you can access it right from the Google interface. You can also import and export Visio files with ease.
Sequence diagram for banking system example
This banking system diagram shows how the banking process works in a series of sequential interactions. Feel free to adapt the diagram any way you choose.
See our banking system sequence diagram example in full here.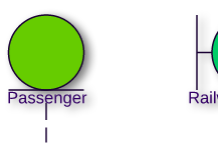 Sequence diagram for railway reservation system example
Customers can reserve seats, choose their departure time, and pay for their tickets with a railway reservation system. You can display this system with Lucidchart.
See our railway reservation sequence diagram example in full here.
Sequence diagram for hotel management system example
Share documents like this one, a diagram for a hotel management system, with our community by choosing to publish them. You can also share docs privately via email.
See our hotel management sequence diagram example in full here.
---
To try a risk-free demo of Lucidchart, just click below. Our app is fast, friendly, and collaborative—see for yourself!
Sign up free