Mac Visio Reader

With Lucidchart, you can open and read Visio files in the browser, even on a Mac computer. If you need a Mac Visio reader, Lucidchart is a fast and easy option.

Try it now Sign up free

Visio Reader for Mac

Lucidchart is a great option for OS X users who want to open Visio files. It's a web-based software application that allows you to quickly import Visio files in Safari.

Try it now Sign up free
---
Visio reader without Parallels
If you're an engineer or IT professional, it can be hard to move away from Visio. Lucidchart makes it painless to view, edit and export in the Visio format. We also have a convenient offline mode for flights and roadtrips. Switch to Lucidchart—you won't regret it.
Great Visio Linux Alternative
We support native Visio files as well as .vdx files. You can also import any vendor-specific Visio stencils you might have to create custom libraries. These libraries are available for team use at any time.
Competitive pricing
Our team accounts start at $5/month/user. As your team adopts more users, the cost per user shrinks. Compare that to hundreds of dollars in upfront fees (plus installation and set-up costs) and Lucidchart is clearly the value leader.
Also works with your iPad
Lucidchart works great on your iPad. Just draw shapes and lines with your finger and Lucidchart will auto-detect which shape to use. Since you don't have to download Lucidchart, your account works perfectly on every device.
---
iPhone layout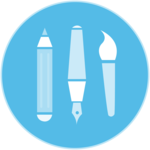 iPad mockup tool
Rack server diagram
---