What is a Deployment Diagram in UML?
The Unified Modeling Language (UML) is the standard language that many software engineers and business people use to look at broad overviews for complex systems. A deployment diagram is one type of diagram in this language.
After you review this page, you can draw your own deployment diagram with Lucidchart, a free chart-making editor that produces sleek, seamless diagrams.
Try it now
Sign up free
---
What is a Deployment Diagram in UML?
A deployment diagram is a kind of structural diagram in UML. Most UML diagrams tend to keep their focus primarily on the software of the system. Deployment diagrams, however, can show both software and hardware elements, and are typically focused on how those two different types of elements are related to one another, i.e. how the software is deployed in a physical manner.
Deployment diagrams are made up of several UML shapes. The three-dimensional boxes, known as nodes, represent the basic software or hardware elements, or nodes, in the system. Lines from node to node indicate relationships, and the smaller shapes contained within the boxes represent the software artifacts that are deployed.
---
Deployment Diagram Applications
Deployment diagrams have several valuable applications. You can use them to:
Show which software elements are deployed by which hardware elements.
Illustrate the runtime processing for hardware.
Provide a view of the hardware system's topology.
---
DEPLOYMENT DIAGRAM ELEMENTS
A variety of shapes make up deployment diagrams. This list offers an overview of the basic elements you may encounter. You can see most of these items illustrated in the image below.
Artifact - a product developed by the software, symbolized by a rectangle with the name and the word "artifact" enclosed by double arrows.
Association - a line that indicates a message or other type of communication between nodes.
Component - a rectangle with two tabs that indicates a software element.
Dependency - a dashed line that ends in a arrow, which indicates that one node or component is dependent on another.
Interface - a circle that indicates a contractual relationship; those objects that realize the interface must complete some sort of obligation.
Node - A hardware or software object, shown by a three-dimensional box.
Node as container - A node that contains another node inside of it—such as in the example below, where the nodes contain components.
Stereotype - A device contained within the node, presented at the top of the node, with the name bracketed by double arrows.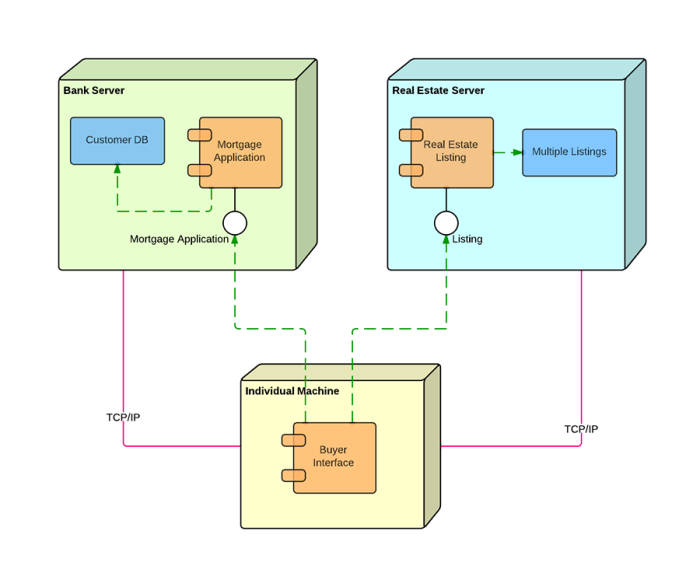 ---
If you're confused by UML, Lucidchart is the perfect place for you. Browse this site for many more tutorial and explanation pages, or start working in the editor right away. You'll find it's effortless to create professional-grade diagrams with just a couple of clicks!
Try it now
Sign up free