Online Graph Maker
Use Lucidchart to create beautiful charts online. Get started with templates, link data, and share your graphs with relevant stakeholders to get everybody on board.
See why millions of users across the globe choose Lucidchart.
Turn data into visualizations that drive the right decisions
Working visually can help your team to better understand your goals and strategies as a group and help you brainstorm ideas that will help you move forward together.
Versatile tools
With Lucidchart, you can easily make a graph, flowchart, or diagram. Tell the whole story of your business or process using a host of creative and collaborative tools.
Data linking
Bring power to your narrative by keeping your visuals connected to your data. Link directly to your live data to create a graph that is always accurate and up to date.
Get a head start with templates
Our chart maker gives you access to dozens of templates for a variety of graphs. Each template is customizable, saving you time and energy as you make a graph specific to your needs.
Ease of use
Our drag-and-drop interface makes it easy to select and place assets on your canvas. Easily create precise and professional visuals in a matter of minutes.
Built for collaboration
Invite key stakeholders to your document in just a few clicks with published links, email invites, and more. Gain feedback and build on ideas.
Ratings
Lucidchart is trusted by users all over the globe with thousands of five-star reviews on third-party sites like Capterra, G2, and TrustRadius.
See Lucidchart in action
Create your first online flowchart from a template or blank canvas or import a document.

Add data to your visualizations.

Use custom styling to make sure your graphs are on-brand.

Get your team on board and start collaborating.

Share with relevant stakeholders in any format you desire.
Graph and chart templates
Creating a graph online is simple with ready-to-use templates.
Lucidchart integrations
Connect Lucidchart to your favorite industry-leading apps.
See why teams use Lucidchart
Diagram, visualize data, and collaborate all in one platform.
Collaboration
Use Lucidchart on any device with ease. Lucidchart helps teams collaborate in real time from anywhere in the world. Enhance productivity while working with your team to achieve your goals.
Clarity
Lucidchart brings clarity to the complex. Intelligent diagramming allows you to quickly visualize projects and processes from start to finish.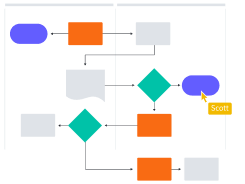 Alignment
Drive alignment with your team by collaborating in the same space. Quickly map out processes and ideas together in real time so that you never miss a beat.
Better together
The Lucid Visual Collaboration Suite transforms the way you work from ideation to project completion. Brainstorm and plan in Lucidspark, then map it out in Lucidchart. Create a living blueprint of your organization.
What is a graph?
A graph is a visual mathematical representation of two or more datasets. Graph types include line charts, pie charts, Gantt charts, Venn diagrams, and many more. Graphs are frequently used together with other diagrams to help stakeholders make data-driven strategic decisions and stay aligned on what is happening in the business.
How to make a graph in Lucidchart
Pick your visual

Decide which visuals will best tell the story of your data based on your specific use case.

Templates

Select one of our many graph templates to get a head start as you create a graph—or start your visual from scratch using Lucidchart's drag-and-drop interface.

Link data

Add live data to your graph online using our data linking feature.

Add custom styling

Customize your graph to include specific colors, images, and more that accurately reflect your business.

Collaborate

Get your team and other significant stakeholders on board and work together to take your graphs to the next level.

Share

Add other diagrams such as process maps or flowcharts to complete your narrative. Once your work is ready, share your narrative with anyone who needs to understand it.
Frequently asked questions about our graph maker