Visio Alternative
Get twice the features for less than the price of Visio. Lucidchart is the best solution for Visio users looking for a more intuitive and collaborative diagramming experience.
Make a diagram
96% of the Fortune 500 trust Lucidchart to keep teams on the same page.





Features
Visio import/export
Import Visio documents to work on them in Lucidchart. Need to export back to Visio? You can do that, too.
OS compatibility
Never worry about operating system compatibility again—Lucidchart works between PC, Mac, and Linux and on every major browser and internet-enabled device.
Made to collaborate
We make teamwork simple. User tiles show who is actively working in a diagram, and commenting, sharing and revision history features keep everyone on the same page.
Cloud-based
No download or installation required. Get work done any time, any place, any device.
Make a diagram
Over 15 million users in 180 countries
"Lucidchart is a far superior product to the more traditional flowchart software, Visio. The simple layout, easy sharing, and ability to build complex flowcharts make Lucidchart the best out there."
★★★★☆
4.4/5
★★★★☆
4.4/5
★★★★☆
4.4/5
★★★★☆
4.4/5
Works wherever you do
Connect Lucidchart to all your favorite industry-leading apps. Our integrations are simple to set up and easy to use so you can start using Lucidchart right away.
See all integrations
Microsoft
Add context to your diagrams when you integrate with Microsoft Word, Excel, and PowerPoint. Admins can give their teams instant access through Centralized Deployment.
Learn more
Actionable insights for every team
Elevate your perspective. Diagram anything—ideas, information, and processes—to drive better decisions in every area of your business.
Learn More
Scale your enterprise
Teamwork only happens if the team can actually work. With Lucidchart for Enterprise, you'll enjoy enterprise support, advanced security protocols, and a simple admin interface. Lucidchart is designed to help your entire organization work together seamlessly, whether you want to accelerate sales or design new cloud architecture.
Get a quote
Learn more
Create any diagram in Lucidchart
Flowcharts
Org Charts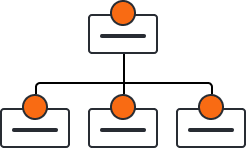 Process Maps
ER Diagrams
Network Diagrams
And More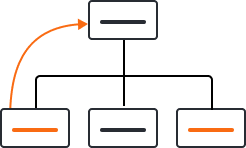 Communicate with your team anytime, anywhere. Sign up for a free account today.