Visio alternative
Lucidchart is a visual workspace that combines diagramming, data visualization, and collaboration to accelerate understanding and drive innovation.
Create, customize, and share more with our online Visio alternative
Create easy-to-read diagrams with an easy-to-use diagram software

Diagrams are proven to help users organize, teach, and retain information more easily and effectively than with text alone—so why do programs like Visio make them so hard to create and implement? Lucidchart lets you create both simple and complex diagrams in minutes with easily customizable templates, hundreds of drag-and-drop shapes, and collaborative features. It's the perfect cloud-based Microsoft Visio online alternative for every user, every industry, and every budget.

Save time and energy with instant collaboration

No more wasted time and decreased productivity. If you're frustrated with sending the same Visio file back and forth between collaborators, it's time for a more efficient Visio alternative. While Visio Online requires users to sacrifice valuable functionality for real-time collaboration, our cloud-based platform has collaboration built right in. Lucidchart makes it easy to email, embed, and present your diagrams instantly or work with your team in the same canvas simultaneously, no matter where you're located.

Turn your Visio visuals into Lucidchart diagrams

Ready for a truly collaborative platform, but not ready to part with your Visio diagrams? Save time and avoid rework by moving them over to our free Visio alternative. Our import feature allows you to transition all of your VDX, VSDX, and VSD files to Lucidchart. Then you can edit and reformat your imported Visio diagram to your heart's content. Once you're done, easily share your work via email or published link or export to Visio for those who have yet to make the switch.

Add powerful visuals to Word, Excel, and PowerPoint documents

Our Visio alternative integrates with Microsoft Office and Office 365, so you have the power to add mind maps, flowcharts, and other diagrams to your documents. Simple to install and easy to use, our Word, Excel, and PowerPoint add-ins let you illustrate data sets, create interactive presentations, and break up text-heavy documents with your Lucidchart diagrams. Lucidchart also integrates seamlessly with Microsoft Teams, allowing you to conveniently share, collaborate on, and even edit your diagrams directly in team channels.

Combine the power of Lucidchart with the versatility of G Suite

The ability to manage, edit, and share your Lucidchart diagrams alongside the rest of your personal, professional, or educational files makes our diagram software the ideal online Visio alternative. Back up and sync your work to your Google account with our versatile Google Drive integration—you can even open a new Lucidchart diagram from your Google account, so you're never far from your canvas. You can also use our Google Docs, Sheets, and Slides integrations to insert your diagrams into any word document, spreadsheet, or presentation.
How to import/export Visio files using our online Visio alternative
How to import/export Visio files using our online Visio alternative

Move all of your VDX, VSDX, and VSD file types to Lucidchart for further editing. On the "My Documents" page, click "Import" and select "Import Visio."

Import diagrams from Microsoft Visio

Select the files you wish to upload, and click "Import." Once your file has been imported, click "View Document" in the dialog box to open your diagram.

Pick up where you left off

Continue your work uninterrupted in Lucidchart, without ever worrying about losing the initial progress you made with your Visio diagrams.

Share and export your diagram to Visio

To export a VDX file, open the document and navigate to File > Download As > Visio (VDX). Your document will download as a VDX file to your local device.
Get started in Lucidchart
Frequently asked questions about our alternative to Visio
Get started with our Visio alternative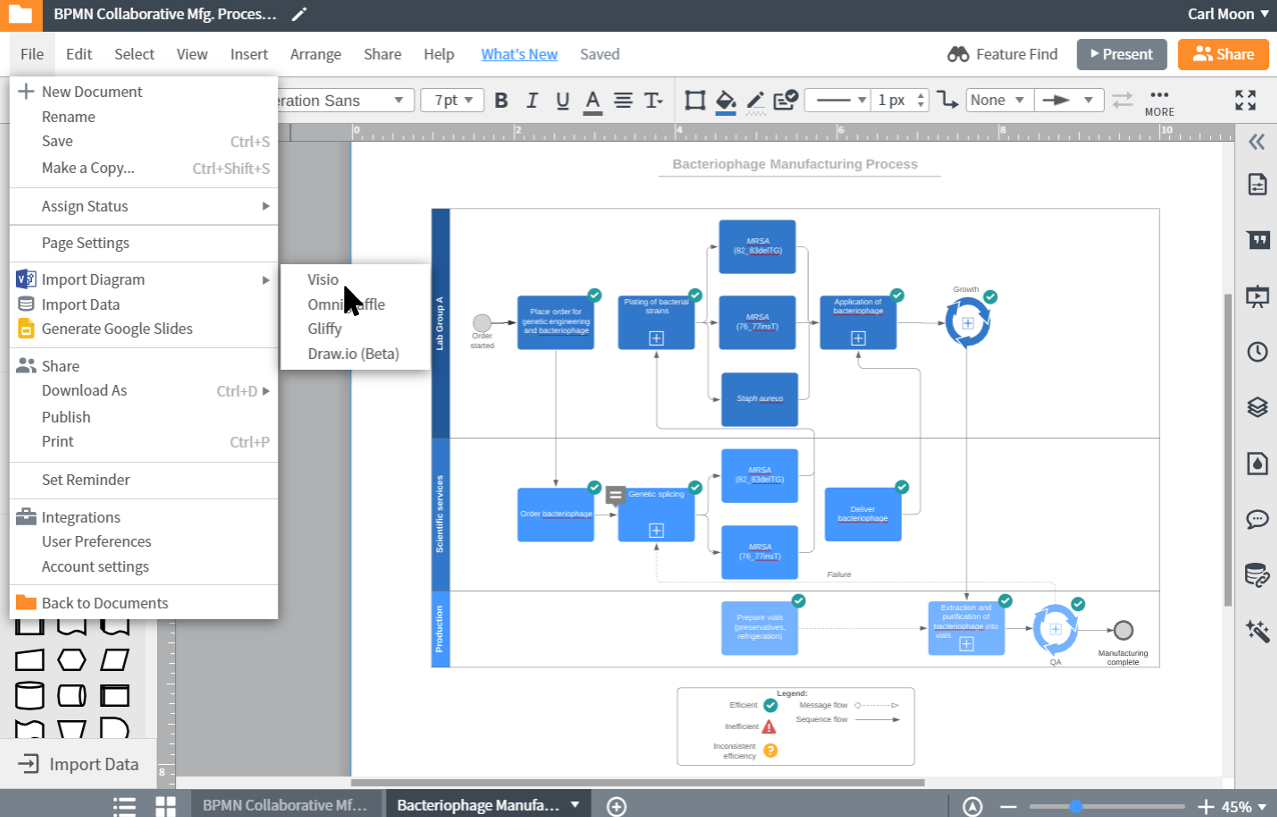 Used by millions across the globe
"Lucidchart is extremely easy to use with many must-have integrations. Visio users will not look back."