Visio viewer
Lucidchart is a visual workspace that combines diagramming, data visualization, and collaboration to accelerate understanding and drive innovation.
The only Visio editor you'll ever need
Experience hassle-free diagramming with endless possibilities

With twice the features for less than the price of Visio, Lucidchart is the best solution for Visio users looking for a more intuitive and collaborative diagramming experience. Our web-based software gives you access to role-specific templates, a wide range of shape libraries, and sharing options, making it a perfect fit for those in search of a complete enterprise diagramming solution or just a free Visio viewer. Even our users with free accounts can view any Visio file in Lucidchart—no downloads, updates, or expensive software necessary.


Import and export your Visio files for simplified collaboration

Rather than pay for an expensive Visio account and waste time installing a desktop-only software just to view files, you can use Lucidchart to view Visio diagrams. All Lucidchart users, even those on free accounts, can use our Visio import feature to open Visio files, while Lucidchart users with paid accounts can edit and share their Visio files using our intuitive interface. When you upgrade your account, you can even export your Lucidchart documents into a Visio file format to share with collaborators who haven't made the switch yet.


Create and collaborate seamlessly from any device or operating system

Lucidchart was created out of a need for a more collaborative alternative to Visio. Rather than sharing static Visio files back and forth and creating versioning issues, use our web-based software to collaborate on live documents. Lucidchart works across Mac, PC, Linux, iOS, and Android operating systems, so your entire team has access to the latest version of your diagram at all times. Collaborators can view and edit the same document in real time, chat and @mention other users directly in the editor, and share work instantly with published links.


Access, edit, and share your diagrams with Lucidchart integrations

Lucidchart is fully integrated with many of today's most popular apps, letting you create, share, and manage diagrams with the tools you and your team already use. While Visio has limited integrations, Lucidchart integrates with Microsoft Office, G Suite, Slack, Confluence, Jira, and other collaborative platforms. Our free integrations are easy to use, allowing you to insert your Lucidchart visuals directly into any document, spreadsheet, or slide for effortless documentation and team alignment.

How to open Visio files in Lucidchart
Open our Visio import feature

To use Lucidchart as a Visio viewer, navigate to the My Documents page and open the Import dialog box. Select "Import Visio" from the list of options.

Select and import your Visio file

Select the Visio file you wish to open from your computer. Our online Visio viewer lets you view and edit VDX, VSD, or VSDX file types.

Open our export feature

To export your document as a Visio file, open the document you wish to export. Once the document is opened, select File > Export.

Select your Visio file type and download

From the drop-down menu, select either Visio (VSDX) (Beta) or Visio 2010 (VDX), depending on your desired file type. Then, download the document and share it as a Visio file.
Frequently asked questions about our online Visio viewer
Start collaborating with our Visio viewer and editor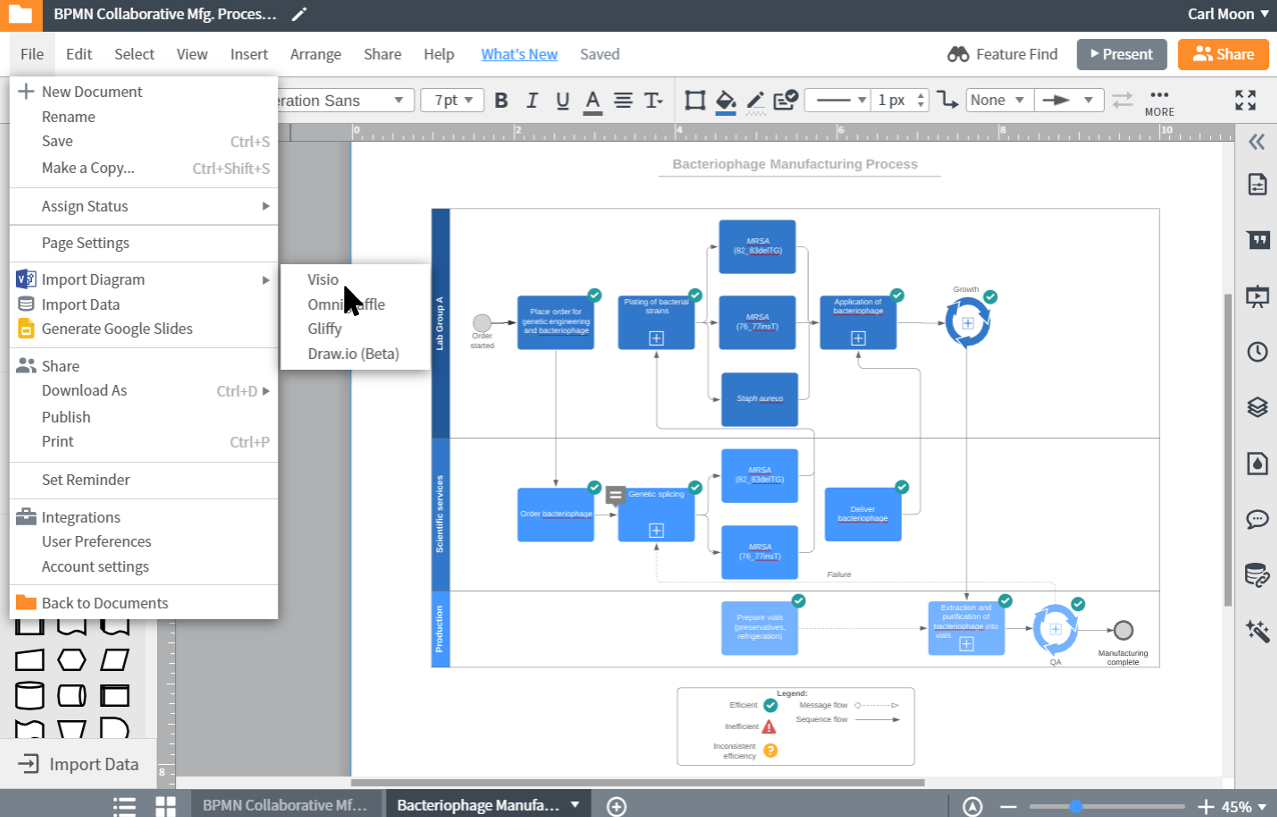 A Lucidchart tutorial that shows how to import a third-party document from Visio, Gliffy, or OminGraffle. New description: Importing your third party documents into Lucidchart is easy. After logging in, the user moves over to the grey import button in the top left hand corner of the page. From there, the options for Visio, Gliffy, Omnigraffle and more are available. In the example, Visio is selected. The user then upload a file from their computer to import into Lucidchart, and opens the document in the Lucidchart editor. New documents are shown at the top of the documents page as the outro.
Used by millions across the globe
"Lucidchart is a far superior product to the more traditional flowchart software, Visio. The simple layout, easy sharing, and ability to build complex flowcharts make Lucidchart the best out there."