Decision tree diagram maker
Lucidchart is an intelligent diagramming application that takes decision tree diagrams to the next level. Customize shapes, import data, and so much more. See and build the future from anywhere with Lucidchart.
See why millions of users across the globe choose Lucidchart.
Start creating your decision tree diagram in minutes
Our decision tree maker has all the features needed to build dynamic decision tree diagrams.
Flexible use cases
Our decision tree software makes it easy to map the possible outcomes of a series of decisions by clarifying choices, risks, objectives, and potential gains or losses. Simply open one of our decision tree templates to get started in minutes.
Shapes, symbols, and notation
Lucidchart has all the proper symbols to make a decision tree diagrams including nodes, branches, connectors, and start and endpoints.
Advanced tree diagram features
Lucidchart has the functionality for even the most complex tree diagrams. Add text, formulas, and data layers to make important decisions in our tree diagram maker.
Present and share
Built for teams and collaboration
Work on the same document simultaneously and collaborate through the chat feature in our decision tree diagram generator. Add comments and notes to communicate and stay up to date on changes.
Works in the cloud, PC, and Mac
Lucidchart is built for both in-office and remote teams. Work online from anywhere, from a Mac or PC.
Security and privacy
Your security and privacy matter to us. Lucidchart maintains compliance certifications such as PCI, Privacy Shield, and SOC 2.
Learn more
Highly rated
Lucidchart has thousands of 5-star reviews on top third-party apps like Capterra, G2, and TrustRadius.
Master the basics of Lucidchart in 3 minutes
Create your first decision tree from a template or blank canvas or import a document.

Add shapes, connect lines, and write text.

Learn how to adjust styling and formatting within your decision tree.

Locate what you need with Feature Find.

Share your board with your team to start collaborating.
Decision tree diagram templates
Build out your tree diagrams with templates from our gallery.
Lucidchart Integrations
Connect Lucidchart to your favorite industry-leading apps.
See why teams choose Lucidchart as their decision tree diagram maker
Diagram, visualize data, and collaborate all in one platform.
Collaboration
Make decision trees on any device with ease. Lucidchart helps teams collaborate in real time from anywhere in the world. Enhance productivity while working together with your team to achieve your goals.
Clarity
Lucidchart brings clarity to the complex. Intelligent diagramming allows you to quickly visualize projects and processes from start to finish.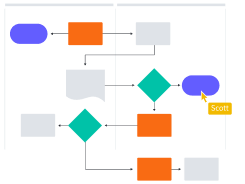 Alignment
Drive alignment with your team by collaborating in the same space. Quickly map out processes and ideas together in real time so that you never miss a beat.
Better together
The Lucid Visual Collaboration Suite transforms the way you work from ideation to project completion. Brainstorm and plan in Lucidspark then map it out in Lucidchart. Create a living blueprint of your organization.
What is a decision tree diagram?
A decision tree diagram is a map of the possible outcomes of a series of related choices. It allows an individual or organization to weigh possible actions against one another based on cost, probability, and benefits. They can be used to drive informal discussion or to map out an algorithm that predicts the best choice mathematically.
Advantages to using decision tree diagrams
Comprehensive

Decision trees invite you to look at all the possible outcomes of a choice, so you're able to better understand the risks and consequences of your decisions.

Visual

Decision trees don't rely on formulas. They're easy to understand and easily shared with others to get their input. This can help you gain buy-in from stakeholders.

Adaptable

Use decision tree diagrams to get your questions answered. They can be simple or complex to adapt to your needs.

Reduce bias

Decision tree diagrams help eliminate the emotions involved in making a decision, letting you properly weigh the results of one decision against another.

Simple

Decision trees work with the data you already have. If there are gaps in the data, you can identify where you'll need more information.

Cost effective

Making a decision tree diagram is free and doesn't require advanced training. There are plenty of free templates available.
Frequently asked questions about decision trees