Flowchart software
Lucidchart offers intuitive, intelligent flowchart software to help you diagram with ease. No matter what you're diagramming, we have the tools you need. Use Lucidchart to make your flowchart quickly and without fuss and to make it look polished and professional.
See why millions of users across the globe choose Lucidchart.
Make free flowcharts fast
se our intuitive, free flowchart software to make flowcharts quickly.
Visualize processes to improve efficiency
Make a flowchart in Lucidchart to document a process. After, you can analyze it—then improve the process for efficiency and quality. Identify bottlenecks, redundancies, and unnecessary steps in a process and make it better.
Get everyone on the same page
Use flowcharts to communicate processes for training new hires or other teams in your organization. When everyone can visualize the process, everyone can understand and follow it.
Enjoy Lucidchart's advanced features
If you need to make a large, complex diagram, Lucidchart's flowchart software has you covered. Use features like conditional formatting, data linking, layers, action buttons, and external links to include all the information you need and still be able to navigate your diagram.
Collaborate with your team
Work with your team to analyze how a process could be improved. Update and share information instantly with real-time collaboration, @mention commenting, and in-editor chat.
Work from anywhere
Our flowchart software is based in the cloud, so you can access your diagrams from any desktop, tablet, or mobile device. Wherever you go, you can use Lucidchart.
Ideate with a template
Lucidchart's template gallery includes more than 1,000 custom-made diagramming templates for you to choose from. Use a template to get a head start on your flowchart.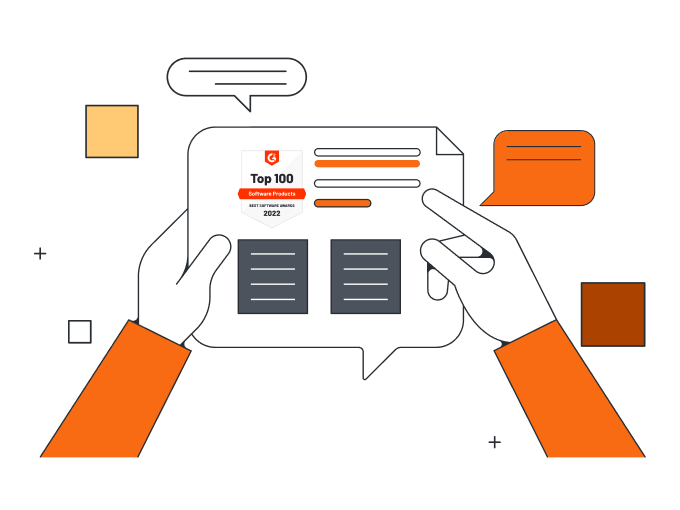 Trust our reputation
Lucidchart has thousands of glowing reviews on third-party apps like G2, Capterra, and TrustRadius. You don't have to take our word that Lucidchart is easy to use—take everyone else's.
Master Lucidchart's basics in 3 minutes
Learn how to create your first flowchart from a blank canvas, use a template, or import a document.

Add shapes and connecting lines to your diagram, then write text to describe your subject.

Learn how to adjust the styling and formatting within your flowchart to make it look clean and professional.

Use Feature Find to locate any feature or tool within your flowchart.

Share your flowchart with your team and collaborate on it.
Free flowchart templates
Start creating your flowchart by using one of our free templates.
Lucidchart integrations
Connect Lucidchart to your favorite industry-leading apps.
See why teams use Lucidchart as their flowchart software
Diagram, visualize data, and collaborate all in one platform.
Collaboration
Use Lucidchart on any device with ease. Lucidchart helps teams collaborate in real time from anywhere in the world. Enhance productivity while working with your team to achieve your goals.
Clarity
Lucidchart brings clarity to the complex. Intelligent diagramming allows you to quickly visualize projects and processes from start to finish.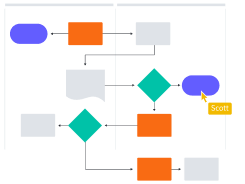 Alignment
Drive alignment with your team by collaborating in the same space. Quickly map out processes and ideas together in real time so that you never miss a beat.
Better together
The Lucid Visual Collaboration Suite transforms the way you work from ideation to project completion. Brainstorm and plan in Lucidspark, then map it out in Lucidchart. Create a living blueprint of your organization.
What is a flowchart?
Flowcharts are diagrams that show processes, systems, or computer algorithms. Flowcharts can use a variety of shapes to represent each step of the process, with connecting arrows to show the sequence. Because they make complex processes clear and easy to understand, you'll find flowcharts in both technical and non-technical fields to document, study, plan, improve, or communicate information. They are one of the most common kinds of diagrams.
How to use Lucidchart's flowchart software
Start with a free flowchart template or a blank document

Start your flowchart by choosing one of our flowchart templates. You can also open a blank document and drag and drop shapes from our Containers shape library.

Drag and drop shapes onto the editor

Click on any flowchart shape, drag it onto the editor, and drop it in for placement. You can add whatever information you want, including colors, images, text, animations, and links.

Start connecting shapes

To connect shapes, click on the white dot that's outlined in red on any shape, then drag a line out to connect or point to your desired location or shape.

Edit shapes and lines

To edit a single shape or line, click on it and enhance or reduce it to the desired size. Change the color by selecting a shade from the fill color icon in the top toolbar.

Share, embed, or publish your flowchart

Share your flowchart with anyone by clicking the Share button in the upper-right corner. Embed the document somewhere else by clicking on the Share tab, then clicking on Embed, and copying the embed code.
Frequently asked questions