Supply and demand graph maker
Lucidchart is an intelligent diagramming application that helps you visualize your data. Graph supply and demand easily so you can make plans for your business, and update your graph in real time as you collaborate and add fresh data.
Create a supply and demand graph
See why millions of users across the globe choose Lucidchart.
Make your supply and demand graph online
Learn how our supply and demand graph creator can help you make and collaborate on graphs.
Create a supply and demand graph in minutes
Save time and import your live data sets into Lucidchart from Excel, CSV files, or Google Sheets. You can generate your supply and demand diagram by linking data related to production costs, number of suppliers, customer preferences, and expectations about future pricing.
Integrate with your favorite apps
Effortlessly insert your supply and demand graph into the apps you and your team use every day. With free add-ons and extensions, you can seamlessly move your work from our economics graph maker to a Word document, Google Sheets, Slack message, or a Wiki page in Confluence.
Manage and implement changes in real time
Our supply and demand graph creator makes it simple to update your data sets, ensuring that you keep up with changing customer needs and that you base your decisions on the most accurate information.
Work on your graph anywhere
With Lucidchart, you can start diagramming from anywhere on any device. We're cloud-based, so work from your preferred device, browser, and operating system.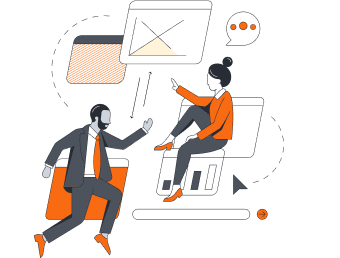 Share and collaborate
See why people love Lucidchart
You don't have to take our word for it. Check out the thousands of positive reviews and ratings on third-party apps like TrustRadius, Capterra, and G2.
Learn to use Lucidchart
Make a supply and demand graph from a template or blank canvas, or import a document.

Add shapes to your graph, connect them with lines, and add text.

Format and style your supply and demand graph to make it look just right.

Locate any information you need within your graph with Feature Find.

Share your graph with your team, and invite them to collaborate with you.
This video shows how to learn and master the basics of Lucidchart. The video begins by showing Lucid's core software, where all the documentation rests. Then the video shows how to create a new document as well as the tools you can use on this document. This third and final part teaches how to add shapes, lines and start creating and sharing a diagram. The video ends with the Lucidchart logo.
Supply and demand graph templates
Use one of our templates to get a head start on your graph.
Lucidchart integrations
Connect Lucidchart to all your favorite industry-leading apps.
See why teams use Lucidchart
Diagram, visualize data, and collaborate all in one platform.
Collaboration
Use Lucidchart on any device with ease. Lucidchart helps teams collaborate in real time from anywhere in the world. Enhance productivity while working with your team to achieve your goals.
Clarity
Lucidchart brings clarity to the complex. Intelligent diagramming allows you to quickly visualize projects and processes from start to finish.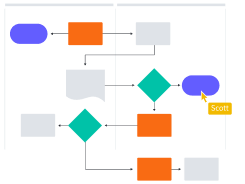 Alignment
Drive alignment with your team by collaborating in the same space. Quickly map out processes and ideas together in real time so that you never miss a beat.
Better together
The Lucid Visual Collaboration Suite transforms the way you work from ideation to project completion. Brainstorm and plan in Lucidspark, then map it out in Lucidchart. Create a living blueprint of your organization.
What is a supply and demand graph?
A supply and demand graph charts two types of data: the amount of supply available to consumers for purchasing and the amount of demand consumers have for that product. As supply rises, prices go down, and consumer demand rises, prices drive up. This graph charts both curves so you can see where they intersect and make smart decisions about your pricing accordingly.
How to make a supply and demand graph in Lucidchart
Create a spreadsheet

Create a spreadsheet and add the data you need to generate your supply and demand graph. If you use Google Sheets, your graph can automatically update as you update the spreadsheet, but you can also use Excel and CSV files.

Link your spreadsheet data in the data panel in Lucidchart

In Lucidchart, click the data panel on the right. Attach a new data set by selecting the spreadsheet file you created in step 1.

Set up your graph in the data panel

Within the data panel in Lucidchart, click "Manage Data" and select "Line Graph" from the drop-down menu.

Label and adjust the axis values

Follow the prompts in Lucidchart, specifying the values and labels you'll want to appear on the x-axis and y-axis of your graph. Once finished, Lucidchart will produce a graph for you.

Manage, style, and share

Once your graph is generated, you can manage it like any Lucidchart shape, including adjusting the formatting. You can also make changes to your data set directly from the data panel.
Frequently asked questions about supply and demand graphs