Venn diagram maker
Compare and contrast your options so you can make the best decision. Lucidchart's Venn diagram generator helps you quickly see what your options have in common and how they differ.
See why millions of users across the globe choose Lucidchart.
Compare and contrast
Get started right away with our Venn diagram maker.
Try our free Venn diagram template
Lucidchart offers a free two-set Venn diagram template to help you get going quickly.
Collaborate with your team
With our Venn diagram creator, multiple people can work on a Venn diagram in real time. Your team can work through your data quickly and keep everyone on the same page.
Customize your Venn diagram
While you can use our free template, you can also make your own Venn diagram with the shape library. Use any shape or symbol to make a Venn diagram that fits your needs.
Help your students
Have your class work in Lucidchart to collaborate on Venn diagrams. They'll learn to visualize and organize data.
Import a Venn diagram
If you already have a Venn diagram in Visio, Gliffy, or OmniGraffle, import it into Lucidchart. You can pick up where you left off.
Highly rated by users
See why we have thousands of five-star reviews on top third-party apps like Capterra, G2, and TrustRadius. We're confident you'll love Lucidchart too.
Work from anywhere
Lucidchart is cloud-based, so you can start diagramming anytime, anywhere. Use any browser, device, or operating system.
Learn to use Lucidchart in 3 minutes
Create your first Venn diagram, whether you import it, use a blank Venn diagram template, or start with just a canvas.

Add shapes, connecting lines, and text to your document to fill out your Venn diagram.

Change the formatting and the styling to make your Venn diagram look just right.

When you need to locate a piece of data, use Feature Find.

Share your Venn diagram with your team and get to work on it with them.
Venn diagram templates
Try one of our templates so you can get to work on your Venn diagram right away.
Lucidchart integrations
Connect Lucidchart to your favorite industry-leading apps.
See why teams use Lucidchart as their Venn diagram generator
Diagram, visualize data, and collaborate all in one platform.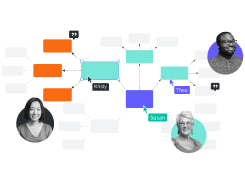 Collaboration
Create Venn diagrams on any device with ease. Lucidchart helps teams collaborate in real time from anywhere in the world. Enhance productivity while working together with your team to achieve your goals.
Clarity
Lucidchart brings clarity to the complex. Intelligent diagramming allows you to quickly visualize projects and processes from start to finish.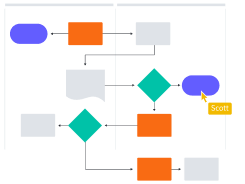 Alignment
Drive alignment with your team by collaborating in the same space. Quickly map out processes and ideas together in real time so that you never miss a beat.
Better together
Lucid transforms the way you work from ideation to project completion. Brainstorm and plan in Lucidspark then map it out in Lucidchart. Create a living blueprint of your organization.
What is a Venn diagram?
Venn diagrams are also known as set diagrams or logic diagrams. They use overlapping shapes, usually circles, to show the relationships between two or more items, such as highlighting how the items are similar and how they are different. While many people first encounter them in school, Venn diagrams are common in mathematics, linguistics, computer science, and business.
Why you should use a Venn diagram
Visually organize your information

Students and professionals alike benefit from using Venn diagrams. Use them to see the relationships between sets of items and think through the logic behind concepts.

Compare two or more choices

If you're trying to choose your best option, such as what product or service to buy, use a Venn diagram to compare your choices. You'll see what they have in common and what sets them apart.

Solve complex math problems

If you're a mathematician, use a Venn diagram to solve an intricate math problem.

Compare data sets

Venn diagrams help you understand your data. Compare data sets, find correlations, and predict the probability of certain occurrences.

Follow the logic

Use a Venn diagram to reason through the logic behind statements or equations. For example, the diagram could help you understand the Boolean logic behind a word search involving "or" and "and" statements.
Frequently asked questions about Venn diagrams