Lucidchart vs. Gliffy
Lucidchart and Gliffy are two of the most popular diagramming tools online. Here's why we believe Lucidchart is the superior diagramming solution.
A full-featured Gliffy alternative
Collaboration
Lucidchart
Gliffy
Real-time collaboration
Publish webpage
Chat
Comments
Share with collaborators
JS embed code
Share as image
Publish PDF
Community sharing
Social media sharing
Lucidchart allows you to easily work on your projects in a team environment.
Google Apps
Google Drive
JIRA
Confluence
Box
Microsoft Office 2013
Lucidchart integrates with more vendors and only charges you once per account, no matter how many integrations an account uses.
Visio (.vdx)
PDF
PNG
JPEG
Google Drive
Lucidchart allows you to export a partial selection of a document.
Import .vsd files (.vdx)
Import .vdx files
Export as .vdx files
Import stencils
Lucidchart supports more Visio elements than any of our competitors.
Class diagram
Activity diagram
Sequence diagram
Use case diagram
Component diagram
Object diagram
Deployment diagram
State machine diagram
Communication diagram
Lucidchart has more complete libraries and more shape libraries than anyone else.
Shortcut keys
Auto layout
Collapsible branches
Events
Activities
Gateways
Connecting objects
Artifacts
Lucidchart has more complete libraries and more shape libraries than anyone else.
Flowcharts
ER diagrams
Swimlanes
Network diagrams
Circuit diagrams
Data flow
Geometric shapes
iPad mockups
Android mockups
Org charts
UI mockups
Venn diagrams
Floor plans
Lucidchart has more complete libraries and more shape libraries than anyone else.
Gliffy import
Want to make the change to Lucidchart, but worried about losing your old Gliffy documents? Lucidchart now offers Gliffy import. Simply choose File > Import > Gliffy from the top menu bar to seamlessly upload your documents into our editor. You'll then be able to edit them with all of Lucidchart's unique advantages, outlined below.
More Features
More collaboration
Lucidchart offers real-time collaboration, which means that you and your co-workers or clients can work on diagrams together at the same time and see each other's changes instantly.
More Features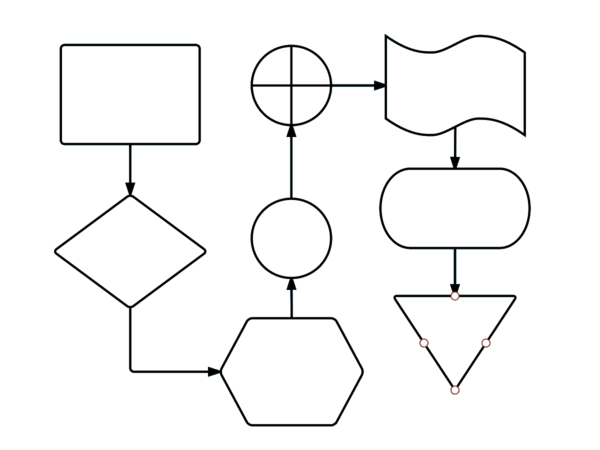 More polished look
Lucidchart's vibrant colors and gradient options give you more design flexibility and clean, professional-looking charts. Compare our diagrams with Gliffy's and you will see a clear difference.
More Features
Which program is a better value for me?
When it comes to integrations (like Confluence and JIRA), Lucidchart is more affordable because you only pay for what you use. We offer free premium licenses to students and educators. We let you pay on a monthly OR yearly basis and you can cancel your account at any time. We think our software outperforms Gliffy, but don't take our word for it: Start a risk-free trial today and see the difference for yourself!
Privacy

If you have a free account with Gliffy, all of your documents are available for anyone to view. Regardless of your account level, Lucidchart won't make your documents publicly available without permission.

Customized themes

With Lucidchart, you can create consistent themes by picking a desired look and then applying it to every shape that you drag out. This saves you time and headaches. Gliffy lacks this feature.

Better libraries

We have many libraries that Gliffy lacks, such as mockups for iOS 7, iPad, and Android devices. Lucidchart's libraries offer more extensive shapes and sub-sections.

Interactive wireframes

Lucidchart makes it easy to simulate real website functionality. Switching to demo mode allows you to show clients both the appearance and the interactivity of their future website or application.
Try it now