AWS Diagrams
For IT professionals and system administrators using Amazon Web Services, Lucidchart provides a clean, efficient way to diagram AWS-dependent infrastructures.
AWS import
Interested in AWS import? Save time by importing your AWS architecture directly into Lucidchart.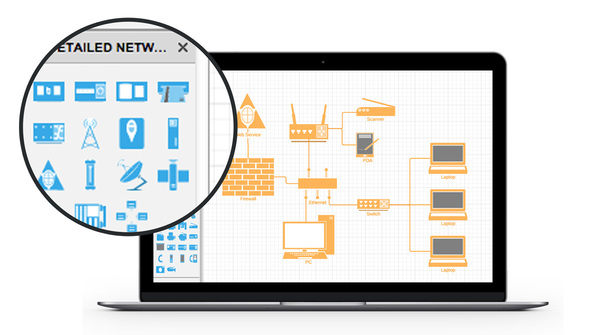 Network mapping tool
With Lucidchart, not only can you capture AWS network maps, you can build other technical diagrams. Try a Cisco network diagram or a generic infrastructure chart.
Streamlined AWS diagrams
Our AWS Simple Icon library is the official set as designated by Amazon Web Services. This means that any system engineer or IT administrator can quickly diagram and implement planned infrastructure. Lucidchart offers additional Amazon libraries, including messaging, deployment, and AWS containers.
Work as a team
You'll save time and money with speedy iterations on your AWS diagrams. We support an unlimited number of collaborators working simultaneously on the same document, as well as comments and in-editor chatting. For niche use cases, simply upload SVG files or Visio stencils, then save as a custom library.
Versatile shapes
Along with Amazon Web Services icons, Lucidchart's shape libraries include vendor-neutral network diagrams and Cisco network shapes. With all three of these libraries at your fingertips, users can create detailed, accurate AWS diagrams that will be welcome in any professional setting.
Feature highlights
Diagrams made easy
You can drag our shapes out onto the canvas and drop them right where you need them. Follow one of our many example templates, or make a completely unique diagram by easily adding your own images and fonts.
(877) 210 9890
Interested in using Lucidchart at your company?
Call now and see why millions of users trust Lucidchart for their professional diagrams.