Decision Tree Maker
When facing a tough decision, creating a decision tree to map out your choices can spark meaningful discussion and help you quantify your options. Make a tree diagram today with Lucidchart's free decision tree tool.
When facing a tough decision, creating a decision tree to map out your choices can spark meaningful discussion and help you quantify your options. Make a tree diagram today with Lucidchart's free decision tree tool.
Choose from 120+ templates
Drag and drop shapes, lines, and images
View and edit Visio files with a Mac or PC
Easily share and collaborate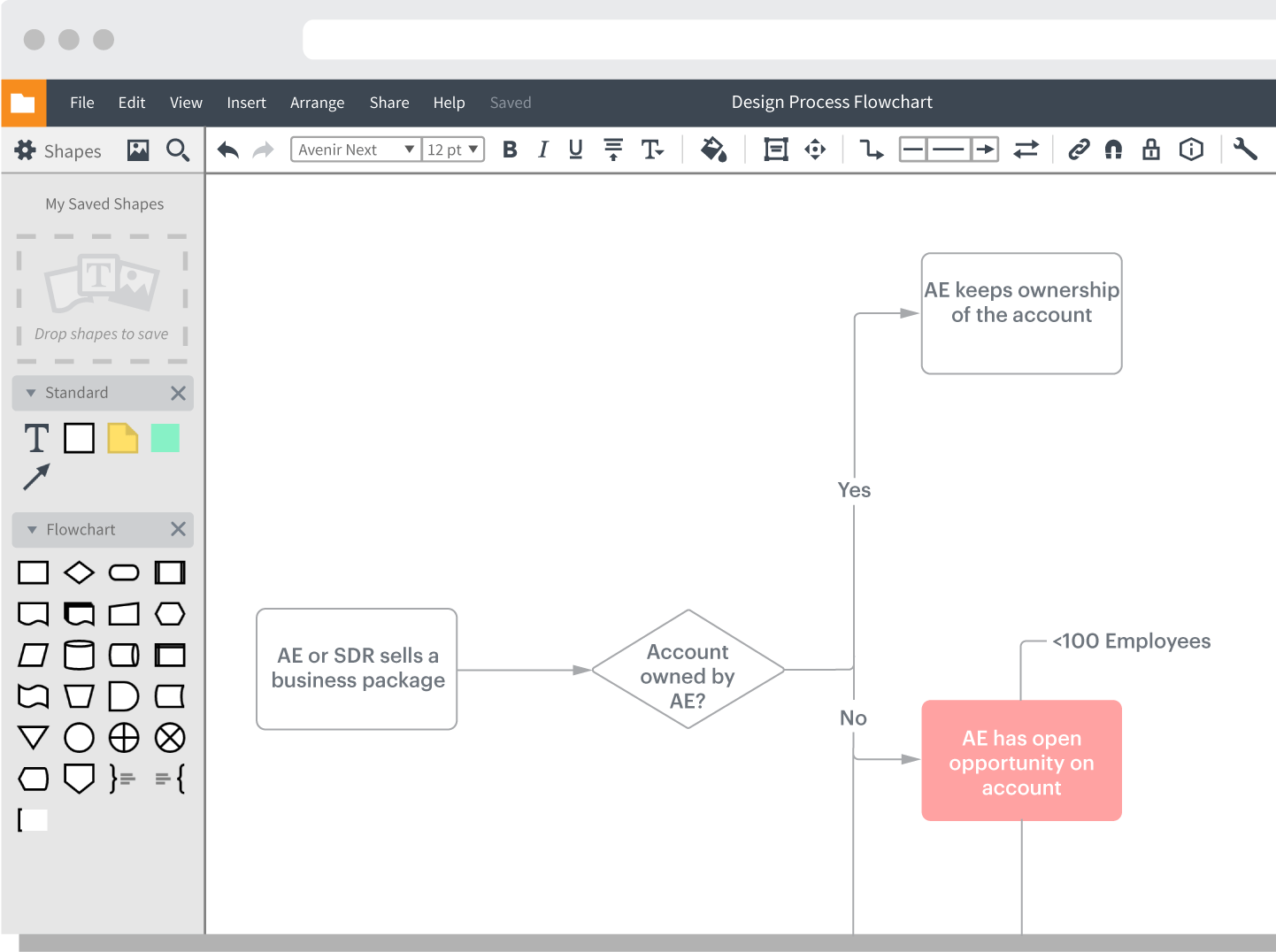 Over 11,000,000 users
trust Lucidchart to keep them on
the same page "Less expensive than alternatives, you can make very professional process maps and charts using it, easy to use, good customer support."
—Diana B
"Where do I start? Price is great. Functionality is great. Company is great. Overall system is awesome and evolving."
—Jonathan M
"Lucidchart is a great app for creating diagrams and flowcharts. It also allows multiple users to work on the same chart at the same time."
—Eric S
"It's simple and intuitive; very easy to use quickly. It doesn't require you to choose lots of options or fiddle around to get things to look good."
—Elizabeth B
"I really enjoy using this program for collaborative projects. The ability for everyone to collaborate in a single space is great."
—David H
"What I like the most about Lucidchart is that it 's easy to use and helps me bring visualization to my work with other teams."
—Kimberly V
"Whenever our sales team needs to mock up something we use LucidChart. The ease of exporting to a pdf is really helpful when it comes to sharing with our team."
—Allyssa C
"You don't have to know what you're doing before you start. It's easy to adjust and move items int he chart."
—Brett F
"Has plenty of objects and templates. Very responsive, easy to use. Professional look. It supports real time collaborative editing. Impressive outcome."
—Simon G
"This is a very intuitive application for flow charting. I think it is much easier to use and has a better end product than Microsoft Visio"
—Aubrey B
---


586 reviews
Online Decision Tree Software
Define a better business strategy with a tree diagram maker that's accessible, collaborative, and easy to use. With Lucidchart, an ideal decision tree generator, you can determine the right course of action.
Try it now
Start with a Tree diagram template
Use one of our decision tree templates to bring your creativity to life. Customize shapes, text, and colors to share your work with greater impact than ever.
More Features
Why use decision trees
You have to make decisions, no matter what position you hold. With a tree diagram, you can organize all the data around your options so you can find a clear winner. See the consequences of your choices before you make them and back up your business decisions with hard data.
More Features
Real Time Collaboration
"I live in San Diego, and I have a team of 35 to 40 across the US, Costa Rica, and the UK... I can't just go to the whiteboard with them and say, 'Hey, remember the thing we drew last week?' It's these diagrams that have become the core of how we make decisions and how we hold ourselves accountable." — Patrick McClory, SVP of Platform Engineering at Datapipe
More Features
The right decision tree software
Compare possible outcomes side by side. Mitigate risk and prevent financial losses. Support or validate your choice with management.
Visualize with ease

You don't want to spend a lot of time on a diagram you won't use after you make a decision, but you also want your diagram to look professional when you show it to stakeholders. With our simple online tree diagram maker, you can drag and drop shapes and lines to pull together a decision tree quickly. Impress and move on with your decision.

Integrate with other tools

Need to show the possible outcomes and data you've gathered to others? Lucidchart integrates with other leading apps, such as G Suite, Atlassian, Microsoft Office, and Slack, so you can share your decision tree wherever you work.

Work from anywhere

An opportunity could come up at any time. Fortunately, our tree diagram generator lives in the cloud, so you can open the editor from anywhere and compile new data in real time. Lucidchart plays nice with Mac, Windows, and Linux operating systems—which also helps when you need to share these documents with other decision makers.

Share with anyone

Once you've organized your data, share the diagram with others who will feel the impact of this decision. Give collaborators the ability to edit, comment, or view. Remind others to review your document with @mention notifications. Use presentation mode to display your data in a meeting.
Try it now