Process Mapping Software
Lucidchart's intuitive drag-and-drop design helps you visually communicate to improve important processes, making it one of the web's most powerful online process mapping tools
Process Mapping Tool
Lucidchart is an online process mapping tool that works on any desktop or mobile device and on any operating system, whether OS X, PC or Linux. Because Lucidchart is a cloud-based process software, you can collaborate with co-workers anytime, from anywhere.
Try it now
Process map maker
To create a process map, simply drag-and-drop ready-made or custom process mapping symbols to show information. Lucidchart process mapping software makes it easy for anyone to create and securely share process maps.
More Features
Collaborative process software
Lucidchart is a collaborative process software. Team members can simultaneously edit, view and comment on a project from anywhere. You'll save time and improve team communication by building high-quality process maps with Lucidchart.
More Features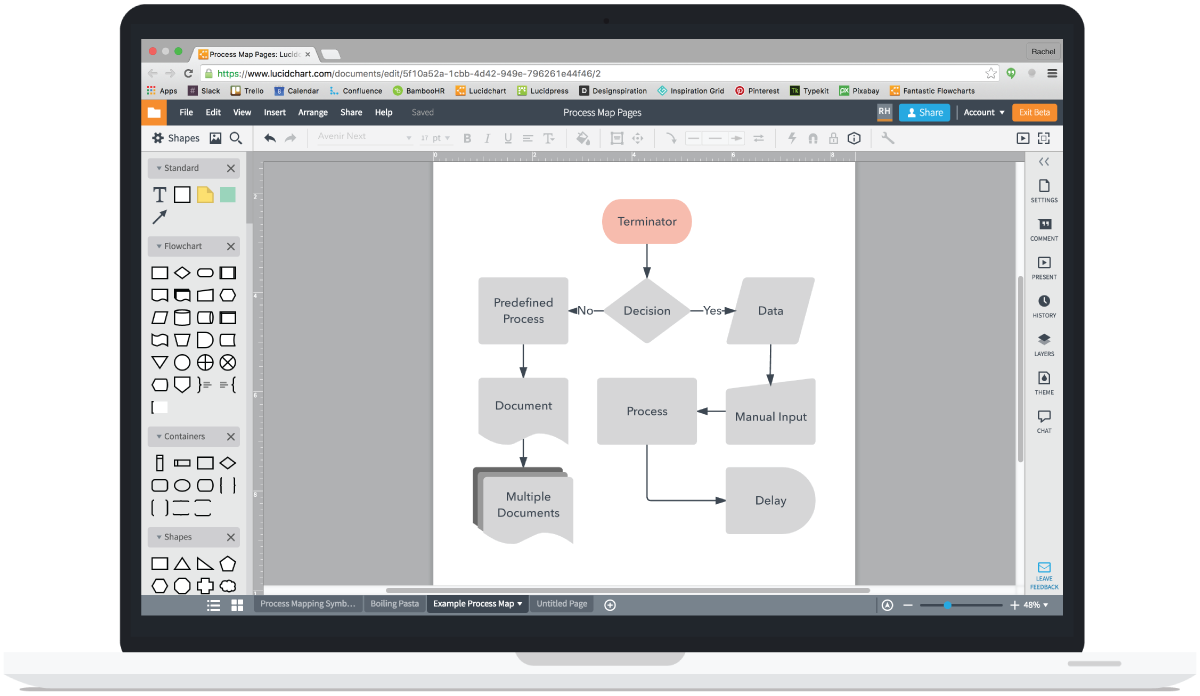 Process modeler
Lucidchart is a process modeler with multiple uses: map out software development workflows or product decision points, document team member responsibilities and illustrate a strategy for process improvement.
More Features
Process Mapping with Lucidchart
Lucidchart makes it easy to do process mapping. Whether you're trying to improve a manufacturing process or make a business process more efficient, Lucidchart works for any industry.
Free and paid accounts

Lucidchart offers free and premium online accounts. Whether you're a software developer or business operations manager, there's a Lucidchart plan to fit your needs.

Process mapping tools

With intuitive drag-and-drop functionality, Lucidchart is the ideal tool for ease and organization. Use it for process mapping to spotlight waste, streamline work and build understanding in your business.

Publish and collaborate

Lucidchart empowers you to visually communicate vital details of any process. Share your process map in a PDF, JPEG or PNG file, post it on social media or email to team members for easy collaboration.

Integrated process maker

Because Lucidchart is fully integrated with G Suite, you can login and immediately start working in Google Drive, Docs, and Sheets. Our Confluence, Jira Software, and Hipchat integrations give added flexibility.
Try it now