Competitive analysis
Compare businesses and identify key strengths and weaknesses to help plan for competitive strategies using this competitive analysis template.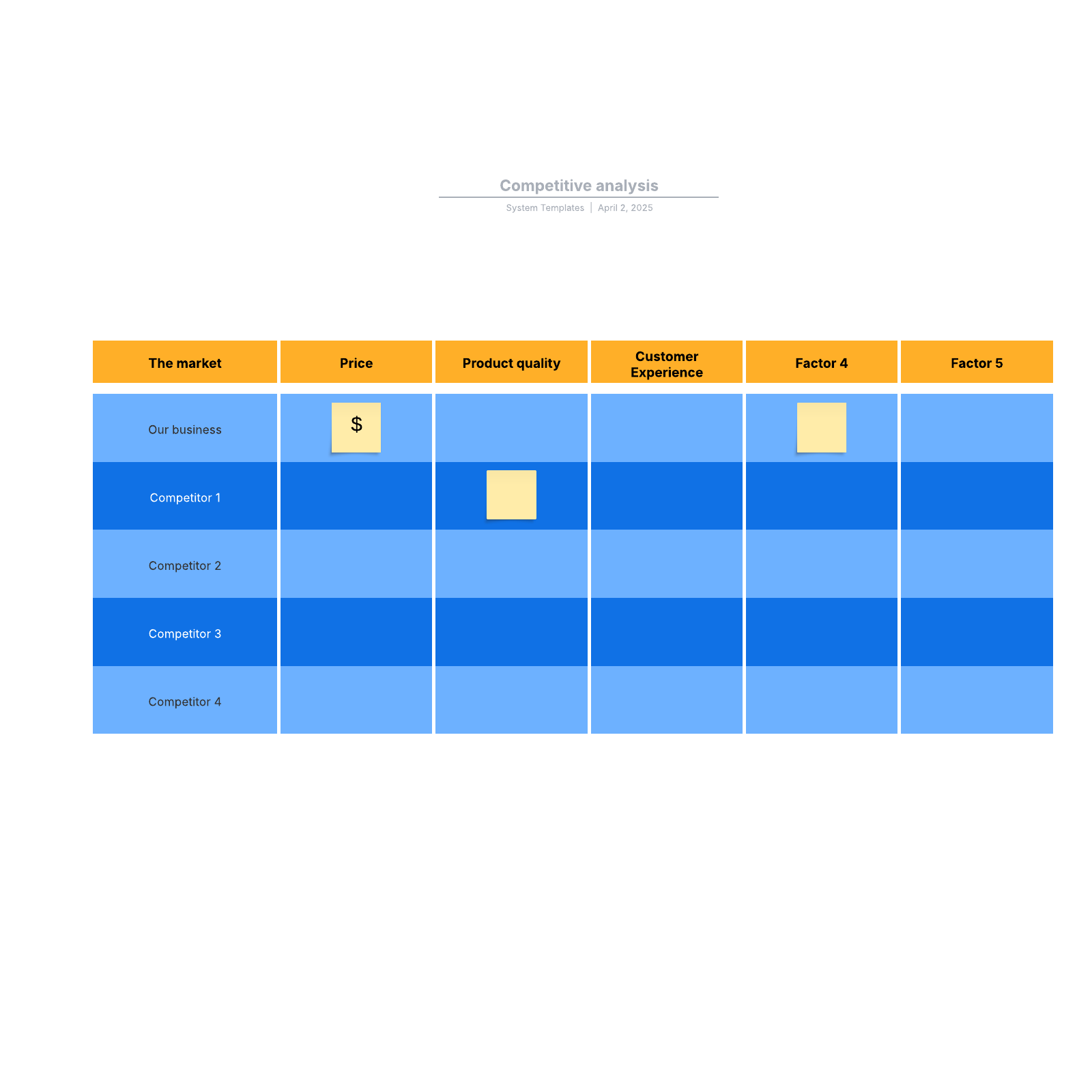 Plan for the future with a Competitive analysis template
Competition is a natural part of business, so you should plan for it. When you actively analyze how your competitors' businesses and products compare to yours, you're better able to identify your own strengths and weaknesses and ideate better strategies to stay competitive. You can run an organized and effective competitive analysis with our Competitive analysis template.
The Competitive analysis template gives you the means to visualize the advantages and disadvantages you have against your competitors. And when you use the template provided by Lucidchart, you have a simple, customizable resource that be easily shared with a remote team and used to plan competitive strategies.
Use the Competitive analysis template in Lucidchart
To use the Competitive analysis template:
Take a look at the example categories provided in the columns and edit or add to them as needed.
Add the names of specific competitors to each of the competitor slots on the left side.
Add sticky notes to every category with information and data that compares your business with each competitor. Be as specific as possible and include items like pricing, training methods, customer service, and more.
Invite team members to add sticky notes with their opinions and data on each competitor's strengths and weaknesses.
As you and your team complete the template, encourage participants to leave comments with sticky notes and react to ideas with emojis. Keeping the exercise interactive will ensure you harness the collaborative potential of your team. You will benefit from the analysis more if it is objective and comprehensive, and your team's perspective will help achieve that.
For more ideas on how to get the most out of your template, watch Lucidchart tutorials by clicking on the button on the right of the document.