QC/QA flowchart example
This QC/QA flowchart example template can help you: - Document your quality control/quality assurance process. - Save money and reduce defects by making sure everyone is aware of your QC/QA process. - Show where steps in the process belong using swimlanes. Open this template to view a detailed example of a QC/QA flowchart that you can customize to your use case.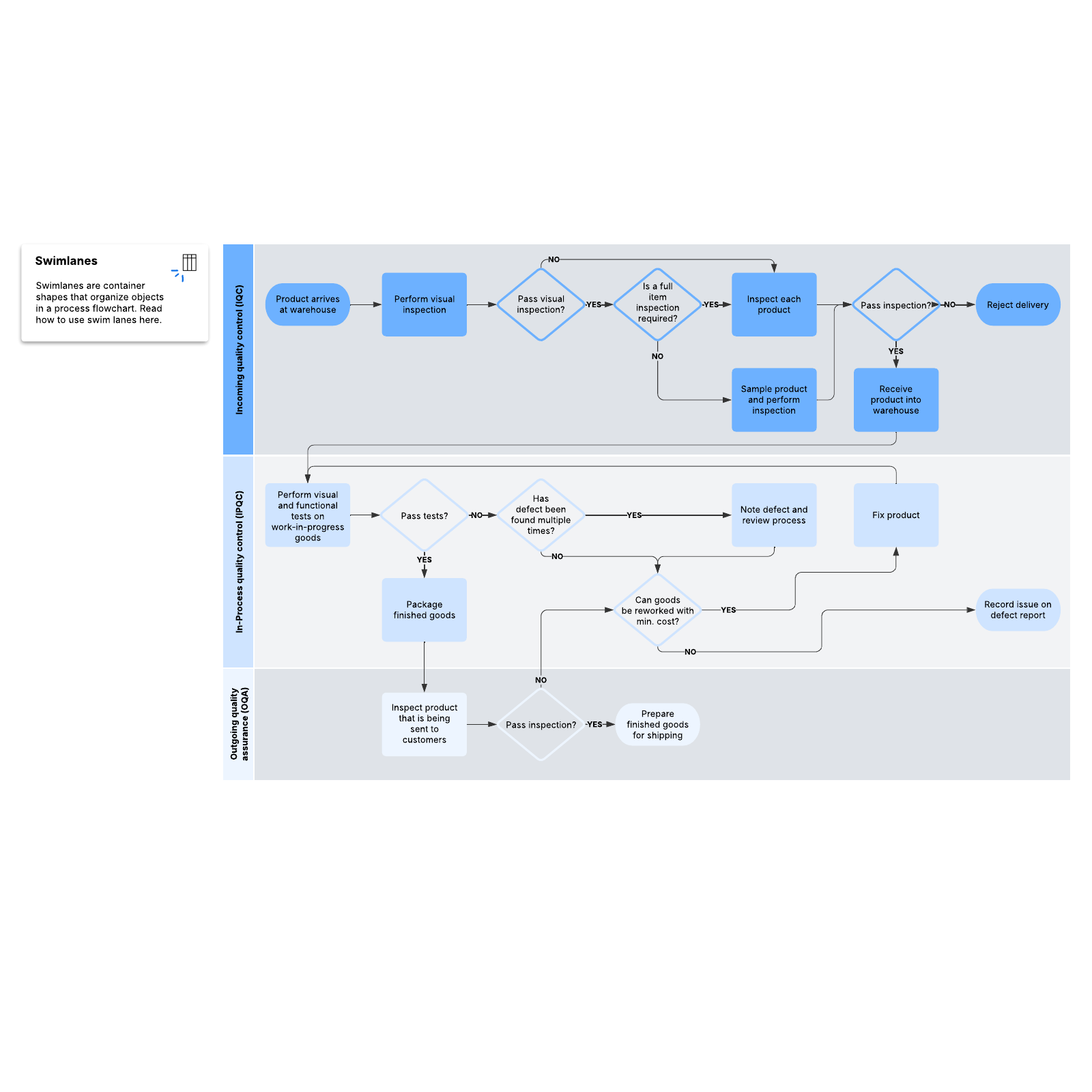 What is the QC/QA flowchart example template?
Brand equity is a difficult thing to gain and an easy thing to destroy. And much of your brand equity comes from how people perceive the quality of your product. For instance, a brand that produces one awful car for every five stellar cars is going to be perceived as an untrustworthy brand. That's where quality control and quality assurance come into play: you need processes for both.
QA (quality assurance) and QC (quality control) are related, but they differ in their approaches to ensuring that your company consistently delivers quality products. QA is proactive and process-oriented and includes things like audits, training, and documentation. QC is reactive and product-oriented. It includes things like inspections, testing, sampling, and customer feedback. This flowchart helps you visualize where the two cross over, so you can successfully document both.
Benefits of using the QC/QA flowchart example
There are many benefits of using this template.
Document your quality control and quality assurance processes:
Documentation is the key to implementation and perpetuation.
Save money and prevent defects:
One unaligned person can damage your product and your brand. Ensure everyone is informed and up to speed to do their best work.
Visualize steps using swimlanes:
Identify process gaps at a glance.
Customize based on your use case:
From engineering to education, the template is usable in every scenario.
Easily share with remote teams and stakeholders:
End siloing and fill knowledge gaps with the press of a button.
How to use the QC/QA flowchart example template in Lucidchart
To import data from another source to use in your template, click on "Import Data" on the bottom left.
To format shapes as you'd like, click on a shape and then click "Shape Options" to select the fill or line colors.
Hover over a shape and click on any red circle to add lines.
Add text to a line by double-clicking the text or anywhere on the line and typing.
Use the properties bar at the top of the canvas to format lines.
Click on the swimlanes shape, and then use the advanced shape bar at the top of the canvas to adjust the number of lanes, the text orientation, and the header and lane color.
To learn more about swimlanes or Lucidchart in general, click on the tutorials buttons on the right of the document.