Sales playbook
This sales playbook template from Winning By Design can help you: - Bring together the insights gathered from other Winning By Design templates. - Visually diagram the sales process. - Add descriptions, skills, and tools to each stage of the process. Open this template to view a detailed example of a sales playbook that you can customize to your use case.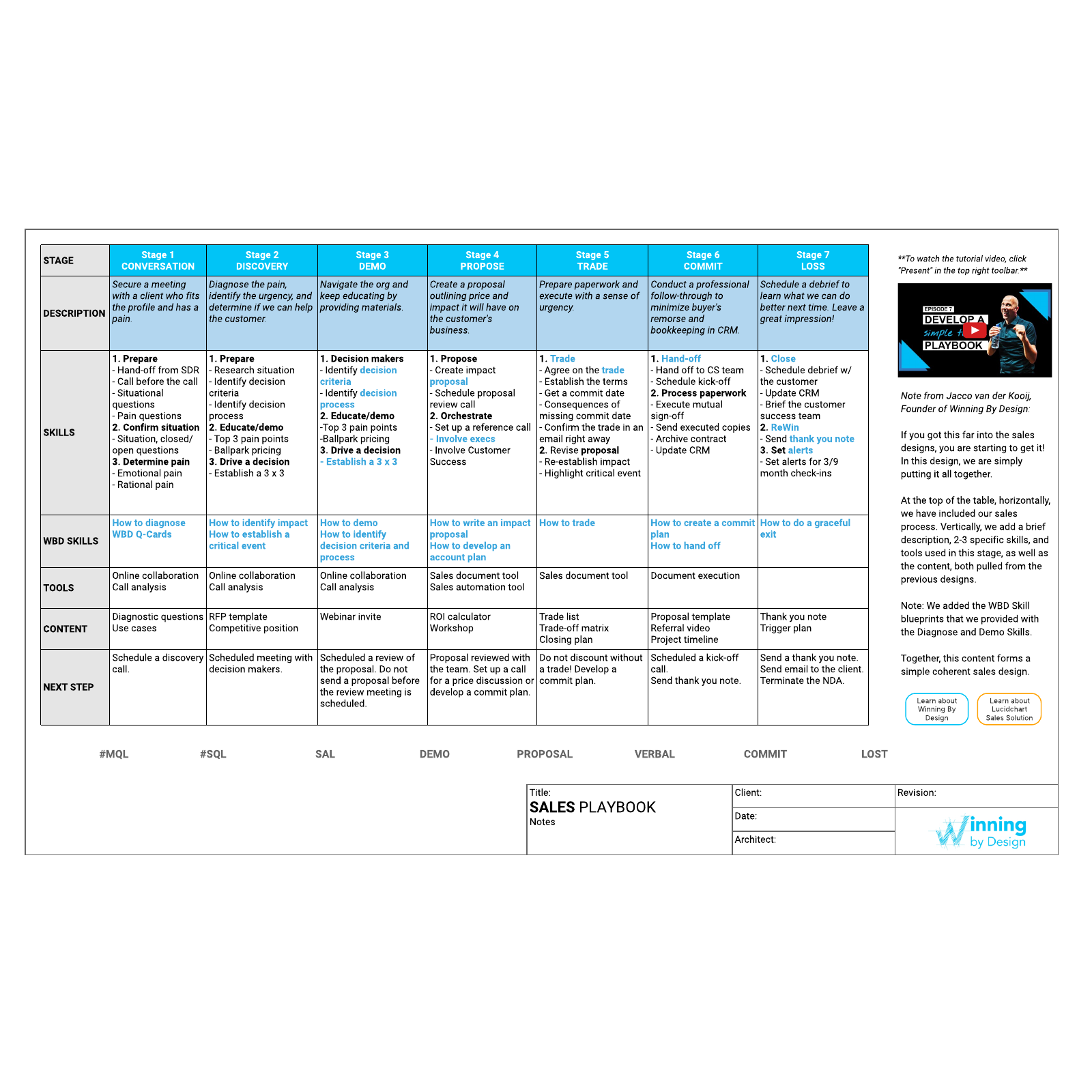 Close bigger and faster with the Sales playbook template
If you want to improve the performance of your sales team, you might take a closer look at your sales process. These processes are far more effective when they are designed deliberately, with specific steps and concrete goals in mind.
Try our Sales playbook template, created in collaboration with Winning By Design, a cutting-edge sales consultant agency trusted by more than 200 companies. We have combined our expertise to create a way to visually diagram your sales process. This will help you identify areas of improvement, provide context to new hires, and keep everyone on your sales team aligned.
Use the Sales playbook template in Lucidchart
This template includes an example process that can be customized according to your use case. The steps of the sales process are added in columns. You can then add descriptions, skills, tools, content, and next steps to each stage of your sales process in the corresponding rows.
As you fill out the template, you can easily collaborate with your sales team, either remotely or in person. Everyone can easily add input to create your ideal sales process, and you can customize colors, shapes, and categories as needed.
To learn more about optimizing the Sales playbook template, see the tutorial video to the right of the template from the founder of Winning By Design, Jacco van der Kooij. The video provides more context and instruction about the template and how it can assist you in perfecting your sales process.