Database design tool
Lucidchart is an intelligent diagramming application that makes creating database diagrams easy. Customize shapes, import data, and so much more.
See why millions of users across the globe choose Lucidchart.
Lucidchart is your collaborative database diagram tool
Get started in minutes with intuitive, dynamic features.
Import your structure
Import your database structure directly from your database management system into Lucidchart to better visualize your database as an entity relationship diagram (ERD). Our database designer tool supports DBMS platforms such as MySQL, Oracle, PostgreSQL, and Microsoft SQL Server.
Import your Salesforce schema
Our intuitive database diagram tool offers a Salesforce schema import feature to help Salesforce admins quickly visualize and make improvements to their Salesforce instance.
Easy and customizable
Easily customize objects and relationships within your diagram, then collaborate freely with your team to confirm your proposed changes in Salesforce.
Work from anywhere
With cloud-based diagramming, it's easy to start a database design online from anywhere, no matter the device, browser, or operating system.
Export to your DBMS
With a few clicks, you can export your revised database diagram to SQL to easily transition from your Lucidchart canvas to your DBMS.
Third-party reviews
Lucidchart is trusted by millions of users and has thousands of five-star reviews on third-party apps like Capterra, G2, and TrustRadius.
Master the Lucidchart basics in 3 minutes
Create your first database diagram from a template, blank canvas, or imported document.

Add shapes and text and connect lines to your database structure.

Adjust styling and format within your database diagram.

Use Feature Find to locate anything you need within your diagram.

Share with your team to start collaborating.
Database diagram templates
Get started building out your own database diagram online with these templates from our gallery.
Lucidchart integrations
Connect Lucidchart to your favorite industry-leading apps.
See why teams use Lucidchart as their database design tool
Diagram, visualize data, and collaborate all in one platform.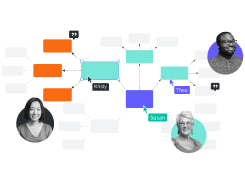 Collaboration
Use Lucidchart on any device with ease. Lucidchart helps teams collaborate in real time from anywhere in the world. Enhance productivity while working with your team to achieve your goals.
Clarity
Lucidchart brings clarity to the complex. Intelligent diagramming allows you to quickly visualize projects and processes from start to finish.
Alignment
Drive alignment with your team by collaborating in the same space. Quickly map out processes and ideas together in real time so that you never miss a beat.
Better together
The Lucid Visual Collaboration Suite transforms the way you work from ideation to project completion. Brainstorm and plan in Lucidspark, then map it out in Lucidchart. Create a living blueprint of your organization.
What is a database diagram?
A database diagram shows the logical structure of a database, including the relationships and constraints that determine how data can be stored and accessed. Individual database models are designed based on the rules and concepts of whichever broader data model the designers adopt. Most data models can be represented by an accompanying database diagram.
How to use our database schema design tool
Select the ERD shape library and import

Use the ERD shape library to create your database structure. Start from scratch or streamline the process by importing your schema from Salesforce or your DMBS of choice.

Determine the entities from your database

List out every step in your process from start to finish, arranging them in sequential order. Be sure to include inputs, outputs, individual roles needed, time durations, etc.

Identify relationships between entities and add necessary attributes

Draw outlines and cardinalities between entities to indicate their relationships, then add necessary attributes associated with your entities.

Arrange, format, and collaborate

Once you've mapped your database, share it with others to get feedback on proposed changes and to ensure it's correct. Rearrange and format shapes and lines as you see fit.

Export your database design back to your DBMS

Export your database back to your DBMS using our export feature. Publish your diagram for others to reference using popular apps such as Confluence, Jira, Google Workspace, Microsoft Office, and more.
Frequently asked questions about our database designer tool