Diagram maker
Make a polished, professional diagram for free with Lucidchart. No matter what you have in mind, we have the tools you need to build it. Make an account and start diagramming today.
See why millions of users across the globe choose Lucidchart.
Diagrams for all
Lucidchart can help you create a diagram for anything you have in mind—no matter the subject or complexity.
Use standard diagram shapes
Our shape libraries contain comprehensive collections of industry-standard shapes to make your diagram professional and effective.
Present your diagram
When you've finished your work, show others your diagram with Lucidchart's in-editor presentation mode. You can also export your diagram to Google Slides or Microsoft Powerpoint for easy presentation.
Enjoy advanced diagramming features
Even if you have something very complex in mind, our diagram creator can help you build it. We offer features like conditional formatting, data linking, layers, action buttons, external links, and more. Use these tools to capture all the information you need in your diagram while keeping it easy to understand.
Collaborate with anyone
Share or collaborate on your diagram with anyone, on any operating system, device, or browser. Our diagram generator is cloud-based, so we won't hold you back.
Start with a customizable template
We have hundreds of custom-made diagramming templates to choose from! Use what others have created with Lucidchart to find inspiration.
Stay secure with Lucidchart
Our diagramming software is secure and private. We maintain compliance certifications like PCI, Privacy Shield, and SOC II.
Trust our reputation
Want a second opinion? Check out our reviews on third-party apps like Capterra, G2, and TrustRadius. Thousands of reviewers have given us excellent ratings.
Get to know Lucidchart
Use a blank canvas or a template to create your first diagram, or import a document.

Add shapes and connect them with lines. Add text to the shapes and lines.

Learn your options for styling and formatting to make your diagram look professional and polished.

Use Feature Find within your diagram to find any element you need.

Share your diagram with your team, whether that's colleagues, co-workers, or other stakeholders. Collaborate away.
Diagram templates
Use one of the diagram templates from our gallery to get started.
Lucidchart integrations
Connect Lucidchart to your favorite industry-leading apps.
See why teams use Lucidchart as their online diagram maker
Diagram, visualize data, and collaborate all in one platform.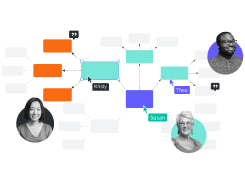 Collaboration
Use Lucidchart on any device with ease. Lucidchart helps teams collaborate in real time from anywhere in the world. Enhance productivity while working with your team to achieve your goals.
Clarity
Lucidchart brings clarity to the complex. Intelligent diagramming allows you to quickly visualize projects and processes from start to finish.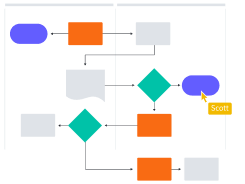 Alignment
Drive alignment with your team by collaborating in the same space. Quickly map out processes and ideas together in real time so that you never miss a beat.
Better together
The Lucid Visual Collaboration Suite transforms the way you work from ideation to project completion. Brainstorm and plan in Lucidspark, then map it out in Lucidchart. Create a living blueprint of your organization.
What is a diagram?
A diagram is a symbolic representation of information that helps you visualize concepts. It shows the arrangement of ideas or elements and how they relate to one another. Today, you'll find diagrams in numerous fields, including education, writing, engineering, and marketing.
How to create a diagram with Lucidchart
Decide what type of diagram you need

There are a lot of different types of diagrams, so begin by determining which will best help you organize your ideas. Then, open a blank canvas or use a template from our gallery.

Add shapes to your diagram

Drag and drop objects onto your canvas. Click on individual shapes to move, rotate, and resize them as needed.

Connect the shapes

Click the red node on any shape and drag a line to connect it to another shape. Double-click lines to add text or use the properties bar to change formatting.

Format your diagram

Change the look and feel of your diagram by fine-tuning the layout, updating the fill and border colors of your shapes, and adjusting lines as needed.

Collaborate, analyze, improve, and share

Share your diagram with others to brainstorm solutions to problems, create action items, and more.
Frequently asked questions about diagrams