Floor Plan Maker

Please your clients every time with a simple solution. Work in groups at a low price and generate clean, professional layouts in minutes.

Try it now Sign up free

Make Floor Plans Online

Want to create a quick online floor plan—or even a complex one? Lucidchart has a full shape library and drag-and-drop functionality.

Try it now Sign up free
---
Benefits of HTML5
Lucidchart is the most flexible diagramming program on the market. Because it's based on open web standards, you can make floor plans on PC, Linux, or OS X operating systems. It even works on tablets for on-the-go efficiency.
Visio compatible
Lucidchart supports both Visio and Gliffy floor plans. Migrating your old work to one secure location is quick and easy. You're just one upload away from editing your legacy diagrams in the browser.
Instant feedback
Floor plan makers should be designed with the user in mind. Design work often means getting feedback from multiple stakeholders. Lucidchart allows everyone to submit input in real-time to simplify your event planning.
Faster than sketching
Floor plan makers are important because it takes a lot of time and effort to hand-draw a design. Lucidchart provides every possible convenience without sacrificing flexibility.
---
Floor plans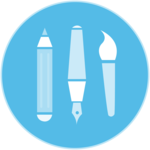 Flowcharts
Value stream maps
---