Organizational charts are useful for visually organizing everything from a large organizational structure to a family tree. Follow the steps outlined below to make your very own org chart in Excel, and then learn how to streamline the process with Lucidchart—a visual workspace that will make org chart creation incredibly easy.
4 minute read
Do you want to create your own organization chart? Try Lucidchart. It's fast, easy, and totally free.
How to make an org chart in Excel
Excel is an incredible tool for organizing and synthesizing data and has been built with some rudimentary diagramming capabilities. Including org charts in your Excel spreadsheet can improve both the visual appeal and the utility of the spreadsheet.
1. Insert SmartArt
First, go to the Insert tab > SmartArt in your Excel spreadsheet. To find an org chart template, click on the Hierarchy group on the left, then select the template that you would like to use.
2. Enter text
After selecting an org chart template, you will be able to click into any SmartArt shape and enter text. Since every shape will represent a person in the organization, we recommend first organizing your data to make sure that everyone is accounted for. Unfortunately, Excel does not store more information than the person's name easily. For a more complete way to build an org chart, skip ahead to learn about Lucidchart.
3. Customize hierarchy
As your organizational structure changes, use the Promote and Demote buttons found in the SmartArt Tools Design tab to move people horizontally. Likewise, the Move Up and Move Down buttons will move people vertically throughout the organization.
In our example, let's say the VP of Marketing will now report to the VP of Sales. To reflect this change, move the VP of Marketing over until he/she is next to the VP of Sales, then click the demote button while clicked on the VP of Marketing shape.
4. Add and remove shapes
Add shapes into your org chart in Excel by clicking "Add Shape" from the SmartArt Tools Design tab. Follow the previous steps to enter text into the new shape and manage its position within your org chart.
Let's say that your company is growing and two new people are hired. The first will report directly to the VP of Marketing and the second will report to the VP of Manufacturing. To add the new report to the VP of Marketing, click on the existing VP of Marketing shape and find the "Add Shape" button. Do the same for the new hire that will report to the VP of Manufacturing.
5. Format your org chart
Customize your org chart in Excel by changing up the colors, fonts, and sizes of the shapes as found in the SmartArt Tools Design and Format tabs.
How to create an org chart in Lucidchart
Lucidchart, a collaborative visual workspace with an  organizational chart maker, will help you create stunning diagrams without all of the limitations and annoyances that come with Excel. With Lucidchart, make your org chart easily and then add it back to your Excel spreadsheet seamlessly with our MS Excel add-in.
Getting started with Lucidchart
Start by signing up for a Lucidchart account. After registering, open a new Lucidchart document and enable the org chart shape library by clicking on the "+ Shapes" button on the left side of your screen and making sure the "Org Chart" shape library is checked.
Add org chart shapes
Drag and drop the org chart shape to begin building out your org chart. Double-click the shape to open the context panel and find options for styling your org chart. To add additional shapes, simply click the red "+" buttons around the existing shapes. Drag and drop shapes to change reporting structure or make other changes to your organization.
Import org chart data
To speed up the diagram creation process, Lucidchart allows all paid users to import their organizational data and to build an org chart automatically. Simply provide Lucidchart with the correct data and let Lucidchart do the rest!
First, organize your data in a spreadsheet. Some of the fields you may consider including are:
Name

Employee ID

Department

Job Title

Phone

Email

Reports To
Note: Be sure to save your spreadsheet as a CSV.
Once your data is organized, click on the "Import Data" button under the org chart shapes and follow the steps in the dialog.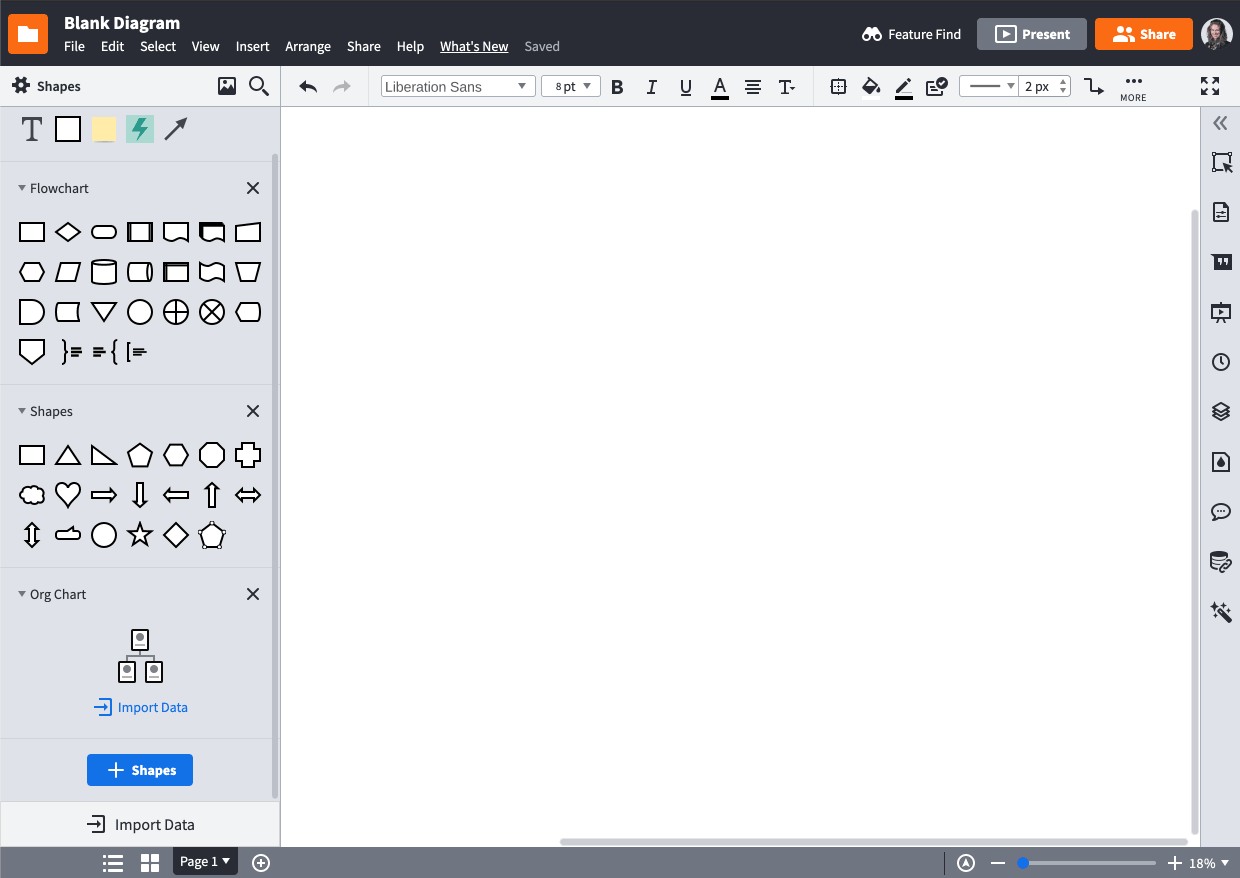 Import your data straight into Lucidchart for an incredible experience that Excel SmartArt will never give you!
Format shapes
Easily edit your org chart in Lucidchart using the org chart editing panel to the left of the canvas or the employee options bar at the top of the canvas. From here you can format the shapes as desired, easily adding and hiding fields and editing shape layouts.
Insert a Lucidchart diagram in Excel
Easily insert your org chart into an Excel spreadsheet after building it in Lucidchart with our MS Office Excel add-in. Here are the steps:
In Excel, go to Insert > Office Add-ins.
Search for Lucidchart in the Add-ins store.
Click "Add."
Access Lucidchart within your Add-ins tab, and insert an org chart that you have already created or create a new diagram.