Organizational chart maker
Visualize your team structure by creating an org chart in Lucidchart. You can use one of our templates or start from scratch, and we make it easy to collaborate and share your chart with others.
See why millions of users across the globe choose Lucidchart.
Bring transparency to your org
See everyone you work with at a glance with our org chart maker.
Easy introductions
Embed a short Loom or CloudApp video clip for each person in your org chart. You'll put faces to names quickly and learn more about your team.
Quick-start options
While you can build your chart yourself, you can also let our org chart software do the work. Use a template, or upload employee information using the data import feature to auto-generate a diagram.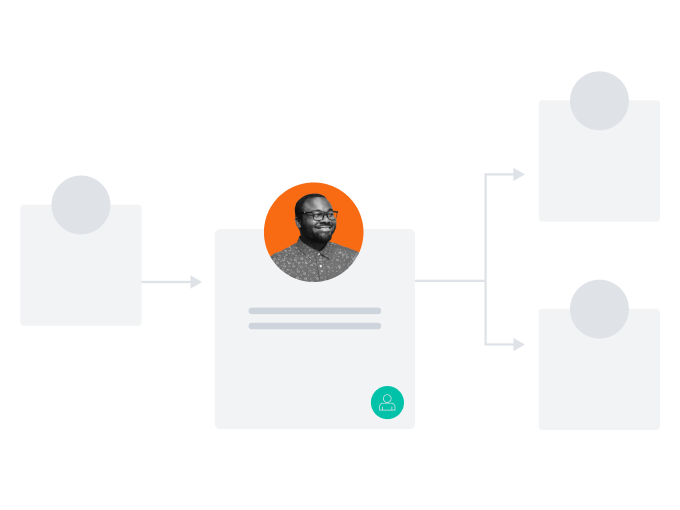 Automatically up-to-date org charts
Our organizational chart creator makes updating your org chart simple—add, delete, or move employees without a hitch. If your data is linked to Google Sheets, all you have to do is hit refresh, and the chart will sync automatically.
Collaborative org chart builder
Share and collaborate on your org chart with anyone—no matter their location, browser, device, or operating system.
Customizable templates
Take inspiration from one of our 1,000+ templates. You can use the template as is and avoid reinventing the wheel, or you can change it up as much as you need.
Secure and private
We take your security seriously. Our compliance certifications include PCI, Privacy Shield, and SOC 2.
Lucid security
Trusted and loved
Check out our org chart creator reviews on third-party apps like Capterra, G2, and TrustRadius. You'll see thousands of five-star ratings.
Master the basics of Lucidchart in 3 minutes
Create your first diagram by importing information, editing a template, or starting from a blank canvas.

Make sense of your data by adding shapes, connecting lines, and explanatory text.

Adjust the styling and formatting in your diagram to make it easy to read and visually appealing.

Locate what you need with Feature Find.

Share your diagram with your team to start collaborating.
Org chart templates and examples
Start building your organizational chart with a template.
Lucidchart integrations
Connect Lucidchart to all your favorite industry-leading apps.
See why teams choose Lucidchart
Diagram, visualize data, and collaborate all in one platform.
Collaboration
Create org charts on any device with ease. Lucidchart helps teams collaborate in real time from anywhere in the world. Enhance productivity while working together with your team to achieve your goals.
Clarity
Lucidchart brings clarity to the complex. Intelligent diagramming allows you to quickly visualize projects and processes from start to finish.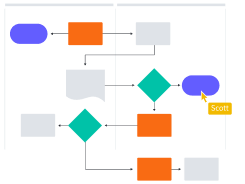 Alignment
Drive alignment with your team by collaborating in the same space. Quickly map out processes and ideas together in real time so that you never miss a beat.
Better together
The Lucid Visual Collaboration Suite transforms the way you work from ideation to project completion. Brainstorm and plan in Lucidspark then map it out in Lucidchart. Create a living blueprint of your organization.
What is an organizational chart?
An organizational chart, or org chart, maps the structure of your organization. The diagram uses boxes for each person, and lines connect the boxes. Generally, vertical lines show that the person above manages the person below, and horizontal lines show that the team members are peers. When you view the chart, you'll quickly see who reports to whom, people's job titles, and the teams or departments that they belong to. These diagrams come in handy when you need to figure out who to talk to about a specific issue or when you're restructuring teams to reduce inefficiency.
How to create an organizational chart
Create a spreadsheet

If you don't already have one, create a spreadsheet to organize your employee data. Use a CSV, Excel document, or Google Sheets.

Import your data

Working in Lucidchart, apply the org chart shape library. Click "Import Data," and follow the prompts.

Customize your chart

After Lucidchart generates your org chart, change the look by customizing the shapes, changing the fonts and colors, and adding or deleting fields.

Edit the employees

Drag and drop employees' information on the canvas to group them, or use the "Manage Data" icon in the data panel.

Share your org chart

Present your org chart directly from Lucidchart with presentation mode. You can also create a shareable link and embed it on a webpage or in one of our integrated apps, such as Slack.
Frequently asked questions about org charts