Free Org Chart Software & Organizational Chart Examples
Create impressive organizational charts with Lucidchart's org chart software. Don't settle for making another clunky org chart in PowerPoint or Word.
Try it now
Sign up free
---
---

QUICK AND EASY
In just minutes, you can lay out the structure of your organization with simple drag-and-drop functionality. Personalize your org chart by uploading pictures to accompany names and positions.

WORK TOGETHER
Lucidchart's real-time collaborative features make it simple to share org charts. With one click, you can grant document access to the entire organization or select members.

PUBLISH AND SHARE
When positions are switched up, simply log in and update your file. Because it's web-based, all changes will be automatically shared with collaborators.
---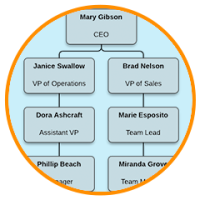 GET STARTED WITH TEMPLATES AND EXAMPLES
We offer a variety of plans, from free options for individuals to large team accounts. Lucidchart's organizational chart software is an easy-to-use option, regardless of company type or budget constraints.
If you're unsure of the best way to display your organizational structure, check out the organizational chart examples shared by other Lucidchart users to spark some ideas.
---