Among other uses, SWOT analysis is ideal for personal development. Within this guide, we've shared a few example scenarios that are perfect for using a SWOT analysis.
4 minute read
Want to make a SWOT analysis of your own? Try Lucidchart. It's quick, easy, and completely free.
Personal SWOT analysis diagram examples
The benefit of a SWOT analysis diagram tool is that it allows you to closely examine strong and weak points you may not have previously considered. To give you an idea of what a personal SWOT analysis looks like, we'll look at the respective strengths and weaknesses of two quite different fictional characters—Superman and Elizabeth Bennet from Pride and Prejudice.
SWOT analysis example: Superman
Let's look at the sections of this SWOT analysis one by one. As a superhero, Superman's list of strengths is very long. In fact, he appears to be practically indestructible! With superhuman strength, speed, and vision, he has long been known in the comic universe as an opponent especially difficult to beat. It has been argued that Superman/Clark Kent cannot develop much because he is almost too perfect. However, he does have a couple of weaknesses—most famously, kryptonite, a radioactive element from Superman's home planet of Krypton. Additionally, none of his powers are supernatural, so those in possession of magical abilities can get the best of him.
Opportunities can be organized in several ways, and in this case, we've listed prominent allies. Whether you root for Lois Lane or Cat Grant, these women are both on Clark Kent's side. Perry White is the Editor-in-Chief of the Daily Planet, and Jimmy Olsen is a young photojournalist at the paper who is close friends with the characters. A comic book superhero would not be complete without a nemesis or two, in the form of threats. Lex Luthor is the most well-known enemy of Superman, but Darkseid, Ultraman, and Equus are all threats, as well.
Diagramming is quick and easy with Lucidchart. Start a free trial today to start creating and collaborating.
Make a SWOT analysis
SWOT analysis example: Elizabeth Bennet
For those of us who are earthbound, our strengths will be balanced out by weaknesses. Elizabeth Bennet is the well-loved protagonist of Pride and Prejudice. The very title of Jane Austen's novel tells us that we are dealing with characters who must strive to overcome personality weaknesses, like pride, vanity, and prejudice against those who see the world in a different way.
What is valued in a person varies by culture and time, but pleasant manners, good looks, and vivacious wit are always attractive. These are strengths that Lizzie Bennet certainly possesses. However, her primary weakness is her prejudicial and teasing nature, which gets her into trouble more than once. Elizabeth herself might view her opportunities, such as the chance to go hiking in the mountains, quite differently than her mother might. Mrs. Bennet's focus is on an advantageous match from page one. Threats are less lethal than Lex Luthor would be, but arguably not much less distressing when they come in the form of the smarmy Mr. Collins or the charming Lieutenant Wickham.
There is a lot of discussion in the book about these very ideas. Jane Austen's characters were performing their own informal style of personal SWOT analysis two centuries ago!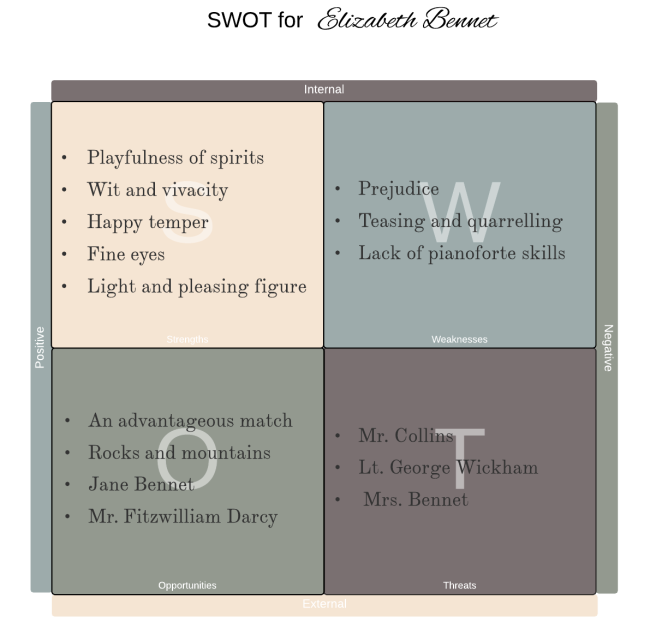 Make a personal SWOT analysis diagram in Lucidchart
As one can see, making a personal SWOT analysis diagram is simple and easy to do, especially with Lucidchart. Use this guide on SWOT analysis diagrams to familiarize yourself and get started. Think about the problem you are trying to solve or the new situation you face. Are you trying to overcome an interpersonal misunderstanding, or save for a vacation to Europe? Are you applying for an entry-level job or to grad school? Are you setting a goal for the new year or assessing a failed project? Narrowing your focus can help you make more useful SWOT diagrams.
SWOT analysis charts tend to be structured, in the form of bullet points. Feel free to link a bullet point to a website, a photo gallery, or anything else you find useful. You can also make your diagram look great by customizing its colors and typefaces.
When your diagram is ready to be published, decide if you're going to download your diagram, share it to Google Drive, or share directly with collaborators or friends. The process of drafting your SWOT diagram can help you uncover opportunities and threats you might not have thought of otherwise. This tool is designed for long-term planning, so its real usefulness comes in converting your weaknesses to strengths. Personal SWOT analysis is not confined to those in technical or business fields—the next time you're assessing a problem or setting goals, try drawing a SWOT diagram.