Content marketing workflow example
This content marketing workflow template can help you: - Organize and streamline your content creation workflow. - Clarify team/individual responsibility using swimlanes. - Document each step in the process. Open this template to view a detailed example of a content marketing workflow diagram that you can customize to your use case.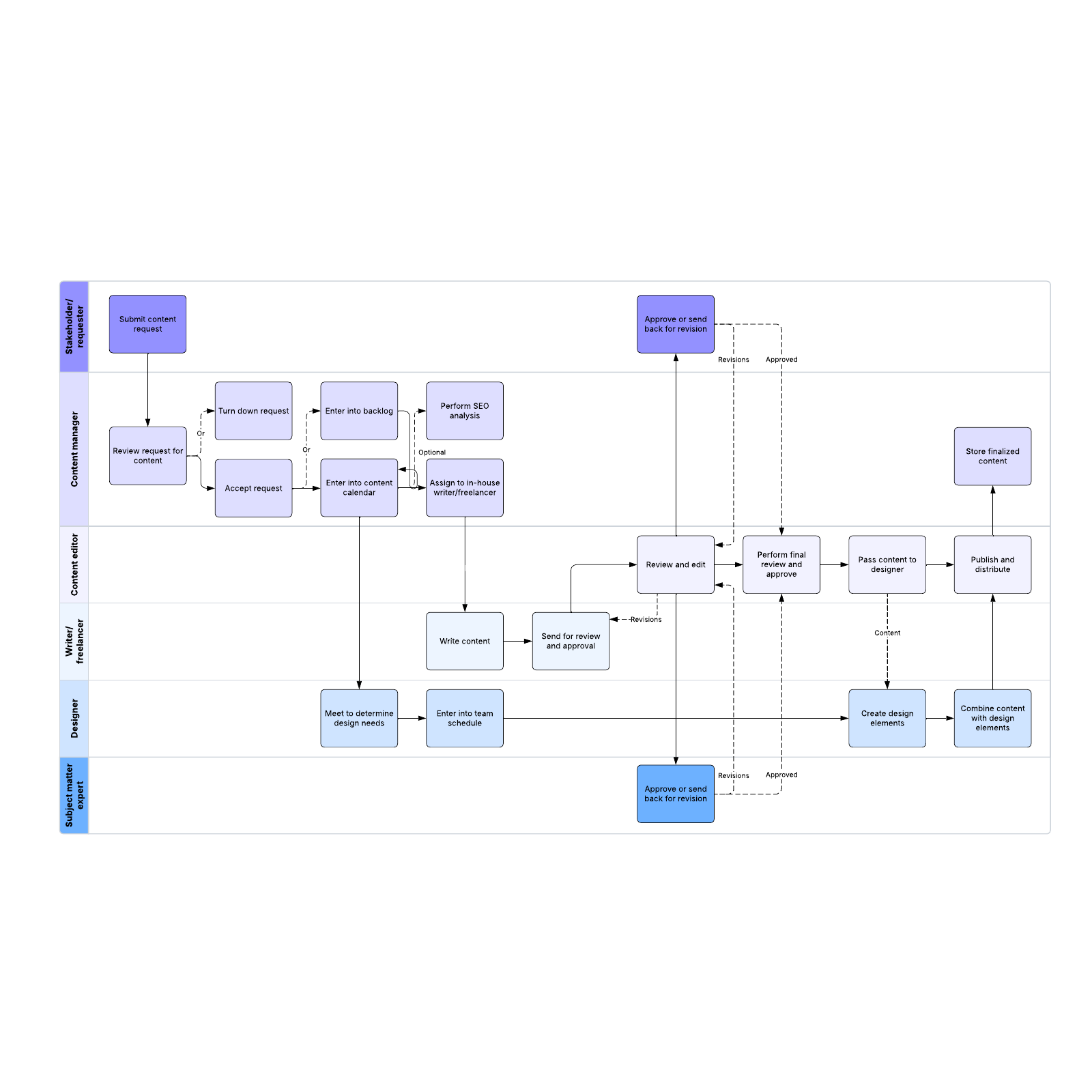 What is the Content marketing workflow example template?
Visualize your entire content market workflow at a glance with our Content marketing workflow template. Document specific steps within your workflow, allocate responsibilities and tasks, and streamline your processes in minutes.
Benefits of using the Content marketing workflow example template
Our Content marketing workflow diagram allows you and your team to streamline your content marketing workflow. Document each workflow step with our flexible and customizable template and clarify team responsibilities with swimlanes. Easily send your diagram to others in a matter of clicks to get feedback, share ideas, and align your team.
How to use the Content marketing workflow example template in Lucidchart
Here's a step-by-step guide to getting started with our Content marketing workflow template:
Study the example template to gain more context on how a content workflow works. When you're ready to create your own, edit the template.
Customize the shapes on the template. Add text, drag and drop shapes, or remove them as needed. To format shapes, click on a shape and then select "Shape Options," "Fill Color," and "Line Color" on the Properties Bar.
Use the Advanced Shape Bar at the top of the canvas to adjust the number of lanes and choose the text orientation, header, and lane color you'd like.
To learn more about swimlanes or watch basic Lucidchart tutorials, click on the buttons to the right of the document.