Network diagram example
This network diagram example template can help you: - Visualize the components of a generic network. - Understand the flow of information and interactions among network devices. - Design your own network diagram. Open this template to view a detailed example of a network diagram that you can customize to your use case.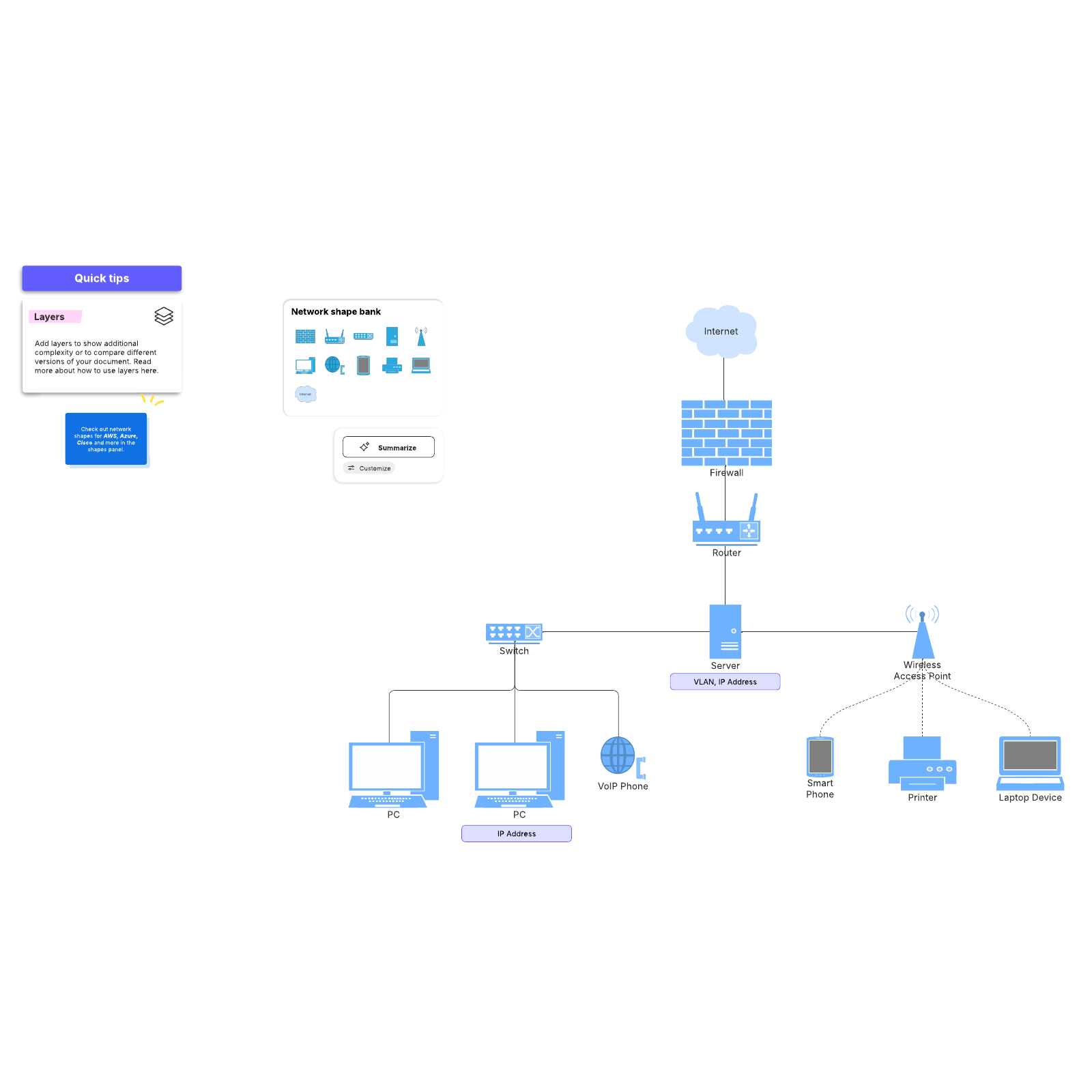 What is the Network diagram example template?
When you need to design a network diagram, this template is a good place to start. We've included a detailed example of a generic network diagram, and you can customize it to meet your needs and get a feel for how your diagram should look and flow.
Benefits of using the Network diagram example template
This example diagram helps you visualize the components of a generic network so that you understand the flow of information and how the network devices interact. In other words, the network diagram example template helps you better understand a network and how it works.
The template itself is highly customizable. You can keep the diagram close to how it is now, or you can alter it however you need so that it accurately reflects your network.
Because Lucidchart is cloud-based, the template can be accessed anytime, anywhere. This makes it perfect for collaborating with remote team members and sending to stakeholders.
How to use the Network diagram example template in Lucidchart
If you have existing data, import it by clicking the button on the bottom left. This will help you easily add all the network components you need to the diagram.
To customize the diagram, use the Shape Library on the left. You can choose colors, alter the shapes, and add lines or text. To add lines, select the line tool and drag it onto the document. To add text, double-click a line or shape and drag the text onto the document.
We've included some material about network diagrams if you'd like more information. You can also access relevant Lucidchart tutorials by clicking on the resources on the right-hand side of the document. You should have everything you need to get to work on your network diagram in Lucidchart.