Circuit diagram maker
Easily build and visualize your circuit diagram online with our circuit design software. Start from scratch or use one of our curated templates. Collaborate and share your diagram with others.
Make a circuit diagram
See why millions of users across the globe choose Lucidchart.
Professional, online circuit diagram maker
Create and visualize your circuits by building a pictorial or schematic diagram.
Import existing files from Visio®, Gliffy, draw.io, and OmniGraffle
Already have diagrams from other platforms? Use our import feature to upload your existing visuals into our circuit diagram creator. Anyone can use Lucidchart to view imported documents, while users with Individual, Team, and Enterprise accounts can also edit circuit diagrams on the Lucidchart canvas. These users can even export their circuit designs back to Visio, so they can still collaborate with Visio® users.
Dynamic integrations with your favorite apps
Lucidchart is integrated with today's most popular applications like Confluence, Jira, Microsoft 365, and Google Workspace, so you and your team can easily insert your circuit designs wherever you need.
Dozens of industry-standard symbols
Easily construct any type of circuit diagram with dedicated shape libraries. With dozens of industry-standard shapes to choose from, you can create schematic or pictorial circuit diagrams, wiring diagrams, and other electrical diagrams. Choose from electrical, power sources, transistors, relays, logic gates, and other standard symbols. Lucidchart also allows you to add and manage custom shapes for your team to use to further standardize your processes.
Work from anywhere
With cloud-based diagramming, it's easy to work in Lucidchart, no matter your device, browser, or operating system.
Create easy schematic or pictorial circuit diagrams
A well-crafted circuit diagram can bring clarity to complex systems. Whether you're building a simplified pictorial circuit diagram or a schematic circuit diagram for technically advanced teams, our circuit diagram maker can help. From dragging and dropping shapes to quickly formatting lines and arrows, you can save time diagramming technical processes and create easy-to-read circuit diagrams for any audience in minutes.
Highly rated
Lucidchart has thousands of 5-star reviews on top third-party apps like Capterra, G2, and TrustRadius.
Master the basics in 3 minutes
Create your first circuit diagram from a template, blank canvas, or by importing a document.

Add shapes, connecting lines, and text to make your diagram more robust.

Adjust styling and format within your circuit diagram to make it easy to read and visually appealing.

Locate anything you need with Feature Find.

Share your diagram with your team and immediately start collaborating.
This video shows how to learn and master the basics of Lucidchart. The video begins by showing Lucid's core software, where all the documentation rests. Then the video shows how to create a new document as well as the tools you can use on this document. This third and final part teaches how to add shapes, lines and start creating and sharing a diagram. The video ends with the Lucidchart logo.
Circuit diagram templates and examples
Build out your circuit diagram with one of our templates.
Lucidchart integrations
Lucidchart integrates seamlessly with your most-used apps.
See why teams choose Lucidchart as their circuit diagram maker
Diagram, visualize data, and collaborate all in one platform
Collaboration
Create circuit diagrams on any device with ease. Lucidchart helps teams collaborate in real time from anywhere in the world. Enhance productivity while working together with your team to achieve your goals.
Clarity
Lucidchart brings clarity to the complex. Intelligent diagramming allows you to quickly visualize projects and processes from start to finish.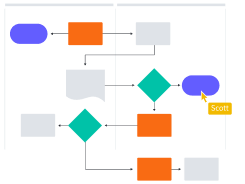 Alignment
Drive alignment with your team by collaborating in the same space. Quickly map out processes and ideas together in real time so that you never miss a beat.
Better together
The Lucid Visual Collaboration Suite transforms the way you work from ideation to project completion. Brainstorm and plan in Lucidspark then map it out in Lucidchart. Create a living blueprint for your organization.
What is a circuit diagram?
A circuit diagram is a visual representation of an electrical circuit. A pictorial circuit diagram uses images of components (such as photos or sketches), while a schematic diagram shows the components and interconnections of the circuit using standardized symbols.
How to create a circuit diagram in Lucidchart
Determine the goal and the audience of your circuit diagram

Consider whether your audience has professional knowledge of circuit structure and decide whether your diagram should be schematic or pictorial.

Select the shape library and drag and drop components

Select the circuit diagram shape library and begin dragging components onto the canvas. You can also import an image of your circuit for reference.

Draw and format connections

Draw lines between your components representing wire connections. Lines that intersect will automatically show as line jumps, but you can adjust this feature in your page settings for lines.

Drop and designate power sources

Drop a power source component into your diagram and designate its label, orientation, and charge with the pop-up menu when you double-click it.

Review and share

Once you've added each element, including connections, ensure the circuit you've drawn behaves as expected. Share it with others or publish it in a presentation or as an image file.
Frequently asked questions about circuit diagrams