Fishbone Diagram Example Template
This page provides a free example template for a fishbone diagram that's easy to edit. Use it to identify the possible causes of an outcome in your business processes.
Lucidchart is online diagramming software that's effortless to master. Our vast range of shapes will help you make any diagram, including a fishbone.
Try it now
Sign up free
---
What is a fishbone diagram?
A fishbone diagram is also known as a cause and effect diagram, because it describes the potential causes of a given problem or outcome. The diagram resembles an actual fish bone, with a long line running down the center pointing to the main outcome, also called the "problem statement". The other bones branch out from the middle bone and represent different categories of causes. In the template below, we've shown the six standard categories, Measurements, Materials, People, Machine, Methods, and Environment. However, feel free to swap these out for categories that best fit your problem.
Make a fishbone diagram in Lucidchart
You can make your own fishbone diagram with Lucidchart. To design the skeleton, simply use the line tool by clicking the L key. A crosshair will appear and let you draw a line. Easily add lines to the template below, and then drag out text boxes onto the lines to properly label them. Lucidchart also supports a variety of convenient features that make diagramming easy, like draggable resizing, pop-out context menus, and custom image upload. And once you've finished perfecting your diagram, you can share or publish it online.
---
Fishbone diagram template
Click to open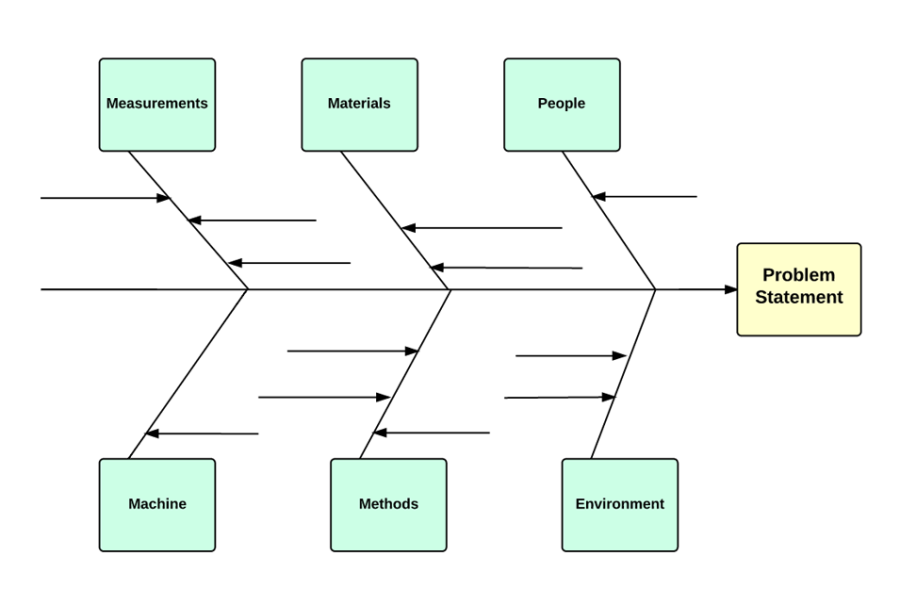 ---
Fishbone Diagram Resources
---
Sign up for a free Lucidchart account today to make fishbone diagrams. Or, for even more diagram choices and additional storage space, explore a free trial of a Pro account!
Try it now
Sign up free