Action plan
This action plan template can help you: - Assign tasks to team members. - Accomplish goals and objectives. - Collaborate with colleagues. Open this template to view a detailed example of an action plan that you can customize to your use case.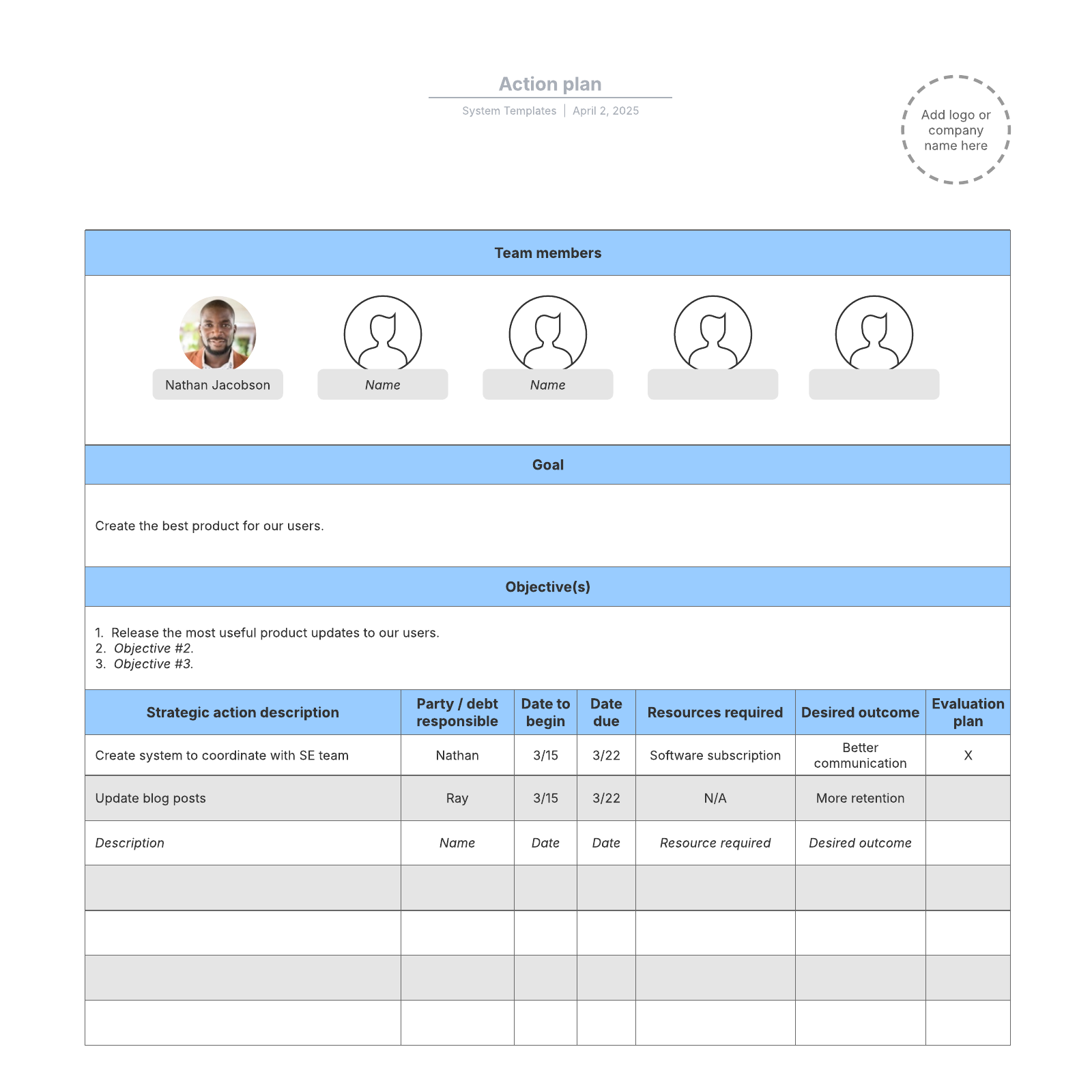 Nail down the specifics with our Action plan template
Every plan, whether simple or complex, can benefit from being broken down into small, clear steps. Whether you are brainstorming a way to meet your quarterly goals or planning your next company party, you can use an action plan to turn your theoretical objectives into actionable tasks.
Using Lucidchart's Action plan template with your team will enable you to create a logical action plan that everyone can confidently follow. Collaborate with your colleagues in real time from anywhere in the world as you assign tasks to specific team members, examine details, and focus on the big picture.
Use the Action plan template in Lucidchart
You can customize the template according to your use case, so it is exactly what you need it to be.
Add your team members and the goal or vision you are working toward.
Explain the key objectives you'll need to achieve this goal.
Discuss how to prioritize the objectives and develop actionable tasks, then add the tasks to the "Strategic action description" column.
Assign team members to each task in the "Party/debt responsible" column.
Agree on a timeline for completion and add the start dates and due dates for each task to the appropriate columns.
List the resources that will be needed to complete each task in the "Resources required" column.
Determine the desired outcomes for each task, and list those in the "Desired outcome" column.
Record the evaluation plan status for each task in the "Evaluation plan" column. This is a way to monitor progress and follow up on results, ensuring accountability.
For more tips on best utilizing the Action plan template, click on the tutorial buttons to the right of the document. As you create a comprehensive action plan and use the template to keep track of the specifics, you can confidently share plans with stakeholders and keep everyone aligned.